Radiation Oncologist Lori J. Pierce, MD, FASCO, FASTRO, Enjoys Balancing Administrative and Clinical Roles
Lori J. Pierce, MD, FASCO, FASTRO


NAME
Lori J. Pierce, MD, FASCO, FASTRO
TITLE
Professor of Radiation Oncology, University of Michigan School of Medicine; Vice Provost for Academic and Faculty Affairs, University of Michigan, Ann Arbor
MEDICAL DEGREE
Duke University School of Medicine, Durham, North Carolina
NOTABLE HONORS
Susan G. Komen For the Cure Scholar (2017)
American Association for Women Radiologists' Marie Sklodowska-Curie Award (2013)
League of Educational Excellence, University of Michigan (2013)
Sara Goddard Power Award from the American Women's Caucus (2010)
Lifetime Achievement Award in Breast Cancer, Sister's Network, Inc. (2002)
Lori J. Pierce, MD, FASCO, FASTRO, grew up in Washington, DC, and moved with her family to Philadelphia while in high school. She still considers the fast-paced DC–Philadelphia corridor her home, but her passion for a career in medicine, in part, took seed in a small town located in North Carolina's Inner Banks region called Ahoskie. It is nicknamed "The Only One," because no other town in the world is known by the same name.
Formative Years
"My father's family is from Ahoskie, and as a child I spent quite a few summers there. Ahoskie had an African-American family medicine doctor who provided care for people of color; in those years, the town was deeply segregated. Despite being a solo practitioner, he managed to treat most of the minority patients in Ahoskie and to be there when people needed him. Everyone in the community respected him not only for his medical skills but also for his empathy and kindness. Even as a young child, seeing him practice medicine resonated with me and inspired me to think about becoming a physician. He was truly a role model," shared Dr. Pierce.
With radiation oncology, I was able to enjoy the combination of patient care, physics, and biology. And I realized, I was at my best when I was in the clinic seeing patients.

— Lori J. Pierce, MD, FASCO, FASTRO




Tweet this quote



"My desire to enter medicine was further defined by other formative experiences I had at home in DC," she continued. "I had the misfortune/fortune to break a bone or two as a child, which led to a few trips to the doctor. Going to the clinic for x-rays, seeing my bones on film, fascinated me. The physicians and the radiology technicians knew I was interested, and they took time to show me the equipment and films and to explain the images. Those experiences further peaked my interest in medicine, and in particular, in radiology."
During high school, Dr. Pierce excelled in math and science. She went on to college and graduated from the University of Pennsylvania in 1979 with a major in biomedical engineering and a minor in chemical engineering. She noted that her interest in physics, math, and science was her eventual segue to medical school and what she thought would be a career in radiology.
Deciding on Radiation Oncology
"When I went to medical school at Duke University," Dr. Pierce revealed, "radiation oncology was a division of radiology." At Duke, students did their basic science classes during the first year and their core clinical rotations in their sophomore year. The third year was dedicated to research and the fourth year was spent primarily in the clinical wards.
"When I met with my advisor to plan my research year, she provided me with the available options. The one that most interested me was radiation oncology. I told her that I planned to go into radiology, and she assured me that the radiology residencies would appreciate bench research in radiation oncology," said Dr. Pierce.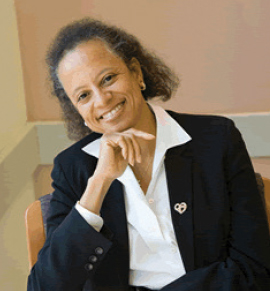 Dr. Pierce
Dr. Pierce began her laboratory work at the same time Duke recruited Leonard Prosnitz, MD, from Yale to become the school's first Chair of Radiation Oncology Department. "Dr. Prosnitz took me under his wing, and whenever he had free time, would take me up to the clinic to see patients with him. Dr. Prosnitz was the first true mentor in my professional journey. "With radiation oncology, I was able to enjoy the combination of patient care, physics, and biology. And I realized, I was at my best when I was in the clinic seeing patients. The experience with Dr. Prosnitz was the deciding factor in my decision to become a radiation oncologist," she admitted. "After that, I never looked back."
Let's Make a Deal
Asked about her parents' view of her career path, Dr. Pierce said: "My parents were very supportive of whatever I chose as a career. My parents never had the opportunity to go to college; they were supportive of me but concerned I'd pick a pathway that would consume all of my time and energy. And they were right," she said with a laugh.
As I look 10 years to the future, there is no question that incorporating tumor biology in our treatment design will allow us to further personalize radiotherapy delivery. And I am convinced this will lead to improvements in patient care.

— Lori J. Pierce, MD, FASCO, FASTRO




Tweet this quote



Dr. Pierce and her sister had a deal with their parents: "They would pay for our undergraduate studies, but my sister and I would be responsible for covering expenses associated with graduate degrees. I knew medicine was one of the most expensive educations. So I applied to Duke School of Medicine as an undergrad, was accepted, and deferred my admission so I could work as an engineer to help pay for medical school. Although my decision to defer was made for financial reasons, in retrospect, the benefits went far beyond financials. That time provided the opportunity to regroup and mentally prepare for a career in medicine. By the time I was ready to start medical school, I wanted a career in medicine more than anything."
'A Good Time to Be at Penn'
In 1985, Dr. Pierce did her medical internship at Thomas Jefferson University Hospital in Philadelphia and her residency and chief residency in radiation oncology at the Hospital of the University of Pennsylvania. "The radiation oncology residency at Penn was very competitive. It was a wonderful experience, and the other residents and faculty were terrific to work with and to learn from."
At first, Dr. Pierce was not sure what clinical area in radiation oncology she would choose. But fairly soon, she gravitated toward breast cancer, remarking the Penn breast cancer program was particularly strong, one of the nation's leaders in breast-conserving surgery and radiation, which was still in its relative infancy as accepted therapy.
"There was much to learn about breast-conserving therapy and many research papers to write, so it was a good time to be at Penn. There were strong clinical and research collaborations there between radiation oncology, surgical oncology, medical oncology, radiology, and pathology. I enjoyed the interactions with the other disciplines, discovering how radiation fit best with surgery and systemic therapy," she noted.
Disparities of Care
On the issue of disparities of care, Dr. Pierce noted: "As a resident at Penn, I frequently cared for African American patients. Like everyone else, patients of color are often more comfortable with a doctor who looks like them, and I definitely sensed a level of ease when I interacted with minority patients. Given the health-care disparities in access and outcomes among minorities, I wanted to do research in that area, if only to address some of the issues, if only in a small way."
She continued: "When I was at Penn, I wrote one of the first papers on radiation and breast-conserving surgery and radiation in African American women compared to Caucasian women. I was not seeking to show a difference but rather to show a similarity in outcomes and to emphasize that African American women with early-stage disease should be routinely offered breast conservation. Our study demonstrated that tumor control in the breast among African American women was indeed comparable to that of Caucasian patients; however, we found that the survival was worse among the African American women in our sample. That study was published in 1992, long before clinical subtypes of breast cancer were identified. I suspect our results suggesting a more aggressive phenotype in African American women could, in part, be explained by the increased incidence of triple-negative disease in the African American population that we now know exists. But by doing the study, I realized it was important for researchers to incorporate race into analyses to identify whether certain patient subgroups were more likely to have different outcomes and to understand the biologic factors that underscored those outcomes. Doing so could likely result in changes to our treatment recommendations."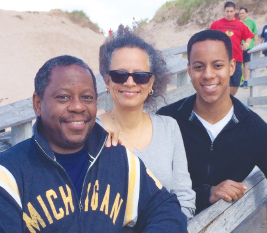 Dr. Pierce with her husband, Tony Denton, and son, Evan, at Sleeping Bear
On the issue of minorities in oncology, Dr. Pierce feels that opportunities to be active in medical societies for persons of color are "wide open." She added that as a key part of its mission, ASCO wants to engage and recruit more racially diverse caregivers in the field of oncology in general and into ASCO in particular. Having served on many ASCO committees, I know the ASCO leadership clearly understands there is much to do to improve the care of all cancer patients. I have found the Society to be very welcoming. I encourage other minority caregivers to take an active role in the Society."
From Pennsylvania to Michigan
From 1989 to 1990, Dr. Pierce was Assistant Professor at the University of Pennsylvania Medical School, after which she served at the National Cancer Institute (NCI) as a senior investigator in the radiation oncology branch from 1990 to 1992. Following her stint at the NCI, Dr. Pierce came to the University of Michigan Medical School, beginning as a research investigator and Assistant Professor and working her way up the ranks.
"While at Michigan, I have had the opportunity to participate extensively in research, primarily clinical research, but also in cancer biology and physics as a translational researcher in areas relevant to patient care." Her research focus has included the design of clinical trials aimed at improving tumor control rates in breast cancers refractory to standard therapies using radiosensitizing agents, as well as designing radiation approaches that can potentially reduce radiation-associated complications such as cardiac exposure to radiation.
Dr. Pierce said she was fortunate to have been tapped to serve as Vice Provost for Academic and Faculty Affairs at the University of Michigan. In this role, she provides oversight for "all things faculty" across the schools and colleges at the university. "So I have an administrative component to my career, which adds to my already busy schedule but is something I enjoy. When I see faculty members upset over issues, I think my background in oncology helps put things in perspective. My work as Vice Provost has truly given my worklife a nice balance," she acknowledged. "But patient care is always my number one priority" she adds.
Emerging Trends in Radiation Oncology
Over her career, Dr. Pierce has seen the field of radiation oncology grow, from a period during which tumor control and survival were the sole endpoints to an emergence of symptom control for enhanced quality-of-life care. To that end, Dr. Pierce is Director of a Radiation Collaborative Quality Initiative, funded by Blue Cross Blue Shield of Michigan/Blue Care Network which looks at toxicity outcomes in patients with breast and lung cancers by methods of radiation delivery. "It is a consortium that includes physicians and physicists from the majority of radiation practices across the state of Michigan, which collects both patient-reported and physician-reported outcomes. The members of the consortium work together to establish best practices for improved radiation treatments for our breast and lung cancer patients," she added.
The move toward including tumor biology in our management decisions is another emerging trend in radiation oncology—one that Dr. Pierce is excited about. "Our discipline has always personalized how we deliver treatment by the fields and fractionation chosen. As I look 10 years to the future, there is no question that incorporating tumor biology in our treatment design will allow us to further personalize radiotherapy delivery. And I am convinced this will lead to improvements in patient care. In time, we will be able to determine those patients who will require treatment intensification while also selecting those who will do well in the absence of treatment," she predicted.
What does Dr. Pierce do in her coveted free time to decompress? "My husband (Tony Denton) has a demanding career as well, and we have one son (Evan), who is a sophomore at Northwestern, an aspiring sports broadcast journalist. So we're a busy family, but in our free time together, we enjoy working out, traveling, watching team sports, playing with our two golden retrievers, and enjoying music, which sometimes even leads to a family dance off! We just enjoy being together as a family." 
---