For Eric P. Winer, MD, Empathy and a Sense of Purpose Lead to a Career in Oncology
Eric P. Winer, MD


NAME
Eric P. Winer, MD
TITLE
Director, Breast Cancer Program Dana-Farber/Brigham and Women's Cancer Center, Chief Strategy Officer, Dana-Farber Cancer Institute, Thompson Chair in Breast Cancer Research, Professor of Medicine, Harvard Medical School
MEDICAL DEGREE
Yale University School of Medicine
NOTABLE HONORS
Gianni Bonadonna Breast Cancer Award (2017)
William McGuire Memorial Lecture Award (2016)
Advancing the Careers of Women Faculty Award, Dana-Farber Cancer Institute (2013)
A. Clifford Barger Excellence in Mentoring Award, Harvard Medical School (2009)
Tisch Award for Outstanding Achievement, Dana-Farber Cancer Institute (2006)
Claire W. and Richard P. Morse Research Award (2002)
Joseph Sokal Memorial Lecturer, Duke University (1999)
Eric Paul Winer, MD, was born in Boston in 1956, a year when gasoline was 22 cents a gallon and IBM released the world's first computer with a hard drive. His grandfather on his mother's side had hemophilia and died 5 years before Dr. Winer was born. Although there was a 50% chance that Dr. Winer had inherited the genetic disorder, testing at that time was cumbersome, and it was a full year of anxious waiting before Richard and Rhoda Winer found out that their son, Eric, had been born with hemophilia.
People generally associate hemophilia with external cuts and abrasions that bleed prodigiously; however, the most common and problematic clinical presentation is bleeding into a joint, where the pressure of blood filling the joint cavity causes severe pain. Dr. Winer recalled those childhood episodes vividly.
"My earliest years were fairly unremarkable, but when I was about 4 or 5, I began having more joint bleeding," he noted. "We'd wait to see if the bleeding would stop, but when I couldn't sleep because of the pain, my parents would take me to the hospital ER."
Veteran Patient at an Early Age
Dr. Winer's frequent hospital visits were wearying affairs in the ER waiting room, punctuated by discomfort and pain when he received frozen plasma, which was standard treatment for hemophilia before the advent of cryoprecipitate and factor VIII concentrate. If the bleeding couldn't be fully arrested, Dr. Winer would be admitted.
Oncology offered me something important to my core belief as a doctor—the ability to have close relationships with my patients, helping them deal with the multitude of consequences of cancer. I was attracted to the idea of taking a comprehensive approach to treating the patient, not the disease.

— Eric P. Winer, MD




Tweet this quote



At the age of 5, he'd already become a veteran patient, and he continued to have frequent trips to the ER and not infrequent hospital stays for the next 7 years. "When I was 12, cryoprecipitate entered the market, quickly followed by factor VIII concentrates, which for me was a game-changer. I went from being sheltered from normal boyhood activities to becoming a reasonably normal junior high and high school student," said Dr. Winer. "As a little child, I always wore arm splints because I was either having or recovering from a bleed. So you can imagine my relief to suddenly look like the other kids."
Being able to lead a normal adolescent life required every-other-day prophylactic treatments in the hospital. "I took my own requisition orders up to the blood bank and helped the technician prepare the treatment. I actually felt like I became part of the medical team. It readied me for the next step of home care. I learned how to self-infuse the factor VIII into my vein."
Russian Studies and Medical School
At 17 years old, Dr. Winer wrote his college essays about how having hemophilia had been a positive and formative force in his life. "Hemophilia opened different perspectives on life and gave me the opportunity to meet people that I would not have encountered otherwise," said Dr. Winer. Such was the case during his years immersed in the hospital setting that, although difficult, proved an enriching experience, one that inspired his interest in becoming a doctor.
During his childhood battle with hemophilia, he assumed he would ultimately be a doctor. But Dr. Winer was fascinated by Russian interests, in part fueled by the fact that Tsarevich Alexei, the heir apparent to the throne of the Russian Empire in the early part of the 20th century, was also born with hemophilia. Dr. Winer got hooked on Russian literature. "So off I went to Yale University and spent 4 years doing a double major in history and Russian studies instead of science, but the problem was, I still wanted to be a doctor," said Dr. Winer.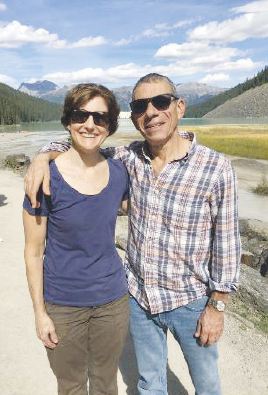 Dr. Eric Winer and his wife, Nancy
After graduating from Yale, Dr. Winer began a master's program in Russian studies. His plan to augment his education with organic chemistry classes didn't mesh with his master's program. He did, however, take premed courses, kick-starting his road to Yale University School of Medicine, which he entered in 1979.
Dr. Winer worked through an internal medicine internship and a chief residency year at Yale-New Haven Hospital, still unsure of a specialty. "Largely because of my history with hemophilia, many lobbied for me to become a hematologist. Frankly, it was a little too close to home. But oncology offered me something important to my core belief as a doctor—the ability to have close relationships with my patients, helping them deal with the multitude of consequences of cancer. He was attracted to the idea of taking a comprehensive approach to treating the patient, not the disease."
Life-Changing Events
Dr. Winer described another series of life-changing events that began in the early 1980s. At the time, plasma was often obtained using massive pools of paid donors. Donor screening was inadequate, as was agent testing. Consequently, hepatitis infection wasn't uncommon among those with hemophilia. Given the benefits of factor VIII concentrates, the risks were considered acceptable, until another blood-borne disease arose.
"I remember when the first three cases of human immunodeficiency virus (HIV) in people with hemophilia were reported. At the time, it was called acquired immunodeficiency syndrome (AIDS), thought to be caused by the human T-lymphotropic virus (HTLV)-III. The moment the report came out, I knew that the ongoing debate over the origin of AIDS was largely over. It was clearly an infectious agent that's transmitted in blood…. Damn, I thought, we're all infected."
Dr. Winer was convinced that many people living with hemophilia had likely contracted HIV, but he believed not everyone would become sick. He put his head down and went about business as usual, with one exception. "I quit taking factor VIII concentrate and went back to cryoprecipitate, because it was derived from a single donor and I figured that if by chance I wasn't already infected [with HIV], it would minimize my risk going forward," said Dr. Winer.
Dr. Winer remained on cryoprecipitate until a year later, when heat-treated factor VIII concentrate was available, making it a safe blood product. "Ironically, the companies that made factor VIII concentrate had had the opportunity to heat-treat the product several years earlier; it would have prevented hepatitis infection. In retrospect, they realized it would also have killed HIV. The earlier decision not to heat-treat factor VIII concentrate was based on cost," he said. Dr. Winer became 1 of approximately 10,000 Americans with hemophilia who contracted HIV from the very blood product they were taking to maintain their quality of life and stay alive.
The 1980s
It was a demanding period in Dr. Winer's life. During his residency in 1984, he married his fiancée, Nancy Borstelmann, and over the next 5 years his two sons and a daughter were born. In 1987, Dr. Winer pursued a hematology/oncology fellowship at Duke University School of Medicine, in no small part because they had family living in the area.
Dr. Winer's oncology career was proceeding forward, and his family was sound and healthy, all reasons for optimism. But the country was slipping into a slow-motion chaos. "The whole HIV issue had become very worrisome," said Dr. Winer. "The initial reaction to HIV infection had been uniform confidence that most people wouldn't get sick. By 1988, the hemophilia community's confidence wilted," said Dr. Winer. "When I was offered a faculty position at Duke, I was thrilled because I honestly felt I was unemployable, considering the hysteria about HIV/AIDS."
Facing mortality was a bond Dr. Winer shared with his patients, though they never knew what he was confronting in his own life. "Cancer patients often confess that they get hung up reading obituaries. Well, I began reading obituaries, too, especially of younger guys, trying to figure out if they died of AIDS. Usually they did," said Dr. Winer. Soon after experiencing his own symptoms of HIV in the late 1980s, the era of antiretroviral therapy dawned, but the course of HIV disease was slow to change. Throughout the 1990s deaths continued to mount, and it was not until the advent of highly active antiretroviral therapy almost a decade later that there were significant changes.
Dr. Winer captured the zeitgeist of the early HIV/AIDS era in America. "It was a terribly troubling time, really horrifying. I was HIV-positive, which came from a so-called 'acceptable' source, an unfair judgment that irked me. But there was terrible discrimination against anyone who had HIV/AIDS." In the mid-1990s he also learned that he had hepatitis C as well. Although it was not a surprise, it added another complication.
The Benefits of Science
When Dr. Winer turned 40, the family moved back to Boston. He was home, but the specter of HIV was there also when he applied for a position at Dana-Farber Cancer Institute. "On my first interview, I told my future department head and the hospital president about my medical situation. To their credit they said it didn't matter, and they still wanted me and would provide medical care as needed. It was the best move of my life," he said.
Dr. Winer still faced health challenges that weren't sleight of hand. "I took two courses of interferon therapy for my hepatitis C. The first was successful for a while, but I relapsed, and my doctors initially felt it wasn't worth taking another course. Then, in 2004, I experienced a large gastrointestinal bleed that turned out to be from portal hypertension, the result of an underlying liver problem. At first, we thought it was related to my hepatitis, so I took another year of interferon, which eradicated the virus. Ironically, it wasn't hepatitis that led to the liver problem; it was one of the HIV drugs."
Science marches forward, and this underscores the need for all of us to work harder, invest in research, reduce disparities, and improve access to care. Hope is so very important—you just don't know what advance is around the next corner.

— Eric P. Winer, MD




Tweet this quote



Over the following several years, Dr. Winer had recurrent gastrointestinal bleeding. "I'd arrive at work and realize I was having a significant bleed. I had what seemed like endless endoscopies, but there was no surgical remedy because I was bleeding from hundreds of tiny vessels in my stomach. In 2008, after much debate, I made a decision to have a distal splenorenal shunt procedure. The bottom line: It worked."
Lessons Learned
Dr. Winer has arthritis from the years of joint bleeds, and he continues to take medication for HIV, "but I live as normal a life as possible," he said. "Several things have allowed me to do that," he continued. "I have pretty good coping skills that I learned as a young kid. I have a lot of social support—first and foremost, my wife, Nancy, who has been by my side from the start. I have three great kids, a fantastic daughter-in-law, and a granddaughter on the way. I am also fortunate to have many close friends. My career in oncology has given me strength and, more important, a sense of purpose. I have also had the best health care possible at my fingertips, and it's been a huge factor in dealing with my medical issues." Unfortunately, he conceded, "what I've just described is not available to many people in our country. What about them?"
Now, at the age of 60, Dr. Winer can look back and reflect on his personal experiences with illness and share what he learned that helped him in his clinical work and research. It is these experiences that are inextricably linked to who Dr. Winer is as a person, a clinician, and a researcher. Importantly, he noted that everyone has his or her own personal challenges and stressors; some you may know about but often there are others you don't. "Scratch below the surface, and you find that everyone has something," Dr. Winer said. This is all the more reason, he acknowledged, that empathy is critical to the doctor-patient relationship. Further, "coping matters, and we need to help our patients cope."
People are complex and not defined by their medical conditions. He has also learned that stigma based on medical illness can be devastating. "As oncologists, we need to remember that medical therapy can often lead to complications, and while at times they are unavoidable, we need to carefully consider toxicities when we have treatments with small potential benefits."
With an uptick in his otherwise even-toned voice, he summed up: "I have benefitted from so many scientific advances, and strangely, I have a better chance of being around for another 20 years than I did at the age of 10, or 30, 40, or even 50. And while my own problems are perhaps not as complicated as cancer, science marches forward, and this underscores the need for all of us to work harder, to invest in research, to reduce disparities, and improve access to care." With this, Dr. Winer said, "hope is so very important—you just don't know what advance is around the next corner."
---