With an Illustrious Career in Breast Oncology, Daniel F. Hayes, MD, FASCO, Follows in the Footsteps of Giants as ASCO President-Elect

I have long admired ASCO's incredible portfolio of activites,… But the most important quality of the ASCO staff and its volunteers is that the same mission drives them: What's best for the patient?

— Daniel F. Hayes, MD, FASCO
ASCO President-Elect Daniel F. Hayes, MD, FASCO, was born in Shelbyville, Indiana, a small city in the center of the state. "My dream was to become a high school basketball and track and field coach; my older brother wanted to be a doctor, and his ambitions also began in first grade," revealed Dr. Hayes.
An Older Brother's Advice
In fact, as an undergraduate at Indiana University, he took a full-semester course in track and field and basketball—the latter taught by the iconic Bobby Knight, who was early in his career at that time. "I actually learned a lot from him, although not all of it good!" laughs Dr. Hayes. In his third year at Indiana University, Dr. Hayes had a reality check on his career ambitions. "I realized that the high school coaches who were my role models were all selling life insurance or had some other job on the side to augment their inadequate salaries. My brother was in medical school, and I called him for advice. He said that I could go to medical school and still teach—and I'd be teaching people who actually wanted to learn," said Dr. Hayes. He took his older brother's advice.
Dr. Hayes majored in biology, which gave him a leg up in his premed studies, and he was accepted to Indiana University School of Medicine, the only school he applied to. "Indiana University has the only medical school in the state; consequently, it has the largest incoming freshman class in the country, about 310 students," shared Dr. Hayes.
Oncology Was Not His First Love
"In my first year in medical school, I fell in love with biochemistry and took a year off to work in a laboratory. It was a great experience, and I learned a lot about science and the scientific method. When I returned to med school, they were assigning us to community doctors to get a sense of real-world practice. I was assigned to an oncology doctor, and in those days, there were not many oncologists. From the start, I did not like oncology; I found it to be a depressing specialty, seeing so many of your patients dying," admitted Dr. Hayes.

Daniel F. Hayes, MD, FASCO
Dr. Hayes decided to become an endocrinologist, which seemed like a natural fit, given his biochemistry and laboratory experience. As he proceeded into his clinical years at Indiana University School of Medicine, he presumed he would pursue a career in endocrinology. During his third year, Dr. Hayes was doing routine clinical rotations and ironically, given his aversion to the discipline, he was assigned to the oncology ward.
"That night, I complained to my wife about being assigned to the oncology ward, and she told me to pipe down. She said I was studying to become a doctor, so just do what they said," Dr. Hayes said. "I can't tell you how many times my wife has given me great advice!"
However, as luck would have it, the rotation that Dr. Hayes had complained about was a life-changing event. "The attending physician was Larry Einhorn, MD, who was about 5 years out of his fellowship. He was curing testicular cancer with combination chemotherapy including cisplatin, the drug that he brought in from MD Anderson, where it showed promise in a phase I trial. "I spent a rotation month with Dr. Einhorn and his fellow Steve Williams, MD, who went on to become the Cancer Center Director at Indiana, and then 2 more months as a senior medical student."
Dr. Hayes described his time working with Dr. Einhorn as eye-opening because his work demonstrated that cancer could be cured. "After seeing testicular cancer cured, I told my wife that I'm not sure I could be trained fast enough before all the cancers would be gone. In 1978, in addition to testicular cancer, the doctors at the National Cancer Institute had shown that several types of cancer—leukemia, Hodgkin lymphoma, and non-Hodgkin lymphoma—could be cured, and with the emergence of adjuvant therapy in breast cancer, Dr. Einhorn predicted that breast, prostate, and ovarian cancers and several more were next. Of course, his view into the future didn't turn out that way. The vision was there, but the crystal ball was a little cloudy. That was an exciting time that made me want to be an oncologist," said Dr. Hayes.
Rewarding Career Moves
"I told Dr. Einhorn I wanted to stay with him, but he said I should move on and further my career; when I was ready, I could return to Indiana," Dr. Hayes related. "I took his advice and did my internship and residency at Parkland Hospital–University of Texas (UT) Southwestern Medical Center, where I had another incredible experience. Everyone on staff was not only a great clinician, but a distinguished scientist in some way. During my residency, two of my attendings (Michael Brown, MD, and Joseph Goldstein, MD) and one of my interns (Bruce Beutler, MD) went on to win Nobel Prizes."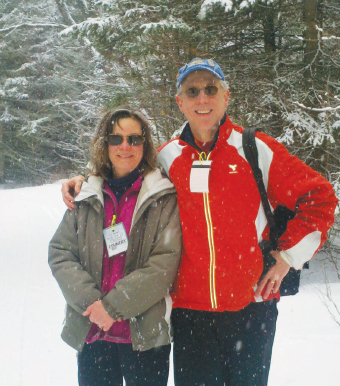 Dr. Hayes with his wife, Jane.
Dr. Hayes' experience at UT Southwestern aided his next career move. "In 1982, I was accepted into the fellowship program at the then Sidney Farber Cancer Institute (later to become the Dana-Farber Cancer Institute) in Boston. The physician-in-chief, the legendary Emil Frei, MD, a past ASCO president, assigned me to the laboratory of Donald Kufe, MD, who introduced me to the field of tumor biomarker work. We developed what has become the CA 15-3 circulating tumor marker for breast cancer."
Breast Cancer and Clinical Research
After his fellowship at Dana-Farber, Dr. Hayes called Dr. Einhorn, seeking to return to Indiana. "Dr. Einhorn said that since I was doing so well at Dana-Farber, I should stay on. I did, and after several years there, I decided I was well trained enough to move back to Indiana. But by that time, George Sledge, MD, another prior ASCO president, was running its breast program. I always told George that he took my job! In the end, I stayed at Dana-Farber, for 15 years, where I continued to work with Dr. Kufe but also learned all about breast cancer and clinical research from Drs. Craig Henderson, George Canellos, and Robert Mayer (the latter two were also ASCO Presidents)," explained Dr. Hayes. From 1992 to 1996, Dr. Hayes was Medical Director of the Breast Evaluation Center at Dana-Farber.
In 1996, Dr. Hayes moved to Georgetown University's Lombardi Cancer Center to work with Marc Lippman, MD, who was instrumental in discovering how endocrine therapy worked in breast cancer. "By that time, Dr. Lippman was the Cancer Center Director at Lombardi and basically handed me the breast program. It was a rewarding experience," shared Dr. Hayes.
"In 2001, Dr. Lippman became Chair of Internal Medicine at the University of Michigan School of Medicine [UM] and recruited Dr. Hayes to move with him. "That was a great move for me. First, it got me back to the midwest—my parents were ailing at the time, and it was nice to be closer to them. The UM is a great institution, and I was lucky to have the opportunity to further develop the Breast Oncology Program. In 2001, Allen Lichter (another former President and outgoing CEO of ASCO) was the Dean, and Max Wicha was the Cancer Center Director. Coupled with Marc, these guys, all leaders in breast cancer in their own right, made it pretty easy for us to have what we needed to build up an even greater breast cancer program. I can say with pride that UM is a world-class institution," beamed Dr. Hayes.
The Road to ASCO
"I never really thought seriously about getting involved with ASCO. In fact, while at Dana-Farber, my laboratory chief discouraged me, concerned that ASCO would interfere with my lab work. But because of my experience with the CA 15-3 circulating tumor marker for breast cancer, I was fortunate enough to be one of the charter members of the first ASCO Tumor Biomarker Guidelines panel, which provided me the opportunity to have some influence in the field."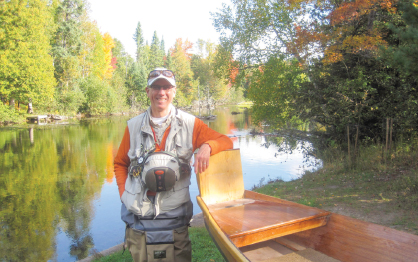 Dr. Hayes has recently taken up fly fishing.
Dr. Hayes' ASCO involvement deepened when his colleague at the University of Michigan, former ASCO president Doug Blayney, MD, asked him to chair the scientific committee for the ASCO Annual Meeting. "I took that job, and it made me realize what ASCO does, how dedicated the entire group of volunteers is, and how professional the staff is. I quickly learned that they handle things in a direct, but always polite, manner, so things get done," said Dr. Hayes.
Following in the Footsteps of Giants
Over the course of his illustrious career, Dr. Hayes has gained a national and international reputation in the field of experimental therapeutics and novel diagnostics targeted to breast cancer, working on serum and tissue markers such as HER2, circulating tumor cells, and pharmacogenomics, which have prognostic and/or predictive value in the treatment of breast cancer.
Asked about being ASCO's President-Elect, Dr. Hayes replied, "I was of course honored. I never dreamed I would become president of ASCO, following in the footsteps of so many giants in our field, many of whom helped train me. I have long admired ASCO's incredible portfolio of activities as well as the number of issues the Society takes on, including clinical and translational cancer research, delivery of oncologic practice, professional and lay education, health-care and reimbursement reform, governmental policy, and global oncology, among others. But the most important quality of the ASCO staff and its volunteers is that the same mission drives them: What's best for the patient?"
A Skilled Miler and Sports Enthusiast
During his school years, Dr. Hayes was a track and field star. He was a miler, and he ran a 4:04-minute mile, putting him in the elite class. He's from a generation of runners who have not converted to the metric system. "Saying I run the 1,500 meters doesn't have the classic ring of saying I'm a miler. My son ran for Penn, and while his converted 1,500 meter time is better than my mile time, that doesn't count for the 'Hayes Family Record,'" he joked.
Asked what he does to decompress from his incredibly busy schedule, Dr. Hayes said, "I still run, but it is getting more difficult at my age. I also play golf, not very well, and I've taken up fly fishing, which should prove interesting. And I'm a sports fan—especially basketball (after all, I'm from Indiana!). And I've become a huge UM football fan, of course. 
But being with family is my most cherished off-work time. I've got two wonderful sons—the runner and his wife are both lawyers in DC, and my older son is graduating from medical school this spring. That's been a lot of fun. My wife, Jane, and I have been married for 42 years. She's put up with a lot but always supported me, and we have a great time together!" ■
---