Surgical Oncologist Suzanne L. Topalian, MD, Shines at the Forefront of Groundbreaking Research in Cancer Immunotherapy

I became a clinical investigator with my own laboratory. It was a rich experience, and a lot of what we did led directly to the development of immunotherapies such as adoptive T-cell–transfer therapeutics, cancer vaccines, and eventually checkpoint inhibitors… .

— Suzanne L. Topalian, MD
Nationally recognized surgical oncologist and researcher Suzanne L. Topalian, MD, had an early interest in the arts as well as science and decided to major in English upon entering Wellesley College in Wellesley, Massachusetts. "I wanted to keep all my options open, so I also enrolled in a pre-med program. It was difficult keeping up with both majors, and medicine eventually won out," Dr. Topalian told The ASCO Post.
Born and reared in a northern New Jersey suburb of Manhattan, Dr. Topalian chose Wellesley College because it offered a robust, well-rounded academic environment, where she nurtured her love of the arts before settling on a career in medicine. After graduating from Wellesley College in 1975 with a BA in English, Dr. Topalian entered Tufts University School of Medicine in Boston.
Diverse Academic Atmosphere
When she entered medical school in 1975, the traditionally science-centered culture was changing, and medical schools were beginning to look for students who had a more well-rounded academic background. "I think that Tufts was ahead of the curve in culture change and really liked that I had a background in the humanities as well as science."
According to Dr. Topalian, there was a lot of diversity among the students in her medical class; there were people from many walks of life and a wide range of ages. "We had students who served in the Vietnam War who were about 10 years older than the traditional med student. The diverse academic atmosphere enriched the academic experience," said Dr. Topalian.

Suzanne L. Topalian, MD
Asked whether she experienced any gender discrimination during an early period in which women were sorely underrepresented in the medical profession, especially surgery, Dr. Topalian responded: "I didn't identify my gender with my profession. I was simply pursuing a career in medicine, just like my fellow students. I didn't let anything distract me from that goal."
Early Appeal of Surgery
Dr. Topalian decided to become a surgeon in her first year of medical school. "I was always interested in anatomy, which I imagine had something to do with my choice of surgery. But during my rotations, I saw that surgery gave you direct answers to your hypothesis, whether your diagnosis was correct or not. The fast pace and immediate impact appealed to me."
Asked about her choice to enter the field of oncology Dr. Topalian said, "At the time I was in medical school, there were so many unknowns in oncology, from the causes of cancer to its treatments. It was a huge frontier, and I wanted to be part of the discovery process."
In 1979, Dr. Topalian began her general surgery residency at Thomas Jefferson University Hospital in Philadelphia. During her residency, her primary mentor was Herbert Cohn, MD, who was Surgical Residency Director. "In addition to being an outstanding mentor, Dr. Cohn provided an opportunity for me to do a year of research in the middle of my surgical training, which was not included in the standard surgical program at that time. I decided to do a year of pediatric surgery research at the Children's Hospital of Philadelphia, as pediatric surgery was my career goal then," said Dr. Topalian.
Intrigued by Cancer Immunology
During her research block, Dr. Topalian worked with Moritz Ziegler, MD, who directed a laboratory at Children's Hospital. "Dr. Ziegler specialized in tumor immunology, and it was my first exposure to the field of cancer immunology. It was an exciting year, during which I learned a lot about basic bench research. After that year working in Dr. Ziegler's lab, I was hooked on immunology. I found the idea of manipulating the immune system to treat cancer fascinating," said Dr. Topalian.
After completing her residency in 1985, Dr. Topalian had the opportunity to go directly into surgical practice but decided instead to do a surgical oncology fellowship at an institution where she could also do cancer immunology research. "In 1985, I was very fortunate that Steven Rosenberg, MD, PhD, accepted me into the surgical oncology fellowship program at the NCI [National Cancer Institute]. I started at the NCI at a very exciting time, when interleukin-2 just hit the scene. I was involved in some of the early trials of that agent," said Dr. Topalian.
T-Cell Research: From Bench to Bedside
Dr. Topalian continued: "At that point, I had a lot of clinical surgical experience but only 1 year of dedicated work in the lab. My first fellowship project at the NCI was to figure out how to grow T cells in the laboratory in a way that we could infuse them into patients as a therapy. It was a huge hurdle to grow T lymphocytes that had cancer-killing ability in large numbers."
Dr. Rosenberg served as a valuable mentor throughout Dr. Topalian's 4-year fellowship. "I owe Steve a lot. He let me run with my own projects. I was tasked with setting up the first facility to grow tumor-infiltrating lymphocytes in his branch and devised some of the standardized methods that are still used today. We also worked on automating the process, which led to some very exciting collaborations with pharmaceutical companies," added Dr. Topalian. "The experience at the NCI showed me first hand how we can go from bench to bedside," she noted.
During the succeeding years at the NCI, Dr. Topalian finished her fellowship and joined the faculty. She continued to do surgical clinical work, but the bulk of her energies eventually migrated to clinical trial work and collaborations with the pharmaceutical sector. "I became a clinical investigator with my own laboratory. It was a rich experience, and a lot of what we did led directly to the development of immunotherapies such as adoptive T-cell–transfer therapeutics, cancer vaccines, and eventually checkpoint inhibitors, which my current research focuses on," revealed Dr. Topalian.
A Difficult Career Decision
In 2006, Dr. Topalian faced a difficult career decision. "The NCI provided huge career opportunities and a great culture, but there were also outside opportunities. Johns Hopkins had a multidisciplinary melanoma group, including some top-notch investigators, but not a dedicated research program or a clinical trial effort to bring the whole melanoma picture together. I was offered a position to lead the first melanoma program in the Kimmel Cancer Center. And at that time, investigators at Hopkins were working with PD-1 [programmed cell death protein 1] checkpoint inhibitors in the laboratory. Naturally, I'd be involved in that groundbreaking research. Those two reasons weighed heavily on my decision to leave the NCI for Johns Hopkins."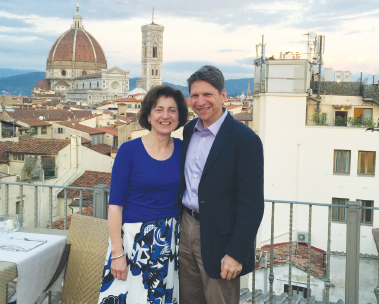 Dr. Topalian in Florence, Italy, with her husband, Drew Pardoll, MD, PhD.
Dr. Topalian said there was another incentive. "My husband, Drew Pardoll, MD, PhD, had been at Hopkins for decades. At the time, Drew was leading the immunology program in the cancer center and was trying to convince me to join Hopkins. So when I arrived at Hopkins, I pretty much hit the ground running, as the first clinical anti–PD-1 antibody had been chosen, opening the door to initiate the clinical development of PD-1 pathway blockade," shared Dr. Topalian.
'A Special Moment in Time'
Asked to look back and reflect on her career to this point, Dr. Topalian said, "I could not have asked for more out of a career. I was fortunate to be able to follow my own career desires in an important time in medical science and to be on the front lines of breakthroughs in two high-impact areas of cancer immunotherapy: adoptive T-cell therapy and immune checkpoint blockade. A career in medical science is very much shaped by the people you work and collaborate with, and again, I couldn't have asked for more. It is immensely gratifying to see that your work has helped patients with cancer. But there's a lot more to do, so the story is not over yet."
Asked what she does to wind down from her challenging workdays, Dr. Topalian said, "I have a lot of hobbies that have temporarily been put on hold. I truly consider this to be a special moment in time for cancer immunotherapy, with many exciting new opportunities on the horizon." ■
---