Physician-Researcher Carolyn Jean Presley, MD, Envisions Enhancing Geriatric Oncology

It's important for us to think of our patients in their social context. What is their capacity for dealing with therapy, and what is their caregiver's capacity? It's been called minimally disruptive medicine.

— Carolyn Jean Presley, MD
Carolyn Jean Presley, MD, a Robert Wood Johnson Foundation clinical scholar in medical oncology at the Yale Cancer Center, was born in Duluth, Minnesota, which hugs the north shore of Lake Superior, making it one of the nation's coldest cities during its long winters. She grew up the middle child of a warm and loving family, one that fostered an ethos of devoted medical service to our most needful patients. Dr. Presley's mother was a hospice nurse for more than 30 years, and her father was a physical therapist.
"I grew up hearing my parents' stories about caring for older adults and their health-care experiences, which included end-of-life care. My parents instilled in my siblings and me the importance of caring for vulnerable patients. They literally lived and breathed their work as caregivers," said Dr. Presley.
Hooked on Genetics and Global Studies
In 1999, as the Human Genome Project was underway, Dr. Presley and her father attended a Nobel Conference at the Gustavus Adolphus College, St. Peter, Minnesota; Craig Venter was the keynote speaker.
"After listening to a number of national experts talk about the human genome and the genomic possibilities ahead, I was hooked. In 2000, I decided to attend the University of Minnesota because it offered a genetics major, which was rare at the time, especially for a liberal arts school. But I'll never forget when I was in high school, I took anatomy as an elective and got a 100 on the first test. My teacher, Mrs. Smith, told me that whoever gets a 100 on their first anatomy test goes to medical school."

Carolyn Jean Presley, MD
Although an attractive career, medical school still was not on Dr. Presley's radar until one day when she was doing work-study in the lab of Clifford Steer, MD, a clinician-researcher who was a professor of medicine. "Dr. Steer encouraged me to pursue a career in medicine. Having a senior faculty member as a mentor who believed in me was essential for my career development as a woman in science," said Dr. Presley.
She continued, "I was fascinated with global studies and decided to study abroad. I went to Dakar, Senegal, where I interned in an inner-city clinic in Medina. I was there for 6 months, working alongside a community practitioner and a group of midwives, and truly loved the experience. I figured if I liked practicing medicine in an under-resourced clinic in the developing world, medicine was the career for me."
Returning to the University of Minnesota, Dr. Presley had the full support of several valued mentors. She took a cancer in biology class, which she found fascinating. "I also did volunteer work in the hospice setting. And during college, I did home hospice visits, and given my family background, talking to older adults with terminal illness was in my DNA. It also kept me centered while I was taking my premed courses," noted Dr. Presley.
Her decision made, Dr. Presley applied and was accepted to Dartmouth Medical School. "Besides my stint studying abroad, going to Dartmouth was the first time I'd left Minnesota. At Dartmouth, I was an Albert Schweitzer fellow and taught life skills for homeless women in the Upper Valley who were recovering from drug and alcohol addiction. I also did a patient-partner program, where I visited older couples in nursing homes. It was a terrific time because Dartmouth allowed me to choose my own path, and I was fortunate to have a wonderful group of female peers to train with," said Dr. Presley.
The Road to Geriatric Oncology
Dr. Presley settled on internal medicine, although she had other strong interests, including geriatrics and oncology. When Dr. Presley entered Yale University in 2009—where her husband was doing his graduate work—she decided to do her residency in the primary care program, which just celebrated its 25th anniversary.
"Stephen Huot, MD, PhD, who ran the primary care program, was a wonderful mentor. He supported me in choosing a solid primary care background, because it focuses on patient-centered care," explained Dr. Presley.
As an intern, Dr. Presley attended a geriatric oncology conference at the University of Alabama. "I hadn't realized that geriatric oncology was a discipline. After the geriatrics conference, I returned to Yale and was introduced to Cary Gross, MD, Head of the Yale COPPER (cancer outcomes, public policy, and effectiveness research) center. Strong mentorship from Dr. Gross; my oncology program director, Dr. Jill Lacy; and the geriatrics faculty Dr. Mary Tinetti and Dr. Tom Gill supported my interests, which led to the development of my own combined fellowship at Yale in geriatric oncology," she added.
Dr. Presley noted that as a fellow at the Yale COPPER Center, Dr. Gross and his team have served as invaluable mentors. "I've known Cary since 2009, and he introduced me to the Cancer and Aging Research Group (CARG), which is directed by Arti Hurria, MD, who was recently elected to the ASCO Board of Directors," said Dr. Presley.
Not surprisingly, being part of CARG has opened up a host of new opportunities for Dr. Presley. Dr. Presley was able to conduct research with Dr. Gross while she was a resident and with CARG collaborators to forge a network of like-minded colleagues at other institutions with an interest in geriatric oncology. "I was excited to stay at Yale after residency because the program directors of geriatrics and oncology let me create my own combined fellowship in geriatric oncology and hematology at Yale-New Haven Hospital," she continued.
Improving Elder Cancer Care
Dr. Presley is in her last year of fellowship and is enrolled in the Robert Wood Johnson Foundation Clinical Scholars program. Among other pursuits, she has been doing comparative effectiveness research and evaluating the functional trajectories among geriatric oncology patients. "Under the mentorship of Rogerio Lilenbaum, MD, we recently opened the first geriatric oncology trial at Yale, which is studying patients with advanced lung cancer. Looking at the big picture, my primary career goal is to improve the cancer care of older adults," said Dr. Presley.
Her strategy to accomplish that overriding goal will be approached in a couple of different ways. "For one, we can use comparative effectiveness research to gauge the value of various cancer treatments on a population level. We also know that older patients are underrepresented on clinical trials, so we want to change that trend. Using data sets and prospective clinical trials, we can learn how to integrate geriatric and palliative care principles into routine geriatric oncology care and really personalize that care."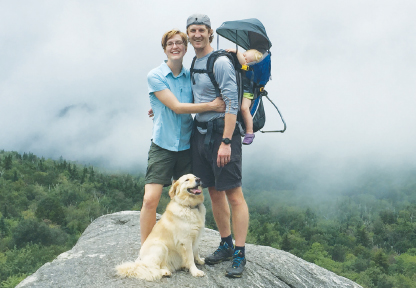 Dr. Presley with her husband; daughter, Aria; and their golden retriever, Lilo.
Dr. Presley's clinical practice is at the Veterans Health Administration, and she stressed that her patients tell her that dealing with cancer is a huge hill to climb, on many levels. "I'm working on developing integrated-care models that minimize the treatment burden on these vulnerable patients. The goal is to arrive at a place where the patients can receive their treatments but not have their lives consumed by it," said Dr. Presley, adding, "It's important for us to think of our patients in their social context. What is their capacity for dealing with therapy, and what is their caregiver's capacity? It's been called minimally disruptive medicine."
Asked about her post-fellowship plans, Dr. Presley responded, "I see myself being in an academic setting as a clinician-researcher at an institution that is committed to furthering the field of geriatric oncology. I'd eventually like to align my vision of geriatric oncology with my husband's; he is a basic science researcher. My research would concentrate on building an integrated geriatric oncology intervention care model, and my husband would be doing basic translational microbiome and bioinformatics in the geriatric population. I see us merging our visions for furthering geriatric oncology research together to ensure older adults with cancer receive the best care we can offer."
Closing Thoughts
"This is the best time ever to be a geriatric oncologist," declared Dr. Presley. "We're moving out of the silo model and collaborating with other disciplines, such as geriatric oncology, palliative care, and cardiology, in a way that has never been done before. And we have the top people in our profession leading the way. It will result in better care for patients and a more productive environment for clinicians."
And what does a passionate clinician-researcher bent on furthering geriatric oncology do to decompress? "My husband and I love taking long hikes in the state parks in Connecticut with our golden retriever, Lilo, and our 1½-year-old daughter, Aria." ■
---