Once a Vocational Nomad, Christine H. Chung, MD, Now Works to Promote Patient-Centered Care in Head and Neck Cancer

After I graduated from UCLA, I packed two suitcases, bought a one-way ticket, and moved to Washington, DC. I felt that if I wanted to be an American, the best place to be was in the country's capital…

— Christine H. Chung, MD
Christine H. Chung, MD, Chair of the Department of Head and Neck-Endocrine Oncology at Moffitt Cancer Center, Tampa, Florida, was born and reared in Seoul, Republic of Korea. Dr. Chung immigrated with her mother and two brothers to Los Angeles, where her family then resided. Dr. Chung did not speak English, so she pragmatically decided to major in biochemistry, a subject comprised largely of symbols and formulas, a universal language. "I attended UCLA [University of California, Los Angeles] because I needed to be close to my mother to help with the family floral business. I went through UCLA delivering flowers," said Dr. Chung.
Breaking the Cultural Barrier
Learning English, especially at a proficiency level needed to compete in higher education, was challenging. "I had English-to-Korean and Korean-to-English dictionaries and devised a system to learn key words and their meanings. It was very difficult and took a long time to work through the school material. But I'd always had a love of and an aptitude for science and math, so that helped," said Dr. Chung.
Christine H. Chung, MD
She continued, "Learning the scientific information was not so difficult, but I had to work full-time to support myself and help my mother. So I was always short on time; every minute of the day counted. On top of that, I had to deal with culture shock, as Korean culture is much different from American culture. And I had to cope with my parents' divorce. So it was a very difficult time."
While attending UCLA, Dr. Chung lived in Los Angeles' Koreatown, which offered her a safe social environment. But as graduation day approached, she felt the need to assimilate into American culture. By then, her mother and other family members had made a secure life in Los Angeles, so Dr. Chung felt free to branch out on her own. 
"After I graduated from UCLA, I packed two suitcases, bought a one-way ticket, and moved to Washington, DC. I felt that if I wanted to be an American, the best place to be was in the country's capital, not realizing at the time that it is not the best representation of the country as a whole," noted Dr. Chung.
A One-Way Ticket 
After landing at Reagan National Airport, Dr. Chung took a cab into the city and found the cheapest hotel she could. She called around in search of a roommate, soon finding one, a third-year medical student at George Washington University who lived in Crystal City, Virginia.
"I moved in with her and began looking for a job. There was an opening for a lab technician at the NCI [National Cancer Institute]. I applied, was hired, and worked at the NCI for a year, which is when I became interested in cancer research. My roommate was enjoying medical school, and she sparked my interest in medicine. I decided to apply to medical school," said Dr. Chung.
After taking the MCAT (Medical College Admission Test), Dr. Chung enrolled in a part-time master's program and worked full-time as a lab technician at Johns Hopkins University for 2 years.
While going through the medical school application process, Dr. Chung met a Dutchman, who she eventually married. "I decided to go to medical school in the Netherlands, and after arriving, I worked for about 6 months. But medical training is organized differently there, and I would have had to start over from square one. So I returned and went to Eastern Virginia Medical School," said Dr. Chung, adding, "My husband stayed in the Netherlands to finish his Dutch Cancer Society scholarship and later for a faculty position at the University of Amsterdam Medical Center. So we lived apart for 3½ years while I was in medical school."
Serendipitous Career Move
"During medical school, I decided to become a pathologist. But in my fourth year of medical school, I became pregnant with my first child, and every time I went into the pathology lab, the smell of the formalin made me sick. So I didn't pursue pathology; instead I decided on a career as a medical oncologist," explained Dr. Chung.
Dr. Chung had an intense interest in science and therefore wanted to pursue a physician-scientist career path. After receiving her MD from Eastern Virginia Medical School, Dr. Chung completed a residency in internal medicine and fellowship in medical oncology at the University of North Carolina (UNC), Chapel Hill. "During my fellowship training, I decided to be a breast cancer oncologist because I felt strongly that I should focus on women's health. By then, I'd had my second child and wanted to stay at Chapel Hill because I felt grounded there and loved working there," said Dr. Chung.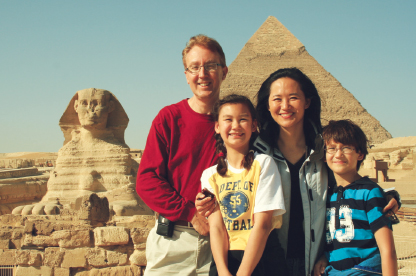 Dr. Chung in Egypt with her husband and children.
It turned out that UNC Chapel Hill had recently hired three additional breast cancer oncologists, leaving no position open for Dr. Chung. "However, they told me that they'd hire me if I would switch to head and neck cancer, as they were looking for someone in that area. I wanted to remain at Chapel Hill, so I decided to switch my focus to head and neck. But I didn't know anything about head and neck cancer because it was not a strong area in the hem/onc division," said Dr. Chung.
She continued, "Naturally, I felt an urgency to learn about head and neck cancer as quickly as possible. So in the second year of my fellowship, I tracked down Everett Vokes, MD, at ASCO and asked him if I could coattail him to learn about head and neck cancer. He agreed, so I went to the University of Chicago as a rotating fellow. Dr. Vokes taught me a lot about head and neck cancer, and I felt prepared to take care of head and neck cancer patients after I returned from Chicago."
A Movable Career
While in Chicago, Dr. Vokes had offered Dr. Chung a position at the University of Chicago, a rare opportunity to work with such an esteemed oncologist. Dr. Chung returned to Chapel Hill and told her division chief about the offer and that she wanted to accept it and move to Chicago. "By then, word had gotten out that I was movable, and I got a call from Vanderbilt University Cancer Center, offering me an attractive package. I ended up accepting the job at Vanderbilt after going through all the trouble of switching the disease focus to stay at Chapel Hill," said Dr. Chung. She was at Vanderbilt as Assistant Professor for 7 years.
Dr. Chung said she was very happy at Vanderbilt and had no plans to move; however, academic medicine is peripatetic at times. "When I was working with Dr. Vokes in Chicago, I got to know a lung cancer doctor named Charlie Rudin, MD, who had since moved to Johns Hopkins to lead a lung cancer program. He offered me a position as Director of the Head and Neck Cancer Therapeutic Program. I did my masters at Johns Hopkins and liked the area, so I decided to move to Johns Hopkins," said Dr. Chung.
However, 2 years into her time there, Dr. Rudin took a position at Memorial Sloan Kettering Cancer Center, and Dr. Chung noted that she had lost her mentor. "I received a call from the Moffitt Cancer Center with an offer to be the Chair of their new Head and Neck-Endocrine Oncology Department. Instead of developing my own career, I would be developing a department along with junior faculty. It sounded interesting, so several months ago, I moved to Moffitt in Tampa," said Dr. Chung.
A Leadership Role
Moffitt Cancer Center is a freestanding center and is affiliated with the University of South Florida School of Medicine, which, as Dr. Chung pointed out, gives it an advantage of being an independent facility. "The mission at Moffitt is centered on personalized cancer care, but we also have a strong education and research mission. There is less bureaucracy and more efficiency. I'm very excited about this new challenge to promote patient-centered multidisciplinary care for our head and neck and endocrine cancer patients," said Dr. Chung.
Creating Family Memories
Dr. Chung described the culture in Tampa as family-friendly and a perfect place for those who like outdoor activities. An enthusiastic runner and swimmer, she also squeezes in time to work out with a personal trainer. When she spoke to The ASCO Post, Dr. Chung and her family were off to spend Christmas in Uruguay.
"When my daughter turned 9, my husband and I decided that we weren't going to give our children material gifts for the holidays. Instead, we'd take them to a foreign land, which would enrich their appreciation of different cultures and leave them with beautiful memories," said Dr. Chung. ■
---