Noted Gastrointestinal Oncologist Leonard Saltz, MD, Tempers Optimism With Reality and Factors Cost Into the Equation of Value in Cancer Care

In 2004, I presented data in a talk at the ASCO Annual Meeting, stepping through a barrier, of sorts, and spoke about the costs of cancer drugs. At that time, the prevailing sense was that cost was not a subject for inclusion in academic discussions.

— Leonard Saltz, MD
Leonard Saltz, MD, was born in New York, New York, and reared in Westchester County, in the suburbs of the City. Terrance Archer, his high-school biology teacher, whom Dr. Saltz described as a "force of nature," a wonderful human being, and a major role model, influenced his nascent curiosity in science and medicine and ultimately his path to his notable career in oncology. "He pushed us hard to develop an appreciation for excellence and a love and respect for science," Dr. Saltz told The ASCO Post.
An Early Mentor 
Tragically, his high-school role model died of cancer shortly before Dr. Saltz entered Middlebury College, Vermont, in 1975. Dr. Saltz is a self-proclaimed ski, waterski, and whitewater fanatic, and so Middlebury offered him the opportunity to live near the mountains and work as a ski instructor while studying. Already focused on a medical career, after 2 years at Middlebury College, Dr. Saltz transferred to Stanford University in California. He graduated from Stanford University with a BS in biology in 1979 and entered Yale University School of Medicine that same year.
After graduating with an MD from Yale in 1983, Dr. Saltz began a 3-year internal medicine residency at New York Hospital/Cornell University. After completing his residency, Dr. Saltz remained at New York Hospital/Cornell University for a 3-year hematology-oncology fellowship, which he completed in 1989. That same year, he started as a faculty member at Memorial Sloan Kettering Cancer Center (MSK), where he has been ever since.

Leonard Saltz, MD
A Path to Oncology
As for his decision to pursue a career in oncology, Dr. Saltz said that the experience of his high-school biology teacher dying of cancer was one underlying reason. In fact, the teacher had such a profound effect on Dr. Saltz's career trajectory that he dedicated his doctoral thesis to him.
His decision to become an oncologist was also shaped by his residency at New York Hospital/Cornell University, during which he did oncology rotations at Memorial Sloan Kettering. "During rounds, I really liked working with the oncology patients. I was moved by the way they rose to the challenge in such a dignified manner as they dealt with their battle against cancer," said Dr. Saltz.
However, his decision to pursue oncology did not solve the unanswered question about what kind of doctor he wanted to be. During Dr. Saltz's residency at New York Hospital/Cornell University, he was doing a pharmacology rotation with Marcus Reidenberg, MD, who was Chair of the Pharmacology Department. "I was trying to decide between a career in practice vs research. Dr. Reidenberg offered the advice that if I thought the state of the art of medicine was good enough, to go out and practice it the best that I could, and that if I thought it needed to be better, then go into research and make it better. So I went into research," said Dr. Saltz.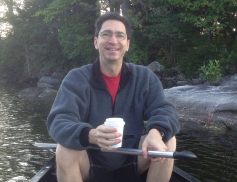 Dr. Saltz with his morning coffee.
Dr. Saltz also spent a couple of years of his fellowship in a laboratory at Rockefeller University, "making B cells and T cells talk to each other in Petri dishes," which further clarified his career path. "I realized that it was fascinating work, but I also knew that the lab wasn't my passion, and that there were other people who could do it better than I could. But it was a useful experience in helping me understand the rigors involved in high-level scientific research and in learning how to interface with scientific investigators and 'speak lab,' so we could work together to translate their lab work into clinical investigations."
Choosing a Specialty
Asked about his decision to enter the field of gastrointestinal oncology, Dr. Saltz responded, "Choosing gastrointestinal [GI] oncology was basically a pragmatic decision based on the job opportunity that came along. As a senior fellow, I was asked by a senior oncologist at New York Hospital to meet with David Kelsen, MD, then Chief of GI Oncology at Memorial Sloan Kettering (which was across the street), since our hospital lacked expertise in that area then. They wanted me to get some experience, perhaps work on a research protocol and bring it back to New York Hospital so we could work on it jointly. After several months of working on a protocol with Dr. Kelsen, he asked me if I needed a job, and I did. That's how I entered GI oncology."
Research Interests
"I initially started working in upper GI, and then in neuroendocrine tumors, because that's where I was assigned. I then moved my clinical and research interests into colorectal cancers, where I've dedicated most of my research over the past 20 years," revealed Dr. Saltz.
Early in Dr. Saltz's research career, while he was still working in upper GI cancers, preclinical data showed that the new compound, topotecan, appeared to have activity in gastric cancer. "As it turned out, topotecan didn't have a role in GI cancers. Shortly after, I became interested in looking at irinotecan—a drug in the same class as topotecan—in combination with the then standard fluorouracil/leucovorin. We published our results in The New England Journal of Medicine in 2000," said Dr. Saltz. That regimen, colloquially known as the "Saltz Regimen," was the first combination chemotherapy regimen to be used in this country for colorectal cancer and became standard of care for a while, until subsequently they found that the infusional regimens were better. 
"I also was the leader on the first clinical trial of cetuximab [Erbitux], an antiepidermal growth factor inhibitor, in colorectal cancer. I've also led trials looking at bevacizumab [Avastin], capecitabine, and other compounds in metastatic colon cancer," he said.
He continued: "A lot of our current work centers on understanding particular molecular subtypes in colorectal cancer. Our group is also trying to bring immunotherapies into the therapeutic mix, but with the exception of a small group of patients with mismatch-repair deficiency, we've not been able to get a whole lot of points on the clinical scoreboard. But we see potential down the road."
Costly Accomplishments
The other hat Dr. Saltz wears is Chair of Memorial's Pharmacy and Therapeutics Committee. "In the context of drug development and patient care, I've become very concerned about the skyrocketing prices of the new compounds we're developing. I'm also concerned that the steps forward, when they occur, are smaller than they need to be." In 2012, Dr. Saltz and colleagues, after deciding on the basis of price not to use the new agent aflibercept at MSK, wrote an op-ed piece in The New York Times entitled "In Cancer Care, Cost Matters." Within 3 weeks of that publication, the price of the drug was effectively cut by half. 
Dr. Saltz stressed that his drug cost-to-benefit concern is not new; it began well over a decade ago. "In 2004, I presented data in a talk at the ASCO Annual Meeting, stepping through a barrier, of sorts, about the costs of cancer drugs. At that time, the prevailing sense was that cost was not a subject for inclusion in academic discussions," said Dr. Saltz.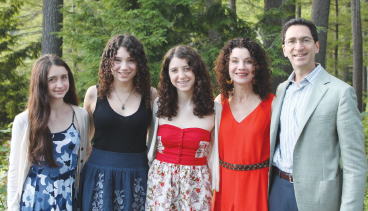 Dr. Saltz with his wife, Gail, and three daughters.
Although Dr. Saltz's 2004 ASCO presentation pointed out the advances made in colorectal cancer, he showed that if we used the drugs available to us in 1995 for patients in 2004, we could expect an average survival with metastatic colon cancer of slightly less than one year; the lifetime drug cost would be about $500. "With the addition of newer drugs such as irinotecan, capecitabine, cetuximab, and bevacizumab, we could now project a median survival in metastatic colon cancer of slightly less than 2 years, but these drugs have also increased costs by 500-fold. So we doubled survival time, which is hard to do, but the drug costs that were once $500 were now a quarter of a million dollars per patient," said Dr. Saltz.
He continued: "It was about this time, when I began asking what I believe is an important question: Are we losing sight of value? And this is an area I've gotten more involved with since then. Cancer drug prices have lost their connection to the value they do or do not offer. The prices have become based rather on what has come before and what the market will bear. And that is unsustainable. The good news is that we as a community are starting to come to grips with it. For example, ASCO invited me to discuss this subject at the annual meeting's plenary session, which says a lot about the Society's forward-looking vision and concern about this topic."
Optimistic Family Man
Dr. Saltz is currently Chief of the Gastrointestinal Oncology Service at Memorial Sloan Kettering Cancer Center, where he supervises a group of 26 medical oncologists, the largest GI cancer subspecialty group in the country. Asked if he is optimistic about the direction of oncology, Dr. Saltz remarked, "As an oncologist, I have to be optimistic. However, optimism needs to be tempered with reality. We as a field need to take a careful look at what we are accomplishing, some of which is remarkable. But we also need to raise our treatment standard bar. We can't afford to settle for small victories. And, as mentioned, we have to confront the issue of cost."
And what does Dr. Saltz do to unwind? "I love to be with my family," he says. He and his wife, psychiatrist, author, and television commentator, Dr. Gail Saltz, and their three daughters, all self-described "foodies," love to cook, eat, ski, waterski, and run whitewater together. "I coached my girls' soccer teams on weekends for 17 years," Dr. Saltz said. "I said no to a lot of weekend meetings and never regretted missing one. I've seen too many people in the field say 'I wish I'd spent more time at home.' It's very important to protect family time." If you don't do it, no one else will. ■
---