Lisa A. Newman, MD, MPH, FACS, FASCO, Balances Her Passions of Surgical Breast Oncology and Breast Cancer Disparity Research, Both Home and Abroad

During my 7 years as a general surgeon, I became particularly intrigued by the frequent presentation of advanced breast cancers in my young African American patients.

— Lisa A. Newman, MD, MPH, FACS, FASCO
Lisa A. Newman, MD, MPH, FACS, FASCO, Director of the Henry Ford Health System's Breast Oncology Program, was born in New York, New York and, according to her, was blessed to have had parents who lived the African American version of the "American Dream." Dr. Newman's father was the son of immigrants from Dominica in the West Indies, who met her mother in Harlem and reared five children with very limited resources but with an incredibly strong faith and respect for family values.
"As the youngest child, however, my dad had a bit less 'oversight' and did not graduate high school. But after meeting and marrying my mom, he was motivated to redefine his lifestyle and ambitions. He joined the military, obtained his GED [general educational development], and then went to college sponsored by the GI Bill," said Dr. Newman. Her mother worked very hard to support their young family while her father went to law school, and eventually her parents saved enough to leave inner-city New York and move out to a suburb in Long Island, where "my older sister, younger brother, and I had a wonderful education in the public school system."
"My parents were active with the NAACP [National Association for the Advancement of Colored People] and the civil rights movement, and they were powerful role models with respect to having a passion for addressing social inequities," said Dr. Newman.
Early Influence of TV Medical Dramas
When asked about early influences in her decision to become a physician, Dr. Newman noted that family members or friends in the medical field often inspired the careers of many American physicians. African Americans, however, are exceptionally underrepresented in health-care professions, and so interest in medicine is usually generated by some atypical exposure.
Lisa A. Newman, MD, MPH, FACS, FASCO
"In my case, I have fond memories of watching the soap opera General Hospital after school with my mom, and so my desire to become a doctor was actually motivated by observing the heavily dramatized lives of these television physicians. While the reality of a career in medicine is obviously quite different, I have fortunately found it to be gratifying far beyond any of my expectations as a grade-school student," said Dr. Newman.
Drawn to Surgery
Dr. Newman majored in chemistry as an undergraduate at Harvard University in 1981 and received her MD in 1985 from the State University of New York Downstate Medical Center in Brooklyn. Although Dr. Newman enjoyed all of her third-year clerkships, she said that she completely fell in love with surgery and remained at Downstate for her 5 years of general surgery residency. "At that point in my life, I was enthralled by the exciting variety in a general surgery practice and joined the Downstate faculty as Assistant Professor of Surgery, providing care for trauma patients as well as those with cancers or benign surgical problems," said Dr. Newman.
Dr. Newman described the Brooklyn community as one characterized by robust diversity in the patient population, but it also was accompanied by tragic inequities in socioeconomic resources. "During my 7 years as a general surgeon, I became particularly intrigued by the frequent presentation of advanced breast cancers in my young African American patients. This interest motivated me to pursue fellowship training in surgical oncology at the University of Texas MD Anderson Cancer Center, so I could acquire skills that would enable me to address breast cancer disparities from a research perspective. I was fortunate to be recruited to join the faculty at MD Anderson, and during my Houston years, I had the honor of working extensively with my mentor S. Eva Singletary, MD, one of the most extraordinary and visionary surgical breast oncologists I have ever known," said Dr. Newman.
Broadening Her Scope
As Dr. Newman's research in studying the association between African ancestry and high-risk breast cancer progressed, she realized the importance of further training in epidemiology. "I pursued an MPH degree at the Harvard School of Public Health through its summer epidemiology program. This experience provided me with the amazing opportunities to work with Graham Colditz, MD, DrPH; Melissa Bondy, PhD, MS; Mitchell Gail, MD, PhD; and Leslie Bernstein, PhD, in developing a modification of the Gail Breast Cancer Risk Assessment Model for more accurate application in African American women," explained Dr. Newman.
In 2000, Dr. Newman was relocated to Michigan, and after serving as Associate Director for the Walt Comprehensive Breast Center at the Karmanos Cancer Institute for 2 years, she was recruited to join the University of Michigan (UM) in Ann Arbor, where she served as Director of the Breast Care Center and Director of the Breast Fellowship Program for 13 years. "My tenure at the UM Comprehensive Cancer Center was phenomenally gratifying, working side by side with brilliant and talented luminaries in oncology such as Max Wicha, MD; ASCO President-Elect Dan Hayes, MD, FASCO; Alfred Chang, MD; Lori Pierce, MD; Mark Helvie, MD; and Sofia Merajver, MD, PhD. These individuals shared their expertise and skills in addition to being steadfast friends," said Dr. Newman.
Portal to Work in Global Health
Dr. Newman described the University of Michigan's history, which is actually the birthplace for the concept of the Peace Corps, as a portal to her future work in global health. "Surrounded by this rich past of global outreach at the University of Michigan, I had opportunities to pursue my career-long dream of studying the association between African heritage and breast tumor biology by developing research partnerships with hospitals in Africa. Building upon an amazing ob-gyn training exchange program that was developed by Department Chair Timothy Johnson, MD, my initial and ongoing collaborations were established with the Komfo Anokye Teaching Hospital in Kumasi, Ghana, 10 years ago," noted Dr. Newman.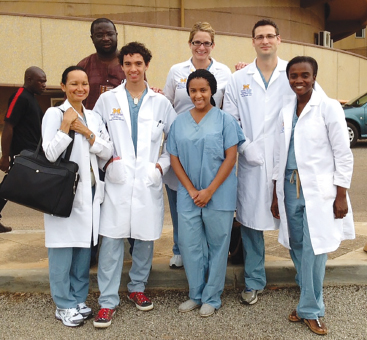 Dr. Newman (left) with her colleagues in Ghana.
"I continue to work with my primary Ghanaian co-investigator and dear friend Dr. Baffour Awuah, and this program has expanded to involve multiple partnerships in Ghana and most recently Ethiopia," she continued. "I travel to Africa three to four times each year for this collaborative effort, which involves educational and training exchange programs in addition to the research portfolio studying breast cancer phenotypes in African American, white American, Ghanaian (representing west Africa), and Ethiopian (representing east Africa) women. We have found strikingly high rates of triple-negative breast cancer in Ghanaian women, which may explain the increased rates of triple-negative breast cancer in African American women as a consequence of shared ancestry related to the colonial-era slave trade."
 Interestingly, Dr. Newman said that preliminary results revealed low frequencies of triple-negative breast cancer among Ethiopian breast cancer patients. The variation between African American and Ethiopian breast tumor phenotypes might also be related to forced population migration patterns, as the slave trade from east Africa was primarily controlled by Arabic groups and tended to travel toward Asia.
"We are excited about the continued growth of these global research partnerships because of the fascinating oncologic aspects. They also serve as wonderful opportunities to invest in the cancer care infrastructure of woefully under-resourced communities," she said.
A Day in the Life
On December 1, 2015, Dr. Newman began serving as Director of the Breast Oncology Program of the multihospital Henry Ford Health System (HFHS). The HFHS is an immense health-care enterprise, providing the highest quality care to the diverse metropolitan Detroit population. "This community is actually quite similar to the Brooklyn population of my early career. In many ways, I feel as though I have come full circle to my 'home' community, but am now equipped with a variety of research skills, resources, and most important partnerships. Allof these which will enable me to most meaningfully address the questions that initially steered me toward a career in academic surgical oncology," said Dr. Newman.
For several years, Dr. Newman has had an important collaborative relationship with the HFHS epidemiology staff, and she will have the honor of expanding and standardizing the multidisciplinary HFHS breast oncology services across their multiple facilities. "In addition, the visionary HFHS leadership has established the International Center for the Study of Breast Cancer Subtypes, a program for which I am proud to serve as the founding Medical Director. In these roles, I will continue to provide direct patient care (my passion!) as a surgical breast oncologist and expand my studies of breast cancer disparities related to African ancestry," said Dr. Newman. "Happily, I will also be able to continue my collaborative efforts with colleagues at the University of Michigan School of Public Health as well as the MD Anderson Cancer Center through adjunct professorship positions," she concluded. ■
---