International Authority on Radiation Effects, Robert Peter Gale, MD, PhD, Has Pushed Scientific Boundaries in Search of Answers

Progress is often made by those who investigate the boundaries of several areas, instead of having laser-like focus on a single discipline. That's where many of the answers in science reside.

— Robert Peter Gale, MD, PhD
It is widely reported that the first use of sargramostim (Leukine) in humans (granulocyte macrophage colony-stimulating factor; GM-CSF) was to treat victims of the Goiânia, Brazil, radiation accident in 1987. However, recently declassified documents show that sargramostim was first used a year earlier in 1986 at a more famous nuclear disaster: Chernobyl. The medical team of Robert Peter Gale, MD, PhD, and Professor Andrei I. Vorobiov considered using GM-CSF in patients with severe granulocytopenia. There was one problem: GM-CSF had only been tested in monkeys; there was no safety profile in humans.
Given the exigency of the situation, Dr. Gale and his Russian counterpart tested GM-CSF on themselves by injecting a tenfold higher dose than that used in monkey models. "Dr. Vorobiov received the drug without any adverse effects. However, in a few minutes, he had intense pain in the sternum, which was relieved with intravenous morphine. My injection went without complications. Pain is now a well-recognized complication of GM-CSF injection, but curiously the monkeys had not remarked on this; perhaps they sought revenge," Dr. Gale told The ASCO Post.
An Accelerated Education
Dr. Gale was born in New York City (NYC) in 1945. His father was a stockbroker at the global investment house Lehman Brothers, which declared banckruptcy in 2008. "A sad event my father would have terribly rued," remarked Dr. Gale. His mother was a NYC high school teacher.

Robert Peter Gale, MD, PhD
In high school, Dr. Gale was in a special program accelerated academic track, graduating and heading off to Hobart College at age 15, a small liberal arts institution in upstate New York. "Hobart was an Episcopalian school. We weren't Episcopalians, but that didn't matter. It proved a rewarding experience. However, being so young in an adult environment had its challenges. Several of my classmates who matriculated with me from the special program in high school went on to distinguished careers, but several others flamed out. The transition was just too hard," said Dr. Gale.
At Hobart, Dr. Gale majored in biology and chemistry. "During my senior year, I did honors work in biophysics at the University of Rochester. It was my first experience with real science. My research, interestingly, was focused on radioisotopes, and at some point it must have entered my subconscious, because radiation has been a central factor in my career," said Dr. Gale.
Medical School
Dr. Gale graduated with honors from Hobart College in 1966. It was the height of the Vietnam War, and the draft was sweeping young men into the military and shipping them overseas. "The State University of New York at Buffalo had what they called a rolling admission policy. They would conduct an interview and within 2 weeks, you'd be accepted or rejected. I was accepted and, concerned about being eligible for the draft, snapped up the opportunity and went off to medical school," revealed Dr. Gale.
The summer before entering medical school, Dr. Gale landed a job as a forest ranger on an army instillation in the remote Finger Lake area, tasked with keeping deer from eating the vegetation used to hide underground nuclear missile silos. "Once again, I came in contact at an early age with an experience that in some way planted the subliminal seed of radiation in my mind," Dr. Gale added.
He moved toward internal medicine as a career path, but about mid-way through his senior year in medical school, one of the medical interns became ill, and it was too late in the year to replace him. Chief of Internal Medicine Evan Caukins, MD, a giant in the field, drafted Dr. Gale to function as an intern for the second half of the year.
"In those days, word of mouth was the best way to get an internship. I guess I did a good job because at the end of the year, Dr. Conklin called his colleague, William Valentine, MD, Chief of Medicine at the University of California Los Angeles (UCLA) and Professor of Hematology/Oncology, and said he was sending him Robert Gale. So off I went to LA."
A Career in Hematology Begins
After finishing his internal medicine training at UCLA, Dr. Gale pursued a PhD in microbiology and immunology. "John Fahey, MD, after 20 years of leading the immunology branch at the National Cancer Institute [NCI], had come to UCLA to head the immunology department. Then two other famous hematologists, Drs. Martin Cline and David Golde joined us from the University of California San Francisco. The idea was to start a cancer center, which was a fairly new concept at the time," said Dr. Gale, adding, "I decided to do my PhD with John Fahey. At the time, there was a device like a dialysis machine called a blood cell separator, which removed blood cells or platelets from a patient. IBM made them, and there were only about four or five of them in the world, and John Fahey brought one with him. We put human blood through it to see how it worked. Then we put monkeys on it to check for safety. But I told Dr. Fahey I wouldn't put patients on it until I saw one in action."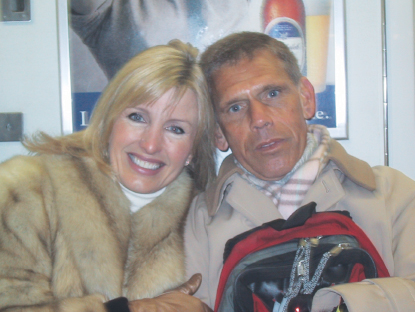 Dr. Gale with his wife, Laura, in New York City.
The closest unit in use was in Seattle, at the famous lab of E. Donnall Thomas, MD. "So I called Don and asked if I could come up and watch the procedure. He said sure, anytime. They were using the machine to collect granulocytes and transfusing them in patients to counteract infections during bone marrow transplantation," explained Dr. Gale.
He flew to Seattle but was told they weren't using the machine that week. "Dr. Fahey said he wasn't going to pay for me to fly back and forth and told me to stay there. One day, I helped a hematologist in the OR collect bone marrow. I became fascinated with the science behind the procedure, and when I returned to UCLA, we began setting up a bone marrow transplant center. We already had a first-rate hematology department and were doing HLA with Paul Terasaki, PhD, typing on an international scale, so it was a natural fit for us," said Dr. Gale.
Bone Marrow Transplants and Nuclear Disasters
From 1980 to 1997, Dr. Gale was Chairman of the Scientific Advisory Committee of the Center for International Blood and Marrow Transplant Research (CIBMTR). From 1989 to 2003, he chaired the Scientific Advisory Board of the Center for Advanced Studies in Leukemia.
He had been traveling to the then Soviet Union since 1974 at the invitation of Soviet hematologists. Dr. Gale explained, "The industrialist Armand Hammer was a friend and neighbor of mine. He was very interested in United States–Soviet relations, and we traveled together to the Soviet Union many times. After the Chernobyl nuclear power facility disaster, the Russian ambassador to the United States called me on behalf of President Mikhail Gorbachev, asking if I'd be willing to help them with the accident. Of course I went. Caring for the victims who were flown in from Kiev to the clinical hospital in Moscow was a secret military operation, so it was an extraordinary experience."
The following year in 1987, Dr. Gale was asked by the government of Brazil to coordinate medical relief efforts for the Goiânia accident. In 1988, he was part of the U.S. medical emergency team sent in the aftermath of the earthquake in Armenia. In 1999, he was asked by the government of Japan to help treat victims of the Tokaimura nuclear accident. In 2011, Dr. Gale was called to Japan to deal with the medical consequences of the Fukushima Daiichi nuclear power station accident.
An Illustrious Career
Dr. Gale has published 950 scientific articles and 25 books on medical topics, nuclear energy and weapons, as well as the politics of the U.S.–Russian relations; articles appeared in The New York Times, Los Angeles Times, The Washington Post, USA Today, Der Spiegel, and The Wall Street Journal. Dr. Gale has also written popular books on Chernobyl and U.S. nuclear energy policy as well as screenplays. He has appeared in several movies including Chernobyl: The Final Warning (with Jon Voight), Fat Man and Little Boy (with Paul Newman) and City of Joy (with Patrick Swazye). Dr. Gale received an Emmy award for his work on a 60 Minutes special report about Chernobyl.
His latest book, Radiation: What It Is, What You Need to Know, was published in 2013.
Dr. Gale (left) with Soviet Ambassador Anatoly Dubrinin and Armand Hammer en route to meet President Mikhail Gorbachev.
Dr. Gale is currently Visiting Professor of Haematology at the Haematology Research Center, Division of Experimental Medicine, Department of Medicine, Imperial College London, and Honorary Professor of Hematology at the Institute of Hematology at Peking Union Medical College.
Asked what sparked his initial interest in hematology, Dr. Gale responded: "I had an early interest in leukemia, as it affects very young people, making it especially cruel. When I was growing up, there were no effective treatments, even in childhood leukemia, and the vast majority of young children died quickly after being diagnosed with the disease. It seemed like an important challenge at the time, and even though we've made great advances, there's still challenging work ahead."
The Edges of Science
During his career, Dr. Gale has made numerous contributions to science, and on the humanitarian side, when asked to pick out a highlight or two, he responded: "In 1974, Martin Cline and I published a seminal paper in The Lancet on chemotherapy advances in patients with acute myeloid leukemia, which I'm sorry to say hasn't made much progress since then. We're still fighting that battle. My work in bone marrow transplantation is also something I'm proud of. Then, there was my laboratory research at the Weizmann Institute of Science in Israel, where Eli Canaani and I molecularly cloned the gene, which causes chronic myeloid leukemia, ultimately playing a part in the development of Gleevec [imatinib]."
"I've explored many areas so far in my career, and I think there's a lesson there," shared Dr. Gale. "Progress is often made by those who investigate the boundaries of several areas, instead of having laser-like focus on a single discipline. That's where many of the answers in science reside." ■
---