Allen S. Lichter, MD, FASCO, Reflects on His Career Path and His Tenure as ASCO CEO, and Predicts a Bright Future for Radiation Oncology

In my lifetime, I've seen a complete turnaround in how [radiation oncology] is perceived, along with important contributions by renowned radiation oncologists who treat our patients. There has never been a more exciting and promising time in oncology.

—Allen S. Lichter, MD, FASCO
Choosing a career path is one of life's most challenging decisions, but for Allen S. Lichter, MD, FASCO, deciding to become a doctor was inherently natural. He was born with a great mentor and role model: his father.
"I was born and raised in Detroit. My father was a general practitioner in suburban Detroit, serving as chief of staff at his hospital. He was very forward thinking and was involved in the foundational efforts to make health insurance more available in Michigan," said Dr. Lichter. "My older brother also chose to become a doctor, and I can't recall a day when we didn't want to follow in our father's footsteps. He was a passionate and dedicated physician."
Staying Close to Home
After graduating high school, Dr. Lichter entered the University of Michigan in 1964. "I lived in Detroit and decided to attend the University because it was close to my home. I went to the University of Michigan for my undergraduate degree and stayed at the University's medical school, as did my brother. I graduated in 1972 with my medical degree," said Dr. Lichter.
Dr. Lichter noted that besides proximity to his home, the University of Michigan's medical school tuition was also alluring. "My medical schooling only cost $700 per semester, but low-priced tuition did not reflect the quality. It was and remains a first-class institution, and I cherished the education I received in undergrad and medical school. I still do," Dr. Lichter said.
Although Dr. Lichter's choice to become a physician was never in question, the decision of what kind of medicine he wanted to practice loomed heavily during medical school. In his fourth year, Dr. Lichter had an opportunity to take an elective in radiology at the University of California, San Francisco. At that time, diagnostic radiology and therapeutic radiology were combined within the same department.
A Career Begins
"I was assigned to do 6 weeks in diagnostic radiation and 6 weeks in therapeutic radiation. I'd never even heard of radiation oncology. So I went to the clinic with an open mind and open eyes. Later on that very same clinic day, I called my father and told him I'd decided on radiation oncology as my field. It was that compelling," said Dr. Lichter.
Although Dr. Lichter's father was glad his son had solved one of life's difficult problems, many of his friends and colleagues were baffled by his career choice; in the 1970s, radiation oncology was not a popular specialty in the United States; at that time most leaders in the field hailed from overseas. "But I saw something in radiation oncology that was quite powerful. It was an amazing combination of medical science and the complex physical science of radiation. Moreover, the radiation oncology department in San Francisco was renowned worldwide. People still told me I was making a huge mistake, but that turned out not to be true."
NCI During Its Heyday
From 1972 to 1973, Dr. Lichter performed his medical internship at St. Joseph Hospital in Denver and then returned to the University of California San Francisco to perform his radiation oncology residency. "Before I entered the field, you trained in combined diagnostic and therapeutic radiology. I was in one of the country's first cohorts trained solely in therapeutic radiology. After I completed my residency in 1976, I took a job at Johns Hopkins. I spent 2 wonderful years there. Then I was invited by the National Cancer Institute (NCI) to join the radiation oncology department there, which was led by Dr. Eli Glatstein," said Dr. Lichter.
Dr. Lichter worked in the NCI's radiation oncology department performing research and teaching from 1978 to 1984. "It was an incredibly exciting time, during the heyday of the NCI, when Drs. DeVita, Young, Canellos, Rosenberg, and others were making groundbreaking discoveries in oncology," said Dr. Lichter.

Allen S. Lichter, MD, FASCO
Dr. Lichter's NCI experience also proved auspicious for his long-term career. "When I arrived at the NCI, a colleague asked me if I were a member of ASCO. I said no, and he said, 'Well, you've got to join.' I became an ASCO member in 1980, which was the beginning of my long and fruitful relationship with the Society," Dr. Lichter said.
The Phone Rings
In his sixth year at the NCI, Dr. Lichter received a call from his alma mater. The University of Michigan Health System was forming its first separate radiation oncology department and invited Dr. Lichter to be its Chair. "It was hard to leave the NCI, but I couldn't turn down an offer to chair the radiation department at the University of Michigan. So I accepted the offer and off I went to Ann Arbor," said Dr. Lichter.
Asked about his growing role in ASCO, Dr. Lichter responded, "In the early 1980s, I was fortunate to get on an ASCO grants selection committee, the Society's first foray into Young Investigator Awards. I eventually became chair of that committee and was appointed to other committees, which was a great learning experience."
According to Dr. Lichter, his turning point with ASCO was in the late 1980s at the Society's annual business meeting. ASCO has always been a multidisciplinary organization—one of its many strengths. The board was extolling the Society's commitment to represent each oncology specialty, and during the comment period, Dr. Lichter noted that it was admirable the board felt so strongly about the multidisciplinary nature of ASCO. "But at the same time, I'm looking up at the board of directors on the stage, and it is 100% medical oncologists. I asked why other specialties were not represented," said Dr. Lichter.
The Road to the Presidency
He continued: "I believe my comment hit home because a couple of years later, ASCO created dedicated board seats for radiation, surgical, and pediatric oncology. Out of the blue, I got a phone call from ASCO and they said, 'ok wise guy, you brought it up, so we're going to run you for the Board of Director's seat in radiation oncology,' and I was elected."
Dr. Lichter served on ASCO's Board of Director's and additional committees, and in the late 1990s, he was invited to run for president. "I lost to John Glick, MD, who was a fabulous president. Then I was asked to run again, and I won, serving as president from 1998 to 1999. After my presidency, which was a tremendously rewarding experience, I stayed involved with the Society, helping to establish our philanthropic foundation and becoming its chair," said Dr. Lichter.
During his ASCO presidency in 1999, Dr. Lichter became the Dean of the University of Michigan's medical school. Several years later the phone rang again. "ASCO was in need of a new CEO, and I was offered the job. By that time, I'd been dean at the University of Michigan Medical School for nearly 8 years, which is a good run in a major medical school. I saw it as a wonderful opportunity, and in 2006 I became ASCO's CEO," said Dr. Lichter.
Dr. Lichter noted that ASCO is such a powerful organization, in large part because it is led by the best and brightest in the field. "Terrific volunteers reinforce its structure, and the personnel here at the headquarters in Alexandria are extraordinarily talented. It was a thrill to be CEO because the ideas just continually bubbled up, and we turned many of those concepts into reality. Over the past decade, we've had great success and taken on difficult challenges, and I see the Society in a very strong position moving forward with a talented new CEO, Cliff Hudis, MD, coming aboard," said Dr. Lichter.
The Birth of The ASCO Post
Asked about his crucial role in the creation of The ASCO Post, Dr. Lichter replied, "I've known Jack Gentile and his team since I was coeditor of one of his previous journals. We had lunch one day, and Jack proposed launching a newspaper-style journal with ASCO. I liked the idea, and we presented it to the Board. It was a sizable venture, and the Board deliberated on it for about 9 months. In the end, a collaboration between ASCO and Harborside Press looked promising, largely because of the sterling reputation of Jack and his team. As always, you're cautiously optimistic about any such project launch. But when I saw the quality and editorial content of the first issue, I knew that The ASCO Post was going to be a valuable contribution to the literature. And it is."
Looking Forward, Never Backward
As for his chosen profession, Dr. Lichter said he never looked back, commenting that radiation oncology has gone through a technologic and scientific revolution, becoming far more sophisticated and integrated into cancer medicine. And since Dr. Lichter's early days, the field has now become highly attractive; consequently, the competitiveness for residency slots in radiation oncology is robust.
"The quality of young physicians entering the field is stunning, which speaks to a very exciting and bright future for radiation oncology. In my lifetime, I've seen a complete turnaround in how the field is perceived, along with important contributions by renowned radiation oncologists who treat our patients with cancer. There has never been a more exciting and promising time in oncology," said Dr. Lichter.
As for his future plans after he steps down as ASCO's CEO, Dr. Lichter laughed and said he has only one immediate plan: spending the summer relaxing with friends and family. ■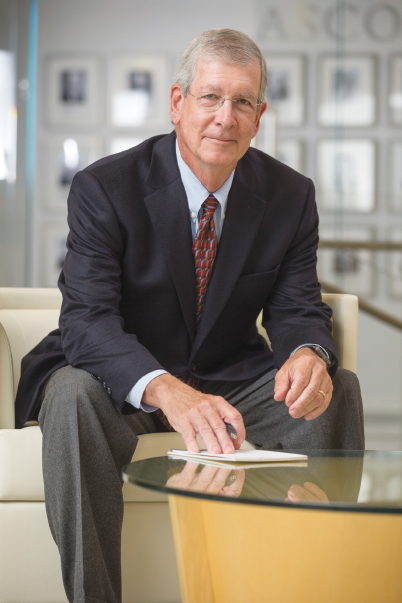 Dr. Lichter at ASCO headquarters, Photo by Mark Finkenstaedt at mfpix.com.
---