A Pioneer in Lung Cancer Research, James L. Mulshine, MD, Champions Early Population-Based Lung Cancer Screening

My interest is in early detection of lung cancer on a population-based scale, and properly executed with many like-minded collaborators, it will make a difference in health care.

— James L. Mulshine, MD
A neighborhood doctor who told a good story was an unwitting mentor to internationally regarded lung cancer expert James L. Mulshine, MD. Born in Elizabeth, New Jersey, Dr. Mulshine relocated with his family to West Hartford, Connecticut, when he was a year old, and except for a brief hiatus on Long Island, New York, his formative years were spent in Connecticut.
Dr. Mulshine said, "I grew up down the street from a physician who was a good family friend. He was Chair of the Rehabilitative Medicine Department at St. Francis Hospital in Hartford, Connecticut. On the side, he bought and restored distressed cottages situated on lakes in northwestern New England. When I was a teenager, he engaged me as a helper on his projects. We did everything from carpentry to electrical work. He had roomed in college with William Masters of Masters and Johnson fame and would recall situations from his college days up through his medical training, which would always lead us into discussions about interesting medical or other challenges. He was a thoughtful person to be around and a terrific mentor."
A Career Begins
After graduating high school, Dr. Mulshine wasn't fixed on a career in medicine, yet he went into premed at the College of Holy Cross, as he put it, "simply because it was the hardest major to get into, and I figured I would assess that option first, as it was much more difficult to enter that program later in college." However, Dr. Mulshine's premed experience convinced him of a career in medicine, and he entered Loyola Stritch School of Medicine—a year behind Richard Pazdur, MD—earning his MD in 1977.
"I went off for a fellowship at the Cleveland Clinic Foundation, and there was a young faculty member, Ronald Reimer, MD, who had come from the epidemiology department at the National Cancer Institute [NCI]. He was totally wowed by his experience, noting that it was an incredibly exciting time for oncology and something I should consider. Largely due to Ron's experience, I became interested in doing oncology research at the NCI," said Dr. Mulshine.

James L. Mulshine, MD
A Suggestion Turns Into a Career Move
Dr. Mulshine's ambition was fulfilled, and he spent 25 fruitful years at the NCI. "And Ron was right: It certainly was a dynamic period at the NCI. There were clear development opportunities, and like every other institution, you had to choose an area to focus on. At the time, lung cancer was appealing to me because, for one, it was the early 1980s, a pivotal time in the disease. For the first time, we were beginning to see the favorable effects of combination chemotherapy in small cell lung cancer."
He continued, "Plus, I was working with a dedicated group of top clinicians, such as Drs. Paul Bunn, John Minna, Adi Gazdar, Dan Ihde, and Mary Mathews, one of the true founders of interdisciplinary learning. Our group also had routine involvement with a broad range of medical disciplines beyond dedicated pathologists as well as a robust array of basic scientists. So we had all the dedicated people and tools within our group to take a concept from the bench to the trial setting."
Public Health Becomes a Calling
Dr. Mulshine had the opportunity to continue his work at the NCI, as a lung cancer specialist was needed to take the transformative advances in small cell lung cancer he'd worked on and apply them to non–small cell cancer. "I was responsible for developing the non–small cell protocols. The response rate was very poor, and even though we tried a whole variety of experimental agents, it stayed low."
The vast majority of patients with lung cancer Dr. Mulshine saw presented with late-stage disease, which became an inflection point in how he viewed lung cancer; it needed to be addressed as a public health crisis. "If you detected early disease, surgery worked pretty well. But at the time, early detection methodology was like an engineering problem, laying out and reconfiguring all the constituent parts to find out what worked and what didn't," said Dr. Mulshine.
Lung Cancer Screening: An Uphill Battle
Dr. Mulshine was doing studies focused on molecular-based diagnostics, and then in 1999, Claudia Henschke, MD, and her group found that spiral computed tomography (CT) was a more efficient and cost-effective tool than molecular diagnostics, for one, because the radiology platforms were already in place. It was the beginning of a long struggle to convince the science and political communities that properly executed lung cancer screening saved lives with efficient investment of precious health-care dollars.
Dr. Mulshine explained that during the nascent years of CT screening, the main challenge was to figure out how to implement population-based CT screening. "I collaborated with early pioneers from the I-ELCAP [International Early Lung Cancer Action Program] among others. I also was involved in discussions with then NCI Director Richard Klausner, MD, when he was considering the initiation of a national lung cancer screening trial, which was ultimately completed by Andy von Eschenbach, MD. "While Dr. Eschenbach was still in the transition phase of his move to the NCI, Bo Aldigé hosted a dinner with spouses, Don Coffee, my wife and I, and Andy and his wife. And we talked about the possibility of the NCI's launching the National Lung Cancer Screening trial. Andy said that it should be a science-based initiative, and he took over and saw it to its completion."
Time to Move
As he was approaching his 25th year at the NCI, Dr. Mulshine posed a question to himself: How does an intermural program bring value to a complex problem like the early detection of lung cancer? It was a question that would initiate another major career move.
"We proposed a pilot study at the NCI to look at automated imaging software development and various clinical features of early-stage disease, which was only about 15% of all lung cancer cases. Our goal was to improve the screening process, and it involved 1,000 ambulatory patients coming to the clinical center. However, it was just post 9/11, and security at the NIH was so intense it became too difficult to get ambulatory patients in and out in a reasonable time frame."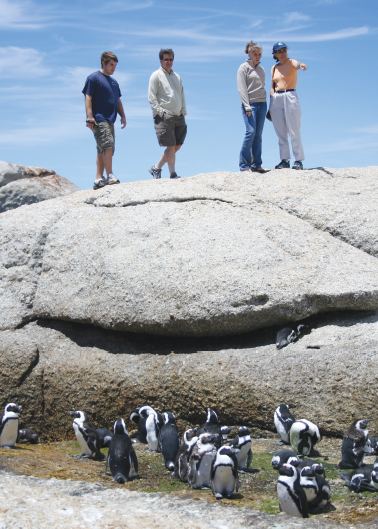 Dr. Mulshine with his wife and two older children hiking in South Africa.
It became evident to Dr. Mulshine that to do meaningful population-based lung cancer management, he needed a more fluid ambulatory venue. In 2005, he resigned as Co-Chair of the Upper Aerodigestive Faculty of the Center for Cancer Research at the NCI and joined Rush University Medical School, assuming the position of Associate Provost of Research.
"At Rush, there's a very strong thoracic group and an opportunity with the research community to integrate not only lung cancer screening but tobacco-related care screening. You need to screen 100 people to detect 1 cancer; therefore, lung cancer screening becomes a broad collaborative effort, not just a single institution," said Dr. Mulshine. He continued, "This type of valuable research will continue to grow and move from event-based care to population-based care and develop these large resources and have them available to answer new and specific questions, which could in turn save a significant number of premature deaths."
Asked for a closing thought, Dr. Mulshine said, "When I first started working in lung cancer, my branch chief, John Minna, told me that it was vital to pick something I feel will truly make a difference in health care, something I'll stick with and develop through its evolution into an established clinical service. He was very clear about that. My interest is in early detection of lung cancer on a population-based scale, and properly executed with many like-minded collaborators, this will make a difference in health care." ■
---