An Oncology Surgeon Leads Mexico's Melanoma Program

In this installment of The ASCO Post's Global Oncology series, Guest Editor Chandrakanth Are, MBBS, MBA, FRCS, FACS, spoke with surgical oncologist Héctor Martínez-Said, MD, of the Melanoma Clinic at NCI Mexico.

Héctor Martínez-Said, MD
Dr. Martínez-Said's maternal grandfather was part of a Lebanese immigration movement to Mexico in the early part of the 20th century. Although Lebanese people made up a scant 5% of the total immigration population of Mexico during that period, they constituted an outsized influence on culture in the areas they settled.
"I was born in Mexico City on May 12, 1968," Dr. Martínez-Said began. "My grandfather's family emigrated to Mexico to escape the regional wars engulfing his homeland of Lebanon. His family first settled in Veracruz, a major port city on the Gulf of Mexico, where my grandfather would later marry the daughter of a Mexican coffee grower and soon relocate to Mexico City. My father, Alfredo Martínez, was a government administrator, and my mother, Flora, taught elementary school. My sister is a psychologist, but I am the first medical doctor in our family. I have two children: a 22-year-old daughter, who is studying international law in the Hague, Netherlands, and a son, Hector Emilio, who is finishing high school. I have a girlfriend, Mitsy, who I share a most happy life with," he related.
Dr. Martínez-Said briefly described his medical training: "From 1987 to 1993, I earned my medical degree at Anáhuac University. At that time, this small private university was close in ranking to the Universidad Nacional Autónoma de México, which is our national university. After that, I did two postgraduate programs: one in general surgery from 1994 to 1998 and one in surgical oncology from 1998 to 2001 at the National Cancer Institute in Mexico. Then, I had an opportunity to do a surgical oncology fellowship at Mount Sinai with Dr. Adrian Legaspi and another surgical program with advanced laparoscopic procedures with the late Dr. Morris Franklin, who was Director of the Texas Endosurgery Institute in San Antonio. In 2002, I did a surgical oncology fellowship at the Daniel den Hoed Cancer Center in Rotterdam, working under the direction of surgical oncologist Dr. Alexander Eggermont, who was Head of the Oncological Surgery Department of the Daniel den Hoed University Cancer Centre, Rotterdam. I am very pleased to have had such eminent mentors to help shape my skills and appreciation of surgical oncology."
Drawn to Surgery
Asked why he chose the challenging field of oncology, Dr. Martínez-Said responded: "The first thing that drew me to oncology was the complexity of the disease and the challenges it offered. That fascination hasn't diminished over the arc of my career. When I began my training as a general surgeon, I was exposed to many fascinating oncologic cases in a very good medical oncology department. The first years of my residency were in a very small town doing community service, and my subsequent surgical training was in the bustling metropolis of Mexico City."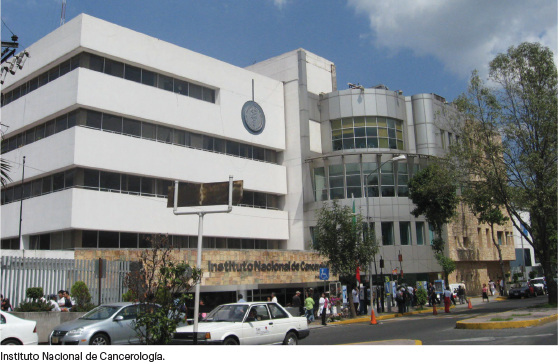 Dr. Martínez-Said described his professional direction after his 4-year residency training in general surgery. "I decided to do a 3-year course in the National Cancer Institute under the direction of another great surgeon, Dr. Francisco Alcala Prieto, a remarkable leader in the field, who just recently passed away at the age of 97. He taught me the difference between being a general surgeon and being a surgical oncologist. He used to say, 'Okay, Héctor, you are now a surgeon, but to fully start your career as an oncologist you have to understand cancer down to the molecular biology of the disease. And, you must have deep knowledge of the other disciplines, medical and radiation oncology. It is time to move into a career as a surgical oncologist.' He was truly an inspiring force in my career, not only on how I viewed surgery, but also the full spectrum of the multidisciplinary care model of oncology." Subsequently, I had the opportunity to get two other great mentors: Dr. Jaime G. De la Garza, a medical oncologist and the first Latin American member of ASCO, and Dr. Charles M. Balch, a distinguished surgical oncologist, former president of the Society of Surgical Oncology, and past ASCO Executive Vice President and Chief Executive Officer.
Cancer Burden in Mexico
The discussion turned to public health and the cancer burden in Mexico, with important changes in cancer epidemiology. Although some cancers have shown a decreasing trend in incidence and mortality in Mexico, others have emerged as relevant health priorities, such as prostate, breast, stomach, colorectal, and liver cancers.
"Since 1990, mortality has doubled from 55,000 cases to almost 90,000 cases per year in Mexico," Dr. Martínez-Said revealed. "This increase is problematic because it is occurring very rapidly, and it's expected to approach 160,000 cases in 2040. So, we are doubling our cancer mortality every 20 years," he said.
However, Dr. Martínez-Said pointed out that despite economic and social progress, Mexico is still plagued by cancer care challenges that are endemic to developing world economies, such as cervical cancer mortality, which reflects social inequity in health care. He argued that innovative strategies combining human papillomavirus (HPV) vaccination with HPV testing should be implemented to transform screening paradigms that have been inefficient in lower- and middle-income countries.
"Moreover," he continued, "based on the national cancer registry of Mexico, we see an even deeper problem with our oncology prevention and delivery system in that much of our cancer burden is the result of late-stage presentation at the time of diagnosis. For instance, more than 50% of gastrointestinal cancers present at stage III or IV; in breast cancer, the percentage is slightly higher, at about 58%. In fact, breast cancer is the leading cause of cancer-related death among young Mexican women, with up to 15% of cases involving women aged 40 or younger. This clinical issue is caused largely by delays in diagnosis, the result of which is we are seeing these women when cure is no longer possible."
According to Dr. Martínez-Said, more needs to be done: "We have our work cut out for us, but we are making progress in awareness, which is a major step forward." He also noted that in the United States and Western Europe, cardiovascular disease is still the number one cause of death. However, in contrast to conditions experienced in high-income countries, he added, infectious diseases still play an important role in morbidity and mortality, especially among elderly Mexicans.
The Big Picture
Dr. Are asked whether there were any statistically significant differences in the cancer landscape between Mexico and its southern neighbors, including ethnic variations. Dr. Martínez-Said replied: "There are only small differences in terms of incidence and mortality, because as my mentor used to say, below the Rio Bravo [known as the Rio Grande in the United States], it's almost the same. If you take a broad-based look at the region, moving south from Mexico, I think variations in lifestyle, diet, and access to care play the most important roles in the incidence of cancers. For instance, lung cancer is more prevalent in Colombia and Peru, where there is a much higher percentage of smokers than in Mexico. As far as variations according to ethnic groups, we don't have enough data to parse it out cancer by cancer."
GUEST EDITOR

Chandrakanth Are, MBBS, MBA, FRCS, FACS
Dr. Are is the Jerald L. & Carolynn J. Varner Professor of Surgical Oncology & Global Health; Associate Dean for Graduate Medical Education; and Vice Chair of Education Department of Surgery, University of Nebraska Medical Center, Omaha.
Dr. Martínez-Said continued: "The larger picture of cancer, as in any nation, can be looked at and analyzed largely through its health-care system. So, in Mexico, we have a fragmented health system based on the employment status of each person. The Mexican health-care system is divided into public and private sectors, with an overwhelming 93% of the population treated in publicly funded facilities. These facilities include the Mexican Institute of Social Security, which covers 50% of the population; the Instituto de Salud para el Bienestar (for the uninsured), which covers 40% of the population; the State Workers Institute for Social Security and Health; and the most recent Popular Health Insurance.
The Popular Health Insurance, also known as ­"Seguro Popular," is a voluntary health insurance scheme introduced in 2004 to provide coverage for the poor and uninsured and ended in 2018. Dr. Martínez-Said provided some more details on Seguro Popular. "It grew so rapidly that by 2011, nearly 100% of the population was covered, but only 50% of oncology cases were covered. Now we are in the process of optimizing this public policy to oncology patients through the Universal Health Coverage, but as with any new public policy, there are mistakes, with very hard first steps to solve. An example is the management of patients with melanoma, which was not covered by Seguro Popular. Up until recently, my patients with melanoma received only basic care. But now, some of my patients have access to the full spectrum of immunotherapy, beginning with adjuvant treatment."
Closing Thoughts
Dr. Martínez-Said offered some thoughts on the future of cancer care in Mexico. "We hope that in the coming years, universal oncology coverage will be a reality in our country. It is such an exciting time to be in a field that is rapidly advancing. As a surgeon, I've seen tremendous progress in organ-sparing procedures that not only increase survival, but also greatly improve quality of life. However, we need to create a more equitable delivery system, to give all patients with cancer access to prevention and treatment. And, as we know on the global scale, given the aging population, the burden of cancer will continue to grow. To prevent an impending health crisis, we need to collaborate on international prevention efforts that will help reduce one of our most serious problems: presentation of cancer at a late stage, without hope for a cure. I'm very optimistic that we will work toward that goal. We have the tools, so it's up to us to use them." 
DISCLOSURE: Dr. Martínez-Said reported no conflicts of interest.
---