Young Urologist of the Year Award Winners

Established by Michael C. Ost, MD, MBA, the 2012–2013 American Urological Association Young Urologists Committee Chair, the Young Urologist of the Year Award is presented annually to select early-career association members in recognition of their efforts and commitment to advancing the development of young urologists. The following members were selected by their colleagues to receive this honor for 2021: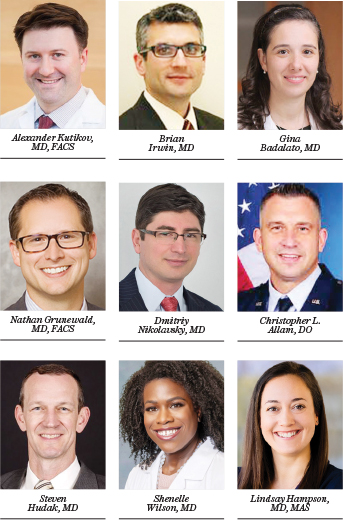 Alexander Kutikov, MD, FACS, Mid-Atlantic Section, Fox Chase Cancer Center, in recognition of his leadership, advocacy, and support of trainees and junior faculty
Brian Irwin, MD, New England Section, University of Vermont Medical Group, for his mentorship of students, trainees, and early-career urologists, particularly in terms of public policy and advocacy
Gina Badalato, MD, New York Section, NewYork-Presbyterian/Columbia University Irving Medical Center, for her role in the development and support of the virtual Educational Multi-Institutional Program for Instructing Residents Urology Lecture Series, which focused on providing resident education amid the COVID-19 pandemic
Nathan Grunewald, MD, FACS, North Central Section, Sauk Prairie Healthcare, in recognition of his passion and involvement in efforts related to advancing the development of both trainees and young urologists
Dmitriy Nikolavsky, MD, Northeastern Section, SUNY Upstate Medical University, in recognition of his tenure as the U.S. Young Urologist Member of the Northeastern Section Board of Directors and ongoing commitment to engaging early-career urologists in involvement at the Northeastern Section American Urological Association Section Meetings
Christopher L. Allam, DO, Lieutenant Colonel, U.S. Air Force, Brooke Army Medical Center, for his service as the Scientific Program Co-Director of the Society of Government Service Urologists' 2020 Kimbrough Urological Seminar as well as his tenure as the Air Force Urology Liaison representative to the society
Steven Hudak, MD, South Central Section, The University of Texas Southwestern Medical Group, in recognition of his commitment to the development of early-career urologists and his service as Chair of the American Urological Association's Young Urologists Committee for 2019–2020
Shenelle Wilson, MD, Southeastern Section, Georgia Urology, in recognition of her dedication to the advancement of both future and current Black and underrepresented minority urologists. Dr. Wilson is the founder of Urology Unbound, a nonprofit organization dedicated to recruiting, retaining, and promoting Black urologists.
Lindsay Hampson, MD, MAS, Western Section, University of California San Francisco, for her commitment to mentorship in her role as Associate Program Director for the university's Urology Residency Program. 
---