New ASCO Journal Series Examines Disparities in Cancer Care for Black People in the United States

A new special series in JCO Oncology Practice explores the causes of disparities in cancer care and outcomes for Black people in the United States and examines potential solutions to begin to achieve health equity for this population. The "Disparities in Cancer Care for Black People in the United States" special series, which was published as part of the journal's May issue, features 16 articles and editorials that cover a wide range of relevant topics and present new data that examine the barriers many Black individuals face in receiving high-quality, equitable cancer care, and opportunities for clinicians and U.S. health systems to address these barriers.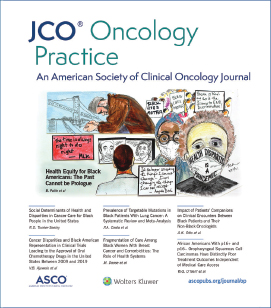 Black people bear a disproportionate share of the cancer burden in the United States. They have the highest mortality rate and shortest survival across racial/ethnic groups for most cancers, and Black men have the highest cancer incidence rate.1 Nearly one in three Black men and women will be diagnosed with cancer in their lifetime, and one in five will die from the disease.2
"As a Black woman and a Black oncologist, I've seen firsthand the disparate outcomes for people of color in the United States," said 2020–2021 ASCO President Lori J. Pierce, MD, FASTRO, FASCO. "I applaud JCO Oncology Practice, the editorial team, and all of the contributors for their leadership on this issue, for shining a light on these critical challenges we face as a society and within the oncology profession, and for offering concrete opportunities to make long-overdue progress. I am optimistic that with determination and persistence, change will come."
The series was guest edited by Karen Winkfield, MD, PhD; Blase N. Polite, MD, MPP, FASCO; Reginald Tucker-Seeley, MA, ScM, ScD; and Katherine Hicks-Courant, MD, who broadly categorized articles into four themes: biomarkers and race, clinical trial enrollment barriers, communication hurdles, and health-care system reforms. While this special series is focused specifically on Black people in the United States, JCO Oncology Practice plans to focus future special series on other groups that experience health inequities.
"We believe that JCO Oncology Practice has a clear responsibility to disseminate significant, high-quality research that examines the extent to which disparities exist; the root causes of inequity; and tools, practices, and policy-level changes required to improve the delivery of high-quality care for all Americans," said Linda D. Bosserman, MD, FACP, FASCO, Editor-in-Chief, JCO Oncology Practice. "My hope is that this special series provides the entire oncology community with a better understanding of disparities in cancer outcomes for Black people in the United States, along will new tools we can all adapt in our practices."
The series also includes an editorial from Dr. Pierce, which provides an overview of some of ASCO's recent initiatives targeted at increasing equity for this population, including a statement that condemns racism, acknowledges racism's "profound impact" on public health, and strengthens ASCO's commitment to taking bolder, more aggressive steps to address the complex forces and systems that are responsible for disparities in cancer prevention, diagnosis, treatment, and research.
"Research has shown us over and over again that Black people in the United States experience health disparities including worse cancer outcomes that are deeply linked to a history of discrimination and systemic exclusion," said Dr. Winkfield, one of the special editors of the series. "This special series aims to move beyond reporting of disparities and instead help us all move forward in understanding the mechanisms that create disparities and interventions needed to actually change the lives of people with cancer."
In addition to the special series, the May special issue also includes an ASCO State of Cancer Care in America infographic that presents an overview of Black representation in the oncology workforce illustrating another area of significant disparity. The infographic illustrates that at every step in the journey to becoming an oncologist, the percentage of Black participants decreases. For example, while 13.4% of the U.S. population is Black, only 8.4% of recent medical school applicants are Black, and only 3% of oncologists are Black. An accompanying manuscript outlines some of ASCO's ongoing efforts to address Black representation in the oncology workforce.
ASCO's Activities to Increase Equity in Cancer Care for Black Americans
ASCO is committed to embedding an equity, diversity, and inclusion perspective into all Society programs. Building on its existing portfolio, ASCO has most recently:
Appointed its first ASCO Diversity and Inclusion officer to guide ASCO internal and external initiatives aimed at achieving the Society's equity, diversity, and inclusion goals;
formed a collaboration with the Association of Community Cancer Centers (ACCC) to increase clinical trial participation among Black and Hispanic/Latinx patients, an effort that will include providing research sites with a site assessment tool and implicit bias training;
produced a new educational series focused on the role of social determinants of health in cancer care and cancer outcomes;
successfully advocated for Medicaid coverage of routine costs associated with patients participating in clinical trials.
Also in May, ASCO convened a virtual roundtable with leaders in oncology to explore challenges to achieving equity in precision cancer care, along with the actions needed to ensure that high-quality equitable cancer care is available to every patient, every day, everywhere.
"In order to achieve equity, we must look critically at how social determinants of health result in racial disparities across the cancer continuum, from prevention to end-of-life care, and decide that these disparities are no longer acceptable," said Dr. Tucker-Seeley. "My hope is that this special series will encourage the oncology community to further explore and intervene on the fundamental causes of disparities to ensure that patients who come from an ever-increasing number of diverse backgrounds and lived experiences can expect and receive equitable cancer care."
The May print issue of JCO Oncology Practice includes thematic cover art by Mack Roach III, MD, FACR, a radiation oncology and artist. 
References
1. DeSantis CE, Siegel RL, Sauer AG, et al: Cancer statistics for African Americans, 2016: Progress and opportunities in reducing racial disparities. CA Cancer J Clin 66:290-308, 2016.
2. American Cancer Society: Cancer Facts & Figures for African Americans, 2019-2021. Available at https://www.cancer.org/content/dam/cancer-org/research/cancer-facts-and-statistics/cancer-facts-and-figures-for-african-americans/cancer-facts-and-figures-for-african-americans-2019-2021. Accessed June 8, 2021.
© 2021. American Society of Clinical Oncology. All rights reserved.
---