Role of Race, Ethnicity, and Region in Mortality Among Pediatric Patients With Cancer Admitted to the ICU

Black and Hispanic children admitted to pediatric intensive care units for cancer treatment have significantly higher death rates than non-Hispanic white patients, according to findings from a study published by Laurens et al in Pediatric Critical Care Medicine.
Nationwide, 8.5% of black and 8.1% of Hispanic children with cancer died after admission to pediatric intensive care units, compared with 6.3% of non-Hispanic white children.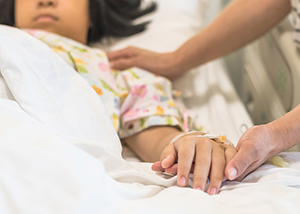 Photo credit: Getty
"I was surprised in some ways that it was such a stark difference," said senior study author Surender Rajasekaran, MD, MPH, a physician and Assistant Professor in the Michigan State University College of Human Medicine and Medical Director of Research at Spectrum Health Helen DeVos Children's Hospital. "This is an indication of the magnitude of the problem."
Coauthor Mara Leimanis Laurens, PhD, a research scientist at DeVos Children's Hospital and a College of Human Medicine Adjunct Professor, said the study points out the need for further research to correct the racial and ethnic inequities.
"I don't want this information to stay on the page," she said. "It has to lead to something actionable."
Methods
The researchers drew information from a nationwide Virtual Pediatric Systems database covering 12,232 patients and 23,128 intensive care admissions between 2009 and 2018.
While genetics and environmental exposures might account for some of the higher mortality rates among black and Hispanic children, Drs. Rajasekaran and Laurens suspect that socioeconomic factors, including poverty and lack of access to primary care, are more significant. Nearly 21% of all children in the United States live in poverty, but the rate among black and Hispanic children is two to three times higher.
Without access to primary care, many black and Hispanic children likely are in more advanced stages of cancer or critical illness by the time they are admitted to pediatric intensive care units, the researchers suspect. Disparities in health care have been well known among physicians and health-care researchers for years and have gotten more general attention in recent months.
"We're in the era of COVID-19, where this topic has been brought to light," said Dr. Laurens.
Findings
The study found regional differences in death rates, with Hispanic children in Western states and black children in Southern states dying at higher rates than non-Hispanic white children. Those differences might be due to the large number of new immigrants in the West and a larger portion of blacks living in rural areas of the South. The study found no statistically significant differences in death rates among racial and ethnic groups in the Midwest and Northeast.
Minority patients diagnosed with certain comorbidities—such as pulmonary diseases and sepsis—also had higher death rates than non-Hispanic white patients with the same conditions.
Dr. Rajasekaran said the findings point out the need for physicians not only to treat diseases, but to understand their patients' entire situations.
"Health is more than treating a disease," he said. "Health is understanding where our patients are coming from and what their reality is. We need to help our patients overcome health-care disparities. In a way, it would be nice to stop writing these papers and talk about how to solve this problem."
Disclosure: For full disclosures of the study authors, visit journals.lww.com/pccmjournal.
---