Northwell Health Cancer Institute of New York Appoints Oncology Experts to Lead New Programs

The Northwell Health Cancer Institute of Northwell Health in New Hyde Park, New York, has recruited four experts to strengthen its cancer care management, survivorship programs, oncology nursing, cancer research, and oncology surgery at locations throughout Long Island and Westchester county:
Catherine Alfano, PhD, will serve as the Cancer Institute's new Vice President of Cancer Care Management and Research. Dr. Alfano will lead and develop an integrated, high-quality cancer survivorship program focusing on patients' long-term health and well-being.
Stacy Sanchez, DNP, RN, will assume the role of Chief Nursing Officer. Dr. Sanchez will oversee operational performance, fiscal strategy, and consistency of nursing practices throughout all the oncology sites at Northwell.
Joseph Herman, MD, will become Vice Chair of Clinical Informatics for Radiation Medicine and Director of Clinical Research Integration for the Cancer Institute, where his leadership will advance clinical and translational cancer research.
Martin Karpeh, Jr, MD, was named Director of Surgical Oncology for Northwell's eastern region on Long Island and Chair of the Surgery Department at Huntington Hospital in Huntington, New York.
"We are laying the groundwork to create a survivorship program, bolster oncology nursing practice and initiatives, enhance the integration of clinical cancer research, and advance surgical oncology," said Richard Barakat, MD, Physician-in-Chief and Director of the Northwell Health Cancer Institute and Senior Vice President of Cancer Services at Northwell Health.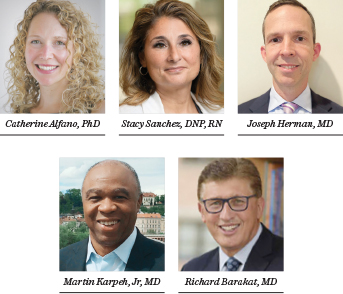 ---