American Association for Cancer Research Announces Distinguished Public Service Award Recipients

The American Association for Cancer Research (AACR) recently announced the presentation of Distinguished Public Service Awards to four individuals whose work has exemplified the AACR's mission to prevent and cure all cancers through research, education, communication, collaboration, science policy, advocacy, and funding for cancer research. The awards were announced during the AACR Annual Meeting 2020, Virtual Meeting II, held June 22–24, 2020. This year's award recipients—Roy S. Herbst, MD, PhD, FACP, FASCO; Douglas R. Lowy, MD, FAACR; Yoshiyuki Majima, PhD, MPH; and ­Patricia Spears, BS—were honored for their meritorious work in clinical research, scientific leadership and cancer ­policy, and advocacy, respectively.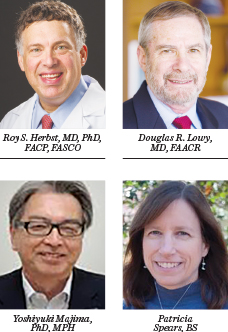 Clinical Research
Dr. Herbst was presented with the Distinguished Public Service award in recognition of his sustained, outstanding leadership in cancer science policy for the AACR. This includes his exceptional stewardship as Chair of the AACR Tobacco Products and Cancer Subcommittee, a position he has held since the subcommittee's inception in 2009.
Dr. Herbst, who currently serves as Ensign Professor of Medicine, Chief of Medical Oncology, and Associate Cancer Center Director for Translational Research at the Yale Cancer Center, has personally seen the ravages of tobacco products throughout his career as a leader in lung cancer research and treatment. Dr. Herbst's passion on this topic has driven the Tobacco Products and Cancer Subcommittee to consistently educate policymakers, scientists, physicians, and members of the public about the harms caused by tobacco products and addiction.
Scientific Leadership
Dr. Lowy was recognized by the AACR with the Distinguished Public Service Award in recognition of his leadership of the National Cancer Institute (NCI) during his tenure as the Acting Director. Dr. Lowy currently serves as Principal Deputy Director and Chief of the Laboratory of Cellular Oncology within the Center for Cancer Research at the NCI.
Dr. Lowy is also known for helping to develop the technology underlying most human papillomavirus (HPV) vaccines. For his work on HPV vaccines, Dr. Lowy and his collaborator John T. Schiller, PhD, received the Lasker-DeBakey Clinical Medical Research Award in 2017.
Patient Education and Support
Dr. Majima was presented with the AACR Distinguished Public Service Award in recognition of his leadership in patient advocacy, education, and support through the Pancreatic Cancer Action Network Japan (PanCAN Japan). Dr. Majima founded PanCAN Japan in 2006 after his sister's death from pancreatic cancer. The organization has since grown to become the largest support organization for patients with pancreatic cancer in Japan. Under Dr. Majima's guidance, PanCAN Japan has set an ambitious mission to advance research, create clinical trial awareness, stimulate faster drug approvals, support patients, and offer hope to patients through service and advocacy.
Patient Advocacy
Ms. Spears was honored by AACR's Distinguished Public Service award in recognition of her longstanding advocacy for patients with cancer and their loved ones and caregivers.
Ms. Spears has devoted her time and visionary leadership to more than a dozen initiatives, committees, and workshops with organizations such as the AACR, NCI, U.S. Food and Drug Administration, and others. As a breast cancer survivor, Ms. Spears continues to inspire clinicians and researchers by reminding them of the critical importance of the patient voice in treatment, communicating science and clinical research to the public, and facilitating the engagement of patients with basic and clinical researchers. She also urges patients to participate in clinical trials and has advocated for the incorporation of patient-reported outcomes into those trials.
AACR's Special Recognition

Margaret Foti, PhD, MD (hc)
"The AACR is extremely proud to present Distinguished Public Service Awards to four highly accomplished individuals whose selfless dedication to cancer research and patient advocacy has had a tremendous impact on countless cancer patients, survivors, and their families," said Margaret Foti, PhD, MD (hc), Chief Executive Officer of the AACR. "The exceptional efforts of this year's award recipients have accelerated the pace of progress against cancer. We extend our sincerest congratulations on their special recognition by the AACR and our thanks for their outstanding contributions to the field."
---