Caregivers Are Your Partners in Patient Care—Help Them Navigate Their Essential Role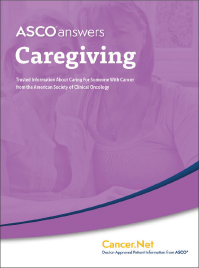 ASCO OFFERS tools and resources designed specifically for caregivers who are supporting someone with cancer. The ASCO Answers Guide to Caregiving includes advice for talking with family and the health-care team, trackers for symptoms and medications, and more. A simple one-page worksheet, Effective Caregiving at Home, is also available.
Order this guide for your practice at cancer.net/estore—it's available in packs of 25 guides for $20 (that's only $0.80 per guide!). ASCO Answers products ship for free domestically, and ASCO members save 20%. ■
© 2019. American Society of Clinical Oncology. All rights reserved.
---