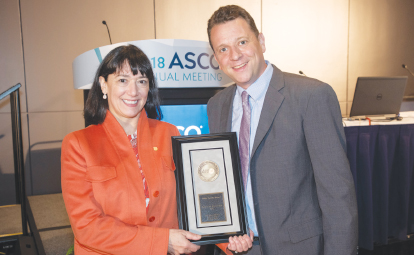 Monica Bertagnolli, MD, FASCO, presenting the Public Service Award to Gideon Blumenthal, MD, during Collecting and Using Real-World Evidence: Supplementing and Perhaps Replacing Clinical Trials at ASCO. Photo by © ASCO/Michael R. Schmidt 2018.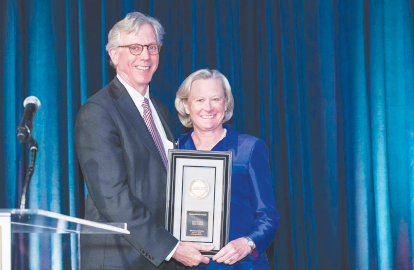 Daniel F. Hayes, MD, FACP, FASCO, presenting Julie Gralow, MD, FASCO, with the Humanitarian Award during the President's Dinner. Photo by © ASCO/Rodney White.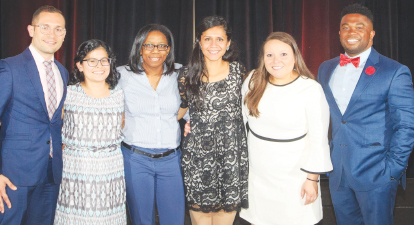 Resident Travel Award Recipients during 2018 Grants & Awards Ceremony and Reception at ASCO. Left to right: Cristian Serna-Tamayo, MD, University of Medicine and Dentistry of New Jersey; Jenny Ruiz, MD, Columbia University Medical Center; Joannie Ivory, MD, Saint Louis University; Maria Garcia-Jimenez, MD, MS, New York University; Carla Justiniano, MD, University of Rochester Medical Center; and Patrick J. Moore, MD, East Carolina University; Photo by © ASCO/Zach Boyden-Holmes 2018.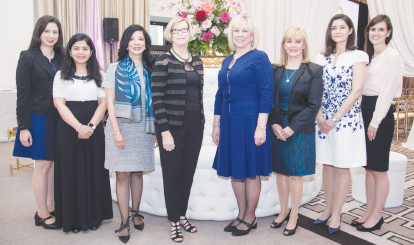 Women Leaders in Oncology Event—Women Who Conquer Cancer (WWCC) Advisory Group with WWCC Young Investigator Award Recipients. Left to right: Dr. Laura Levine, Dr. Maliha Nusrat, Deanna Van Gestel, Dr. Sandra Swain, Shawn Tomasello, Dr. Julie Vose, Dr. Ana Garrido-Castro, and Dr. Jennifer Crombie. Photo by © ASCO/Matt Herp 2018.