Identifying Genetic Basis for Extraordinary Clinical Responses May Accelerate Development of New Therapies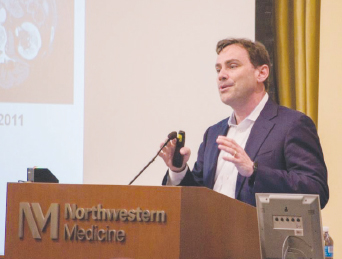 David B. Solit, MD, Geoffrey Beene Chair and Director of the Kravis Center for Molecular Oncology, Memorial Sloan Kettering Cancer Center, New York, discusses defining the actionable genome at the 2017 Lurie Cancer Center OncoSET Symposium in Chicago.
Accelerating the discovery of targeted cancer therapies requires defining the targets present in individual tumors, and there are two main ways to do this, David B. Solit, MD, told participants at the inaugural OncoSET Symposium: Emerging Approaches to Precision Medicine in Chicago.1
The genotype-to-phenotype approach has scored successes in identifying targets that led to the development of BRAF, KIT, and anaplastic lymphoma kinase (ALK) inhibitors. This approach involves "collecting hundreds or thousands of cancer samples and then retrospectively characterizing or profiling these cohorts of tumors or cell lines," Dr. Solit noted. The other approach "highlights the potential power of precision oncology," he explained. That is the phenotype-to-genotype approach, which is to focus on patients who have had extraordinary clinical responses, identifying the genetic basis of these responses and then using that information to guide subsequent trials in select molecularly defined subpopulations.
Dr. Solit is the Geoffrey Beene Chair and Director of the Kravis Center for Molecular Oncology, Memorial Sloan Kettering Cancer Center, New York. The symposium was sponsored by the Robert H. Lurie Comprehensive Cancer Center of Northwestern University, Chicago.
'Perfect Candidates' in Retrospect
As an example of a rare and extraordinary clinical response, Dr. Solit presented the case of a 73-year-old women with metastatic bladder cancer that recurred after treatment with chemotherapy and surgery. She achieved a complete response with the mTORC1 inhibitor everolimus (Afinitor) on Memorial Sloan Kettering protocol 08-123. However, only 2 of 45 patients responded, and "the conclusion of the study was that everolimus was ineffective in patients with bladder cancer passed upon the prespecified study endpoint," Dr. Solit said.
Whole-gene sequencing was performed, the first such analysis performed at Memorial Sloan Kettering, revealing that the tumor from the extraordinary responder "had 17,000 somatic mutations," Dr. Solit revealed. Analysis of these mutations was able to narrow the likely genetic basis for the patient's response "down to just two genes," TSC1 and NF2, which when lost or inactivated result in inactivation of mTORC1. "The patient has remained on drug with no evidence of disease for over 7 years now," Dr. Solit added.
Another example involved a woman with ovarian cancer who had multiple surgeries and failed to respond to three prior systemic agents. But within 1 year of enrolling in the GOG239 clinical trial and being treated with selumetinib, a MEK inhibitor, she had achieved a complete response. She was the only patient to do so, Dr. Solit declared, and more than 7.5 years later, she is still on the drug (although it is not yet approved by the U.S. Food and Drug Administration [FDA]). Sequencing her tumor revealed that she "had a very interesting and never previously reported 15 base pair deletion in a gene called MAP2K1, which is the gene that encodes for MEK1, the direct target of this drug," Dr. Solit added.
"In retrospect, this patient was the perfect candidate for a MEK inhibitor," and the patient with bladder cancer was "the perfect candidate for everolimus," Dr. Solit said. "We simply didn't know that these mutations were present in these patients going into the clinical trial."
Defining the Molecular Driver
The Kravis Center for Molecular Oncology at Memorial Sloan Kettering aims to prospectively define the molecular driver in all patients. "The assay we use is an in-house or home-brew type of assay is called MSK-IMPACT (Integrated Mutation Profiling of Actionable Cancer Targets)," Dr. Solit explained. "Sequencing the whole gene in every patient is not currently feasible. Rather, we only sequence those genes that are most likely to be mutated," he added, "to keep costs down so we can sequence more patients." Currently, that means capturing DNA from 468 cancer-associated genes. "Because we analyze both the tumor and normal DNA from each patient, we can also use the data to identify germline variants that contributed to cancer initiation," Dr. Solit said.
"In retrospect, this patient was the perfect candidate for a MEK inhibitor. We simply didn't know that these mutations were present in these patients going into the clinical trial."

— David B. Solit, MD




Tweet this quote



Started in February 2014, the MSK-IMPACT initiative "quickly ramped up to about 500 or 600 patients per month," Dr. Solit reported, and Memorial Sloan Kettering is now prospectively sequencing about 800 tumors each month. "One of the things that is great about this program is that all the genomic data are made available to everyone—all clinicians and researchers at Memorial Sloan Kettering—in real time," he added, in a format that is easily "browsable." We hope that by making the data widely available to both clinical and basic science research, we will accelerate the development of new therapies."
Matching Patients With Therapy
The Ability to use gene-sequencing results to match patients with specific therapies depends on the type of cancer and the level of evidence that a specific mutation is a predictive biomarker for a specific drug. For example, among patients with lung cancer, 92% of patients receive matched therapy if their tumor had a level 1 mutation, such as an epidermal growth factor receptor (EGFR) mutation or an ALK and reactive oxygen species (ROS1) fusion. The frequency with which patients received a matched therapy dropped down to 52% for those with a level 2 mutation, "which are mutations that we at Memorial Sloan Kettering believe would call for a matched therapy," but for which it is not universally accepted as such, Dr. Solit explained. Level 3 alterations, those in which promising clinical data have been observed with a targeted therapy, have a match rate of 25%, whereas level 4 mutations, those for which there is only preclinical data suggesting the use of targeted agents, have a match rate of 2%.
MSK-IMPACT ASSAY
With the MSK-IMPACT assay, DNA is captured for 468 cancer genes. Started in February 2014, this program now analyzes about 800 tumors per month.

"In lung cancer, about one-third of patients have at Memorial Sloan Kettering have had their treatment altered by sequencing," Dr. Solit said. "But that means 100% need the sequencing because we don't know who that third are going to be."

Memorial Sloan Kettering is the lead site for the multinational Neratinib Basket Study and central repository for all biospecimens. Patients are treated with neratinib, an inhibitor of the HER2 receptor tyrosine kinase and EGRF kinase, until disease progression or intolerable side effects. The primary endpoint is overall response rate (at 8 weeks). Basket studies, focused around a particular mutation or gene alteration and open to all types of cancer, "provide efficient access of investigational drugs to a broader range of patients" and can be "particularly important for patients with rare cancers, for whom disease-specific studies are often unavailable," Dr. Solit stated. "We have seen dramatic responses on these trials in many cases." The recent FDA approval of pembrolizumab for patients with mismatch-repair deficiency validates the feasibility of the pan-cancer approach."

Make an IMPACT Initiative

A recent modification to the Memorial Sloan Kettering prospective-sequencing initiative now allows us to offer tumor sequencing to patients with select rare cancer types who are receiving treatment anywhere in the world, Dr. Solit continued. The Make an IMPACT Initiative offers free genomic testing and aims to accelerate enrollment of patients with rare diseases onto promising molecularly targeted clinical trials. We expect that more rapid accrual to clinical trials therapies of promising drugs will lead to either FDA approval or a more definitive disease specific study, predicted Dr. Solit. The goal is to more rapidly establish whether an investigational drug is effective, so it can "become standard of care, and everyone with the rare cancer can receive it," Dr. Solit said. ■

DISCLOSURE: Dr. Solit reported no conflicts of interest.

REFERENCE

1. Solit D: Defining the actionable genome. 2017 Lurie Cancer Center OncoSET Symposium. Presented April 28, 2017.
---