Something Happened
Jane developed an irreversible infection and died in complete remission of her leukemia. Not from the disease, but from the therapy.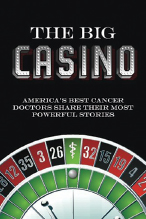 The following essay by Edward R. George, MD, is adapted from The Big Casino: America's Best Cancer Doctors Share Their Most Powerful Stories, which was coedited by Stan Winokur, MD, and Vincent Coppola and published in May 2014. The book is available on Amazon.com and thebigcasino.org.
Over the years, my patients have been my most important teachers. I've learned so much from them about human nature and the resilience of the human spirit. When my time came to pass through the fire and confront the same challenges they and their families face so bravely and with such compassion, it was their strength and example that I was able to draw upon.
I'm 69 years old and was born and raised in Miami, Florida. My mother had an 8th-grade education; my father, an Iranian immigrant, was a mechanic who taught himself to read and never stopped learning. Early on, I knew the only way to become financially stable was to get a good education, so I fine-tuned my interest in science to an interest in medicine. Over the course of my medical training, something happened. At every juncture, when I could have gone straight into research and never left the laboratory, I realized my greatest rewards came from dealing with patients and taking care of people.
Since then, I've treated thousands of patients. I've witnessed myriad research breakthroughs and other advances that dramatically tipped the balance against a disease once so dreaded that doctors avoided naming it in front of their patients. Out of those many thousands of patients, some patient stories stay with you, not because they are unique—every patient's struggle is unique—but because they symbolize the determination, frustration, triumph, heartbreak, and, yes, randomness that so often define cancer. Here are a few examples.
The Pathologist
I was serving as an attending physician at a Norfolk, Virginia, hospital, when a young pathology resident walked up to me with a microscope slide in his hand. I looked at him perplexed, since I was not waiting for a particular diagnosis or pathology report.
"Doctor, please treat me," he said. I'll never forget it. He'd diagnosed himself. He had acute leukemia. We treated him. It was a long course with a lot of complications. He got through it, went into remission, and then, as his fortunes were beginning to look up, he was dropped from the residency program. In effect, he had been told, "We can't continue you in residency training with a diagnosis of acute leukemia because we don't think you're going to survive."
Imagine how he felt.
The young man was so downtrodden he left town. As I later learned, he moved to Bay City, Michigan, where he started a general family practice. Years passed—this story has a happy ending—his disease never recurred, and he is still practicing medicine. Indeed, he's excelled as a practitioner with a huge patient following and five-star ratings all the way through.
The Young Woman
About 10 years ago, I met a 28-year-old woman I'll call Jane. Jane had been diagnosed with chronic myelogenous leukemia (CML), a lingering, less aggressive form of leukemia. Unfortunately, it blasted off and became acute leukemia. We began treatment with imatinib along with intensive combination chemotherapy. The treatment was successful, and we got Jane into a beautiful remission.
At that point, I discussed another possibility with her and her husband. "You know," I said, "I don't want to rely on this remission. You're so young. You ought to consider a bone marrow transplant so you can consolidate your gains and stay alive."
They agreed.
To those of you who have participated in clinical trials, I want to thank you for your altruism and want you to know that your participation leads the way in defining progress in the field of oncology.

— Edward R. George, MD




Tweet this quote



I sent her to the Medical College of Virginia in Richmond for the transplant. About 6 weeks later, I got a call from the head of the transplant program. He apologized for losing her. With her bone marrow ablated and her immune system essentially shut down, Jane developed an irreversible infection and could not be rescued. She died in complete remission of her leukemia—not from the disease, but from the therapy.
Should I have continued her on imatinib? The best evidence of the day was that Jane's remission wasn't going to hold. She'd recur, relapse, and her cancer would be resistant to further treatment. To this day, I second-guess my decision.
Charlene
My third story is the saddest and yet the most instructive and inspiring experience of my life. At the age of 41, my wife, Charlene, developed metastatic breast cancer. Yes, it happens to oncologists and their families. We are no different from the general population.
Charlene and I met when we were just out of our teens. She was from out of state, my brother's girlfriend's best friend. One Christmas, she came to visit Miami, and that was it. We'd married at 24—I was in medical school, and she was an elementary school teacher. She gave me three wonderful daughters and became a stay-at-home mom to be sure her children received the very best level of love and guidance.
Everyone loved Charlene. There were qualities about her that I still cannot put into words. She was very practical minded, but at the same time, she appreciated, even embodied, those vital but ephemeral values that are so often overlooked or trampled upon in our busy, self-involved lives—the importance of family being the foremost.
Charlene and I were close friends with another doctor and his wife. As it happened, the wife began having an affair, and the husband found out. He was so furious he planned to kick her out of the house. At this point, neither of them was considering the well-being of their four children. Charlene went to their home and spoke to them individually and together, almost like a counselor. She was so open and honest and had such great presence they put aside their anger and listened to her. They got back together and remained happily married for the next 30 years.
Facing Death
We were not so lucky. After her diagnosis, I took Charlene to the best physicians I could find. My colleagues in town treated her with all we had—to no avail. The time came when Charlene knew she was going to die. One day she said to me, "You can't understand what it's like to have no future."
She was right. When you know you're going to die—people don't verbalize this very often but she did—your future is black. There's nothing there. Yes, she believed in God and knew she could have an afterlife, but she also knew she wouldn't see our kids—her beautiful daughters—anymore. She wouldn't see her grandchildren. She wouldn't see her kids come home with their friends. Or go on vacations. I was helpless.
In the last months of her life, she spent all of her time figuring out how to take care of our daughters and me. She printed instructions for us on 3 × 5 index cards and put them all over the house—on the dishwasher, the washing machine, the dryer—telling the kids how to do this and that, when to do this and when to do that. She gave them this protocol to follow after she was gone. Just before she died, I remember her telling the kids, "Be sure to take care of Daddy."
All this happened more than 25 years ago, and I still feel the loss of her passing. A few years after Charlene died, I was at a dinner party. An acquaintance of mine turned to me and said, "I've got to tell you something. I don't want to depress you, but you are never going to find a woman like Charlene again. She was 1 in 10,000."
Lessons From My Patients
I retired from active practice—after 34 years—at the end of 2013. I wrote a farewell letter to all my patients. I'd like to end my story by sharing a brief excerpt from that letter with you and your loved ones. I guess it's also a love letter to my wife.
I've often been asked over the years, 'How can you continue to practice in this field with the gravity of the diseases and the defeats that are experienced day after day?' Well, I can safely say the sustaining factor for me, as a medical oncologist, has been the inspiration of my patients as they have shown incredible strength, fortitude, and magnanimity in facing sometimes-insurmountable obstacles. You, the patients, have, in many instances, taught me the true value of life and how it should be lived in its most productive and inspiring form.
Seeing the strength of my patients as they face formidable odds and how they have dealt with it, combined with the wonderfully transforming developments in the field, have been sustaining factors for me and I know also for my colleagues. With each passing month, we see new therapies being developed that deliver better results with less toxicity, often converting irreversibly fatal diseases to either curable or controllable chronic illnesses. To those of you who have participated in clinical trials, I want to thank you for your altruism and want you to know that your participation leads the way in defining progress in the field of oncology." ■
---