Black Cohosh

The use of dietary supplements by patients with cancer has increased significantly over the past 20 years despite insufficient evidence of safety and effectiveness. Finding reliable sources of information about dietary supplements can be daunting. Patients typically rely on family, friends, and the Internet, often receiving misleading information.
The ASCO Post's Integrative Oncology series is intended to facilitate the availability of evidence-based information on integrative and complementary therapies commonly used by patients with cancer. We chose black cohosh for this issue because many breast cancer patients and survivors use it to relieve vasomotor symptoms.
Compiled by Barrie R. Cassileth, PhD, and Jyothirmai Gubili, MS, Memorial Sloan Kettering Cancer Center. The free About Herbs website is managed by K. Simon Yeung, PharmD, MBA, LAc, Memorial Sloan Kettering Cancer Center.
Scientific Name: Cimicifuga racemosa
Common Names: Black snakeroot, rattlesnake root, squawroot, bugbane, bugwort
Brand Names: Remifemin, Menofem, Klimadynon
Overview
A perennial plant native to the eastern United States and Canada, black cohosh root was used by Native Americans to treat colds, cough, rheumatism, kidney disorders, malaria, menstrual disorders; to relieve symptoms such as hot flashes and night sweats associated with menopause; and to induce labor and lactation.
Over the past few decades, black cohosh has gained popularity as a nonpharmacologic therapy for relief from menopausal symptoms in Europe and in the United States. However, clinical trials thus far have yielded mixed results. Despite the lack of conclusive evidence, black cohosh continues to be a popular alternative to hormone therapy, which has been shown to increase the risk of cardiovascular events, stroke, and breast cancer.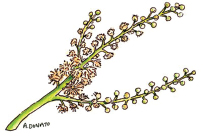 Black cohosh extracts are available in the form of teas, capsules, and tinctures in health food stores and online. Black cohosh should not be confused with blue cohosh, another herb with a different biologic profile and adverse effects.
The Science
In vitro and animal studies indicate that black cohosh has antiosteoporotic effects1 and enhances bone formation.2 In clinical studies, black cohosh alone3,4 or in combination with other herbs5 was found to be effective in alleviating menopausal symptoms, but data are conflicting.6 According to conclusions of a meta-analysis, sufficient evidence is lacking to support the use of black cohosh for menopausal symptoms.7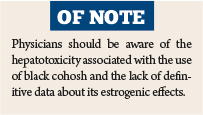 Studies of black cohosh for the treatment of hot flashes associated with breast cancer treatment also have produced mixed results.8-10 Furthermore, supplementation with black cohosh did not improve bone density or menopausal symptoms, nor did it decrease the 10-year risk of coronary artery disease in early postmenopausal women.11
Mechanistic studies indicate that black cohosh alleviates menopausal symptoms likely by mimicking neurostransmitters.12 Data on its estrogenic effects are conflicting.13 In one study, a black cohosh extract exerted antiproliferative and antiestrogenic effects in estrogen receptor–negative cells. This finding suggests that black cohosh mediates its effects via an estrogen-independent pathway,14 possibly by HER2 signaling.15 Black cohosh may also have antidiabetic potential.16

Jyothirmai Gubili, MS
Black cohosh has been investigated for possible anticancer effects as well. It was shown to decrease proliferation of prostate cancer cells,17 induce apoptotic response in liver cells,18 and inhibit mammary tumor growth in rats.19 A retrospective observational study found that it improved disease-free survival in patients with breast cancer.20 However, black cohosh increased the incidence of metastatic disease in a murine model.21 Further studies are needed to resolve the ambiguity.
Adverse Reactions
Common reactions include gastrointestinal upset and rash. Dizziness, headaches, nausea, and vomiting also occur when higher-than-normal amounts are ingested.22 Hepatotoxicity has been reported with the use of black cohosh,23,24 and two cases of liver injury resembling autoimmune hepatitis have been cited.25 A case of coagulation activation, fluid retention, and transient autoimmune hepatitis,26 as well as bradycardia,27 has been found in the literature. Finally, orobuccolingual dyskinesia, involving interference with speech, tongue-biting, and eating difficulties, has been reported following the use of an herbal supplement containing black cohosh and ginseng.28

Barrie R. Cassileth, MS, PhD
GUEST EDITOR
Integrative Oncology is guest edited by Barrie R. Cassileth, MS, PhD, of Memorial Sloan ­Kettering Cancer Center, New York.
Herb-Drug Interactions
Tamoxifen: Black cohosh may interfere with its actions.29
Chemotherapy drugs: Black cohosh may increase the toxicity of doxorubicin and docetaxel.30
Cytochrome P450 3A4: Black cohosh may interact with drugs that are metabolized by the CYP3A4 enzyme.31 ■
Disclosure: Ms. Gubili reported no potential conflicts of interest.
References
1. Wuttke W, Gorkow C, Seidlova-Wuttke D: Effects of black cohosh (Cimicifuga racemosa) on bone turnover, vaginal mucosa, and various blood parameters in postmenopausal women: A double-blind, placebo-controlled, and conjugated estrogens-controlled study. Menopause 13:185-196, 2006.
2. Chan BY, Lau KS, Jiang B, et al: Ethanolic extract of Actaea racemosa (black cohosh) potentiates bone nodule formation in MC3T3-E1 preosteoblast cells. Bone 43:567-573, 2008.
3. Liske E, Hänggi W, Henneicke-von Zepelin HH, et al: Physiological investigation of a unique extract of black cohosh (Cimicifugae racemosae rhizoma): A 6-month clinical study demonstrates no systemic estrogenic effect. J Womens Health Gend Based Med 11:163-174, 2002.
4. Oktem M, Eroglu D, Karahan HB, et al: Black cohosh and fluoxetine in the treatment of postmenopausal symptoms: A prospective, randomized trial. Adv Ther 24:448-461, 2007.
5. Briese V, Stammwitz U, Friede M, Henneicke-von Zepelin HH: Black cohosh with or without St. John's wort for symptom-specific climacteric treatment—Results of a large-scale, controlled, observational study. Maturitas 57:405-414, 2007.
6. Shams T, Setia MS, Hemmings R, et el: Efficacy of black cohosh-containing preparations on menopausal symptoms: A meta-analysis. Altern Ther Health Med 16:36-44, 2010.
7. Leach MJ, Moore V: Black cohosh (Cimicifuga spp.) for menopausal symptoms. Cochrane Database Syst Rev (9):CD007244, 2012.
8. Hernandez Munoz G, Pluchino S: Cimicifuga racemosa for the treatment of hot flushes in women surviving breast cancer. Maturitas 44(suppl 1):S59-S65, 2003.
9. Jacobson JS, Troxel AB, Evans J, et al: Randomized trial of black cohosh for the treatment of hot flashes among women with a history of breast cancer. J Clin Oncol 19:2739-2745, 2001.
10. Pockaj BA, Gallagher JG, Loprinzi CL, et al: Phase III double-blind, randomized, placebo-controlled crossover trial of black cohosh in the management of hot flashes: NCCTG Trial N01CC1. J Clin Oncol 24:2836-2841, 2006.
11. Bebenek M, Kemmler W, von Stengel S, et al: Effect of exercise and Cimicifuga racemosa (CR BNO 1055) on bone mineral density, 10-year coronary heart disease risk, and menopausal complaints: The randomized controlled Training and Cimicifuga racemosa Erlangen (TRACE) study. Menopause 17:791-800, 2010.
12. Wuttke W, Jarry H, Haunschild J, et al: The non-estrogenic alternative for the treatment of climacteric complaints: Black cohosh (Cimicifuga or Actaea racemosa). J Steroid Biochem Mol Biol 39:302-310, 2014.
13. Zierau O, Bodinet C, Kolba S, et al: Antiestrogenic activities of Cimicifuga racemosa extracts. J Steroid Biochem Mol Biol 80:125-130, 2002.
14. Garita-Hernandez M, Calzado MA, Caballero FJ, et al: The growth inhibitory activity of the Cimicifuga racemosa extract Ze 450 is mediated through estrogen and progesterone receptors-independent pathways. Planta Med 72:317-323, 2006.
15. Einbond LS, Wen-Cai Y, He K, et al: Growth inhibitory activity of extracts and compounds from Cimicifuga species on human breast cancer cells. Phytomedicine. 15:504-511, 2008.
16. Moser C, Vickers SP, Brammer R, et al: Antidiabetic effects of the Cimicifuga racemosa extract Ze 450 in vitro and in vivo in ob/ob mice. Phytomedicine 21:1382-1389, 2014.
17. Jarry H, Stromeier S, Wuttke W, Nahrstedt A: Petasiphenone, a phenol isolated from Cimicifuga racemosa, in vitro inhibits proliferation of the human prostate cancer cell line LNCaP. Planta Med 73:184-187, 2007.
18. Lüde S, Török M, Dieterle S, et al: Hepatic effects of Cimicifuga racemosa extract in vivo and in vitro. Cell Mol Life Sci 64:2848-2857, 2007.
19. Einbond LS, Soffritti M, Degli Esposti D, et al: Chemopreventive potential of black cohosh on breast cancer in Sprague-Dawley rats. Anticancer Res 32:21-30, 2012.
20. Henneicke-von Zepelin HH, Meden H, Kostev K, et al: Isopropanolic black cohosh extract and recurrence-free survival after breast cancer. Int J Clin Pharmacol Ther 45:143-154, 2007.
21. Davis VL, Jayo MJ, Ho A, et al: Black cohosh increases metastatic mammary cancer in transgenic mice expressing c-erbB2. Cancer Res 68:8377-8383, 2008.
22. Low Dog T, Powell KL, Weisman SM: Critical evaluation of the safety of Cimicifuga racemosa in menopause symptom relief. Menopause 10:299-313, 2003.
23. Pierard S, Coche JC, Lanthier P, et al: Severe hepatitis associated with the use of black cohosh: A report of two cases and an advice for caution. Eur J Gastroenterol Hepatol 21:941-945, 2009.
24. Lim TY, Considine A, Quaglia A, Shawcross DL: Subacute liver failure secondary to black cohosh leading to liver transplantation. BMJ Case Rep Jul 5; 2013.
25. Guzman G, Kallwitz ER, Wojewoda C, et al: Liver injury with features mimicking autoimmune hepatitis following the use of black cohosh. Case Rep Med 2009:918156, 2009.
26. Zimmermann R, Witte A, Voll RE, et al: Coagulation activation and fluid retention associated with the use of black cohosh: A case study. Climacteric 13:187-191, 2010.
27. McKenzie SC, Rahman A: Bradycardia in a patient taking black cohosh. Med J Aust 193:479-481, 2010.
28. Sen A: Orobuccolingual dyskinesia after long-term use of black cohosh and ginseng. J Neuropsychiatry Clin Neurosci 25:E50, 2013.
29. Li J, Gödecke T, Chen SN, et al: In vitro metabolic interactions between black cohosh (Cimicifuga racemosa) and tamoxifen via inhibition of cytochromes P450 2D6 and 3A4. Xenobiotica. August 9, 2011 (early release online).
30. Rockwell S, Liu Y, Higgins SA: Alteration of the effects of cancer therapy agents on breast cancer cells by the herbal medicine black cohosh. Breast Cancer Res Treat 90:233-239, 2005.
31. Tsukamoto S, Aburatani M, Ohta T: Isolation of CYP3A4 inhibitors from the black cohosh (Cimicifuga racemosa). Evid Based Complement Alternat Med 2:223-226, 2005.
---