Ibrutinib Plus Bendamustine/Rituximab Called a New Standard in Patients With Previously Treated CLL


Asher Chanan-Khan, MD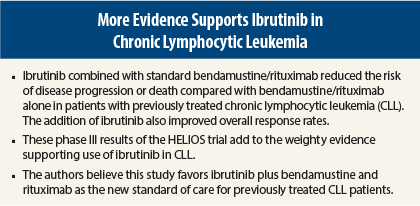 More Evidence Supports Ibrutinib in Chronic Lymphocytic Leukemia

Merry-Jennifer Markham, MD
These results represent a changing point in the treatment of CLL. The standard of care should now be ibrutinib plus bendamustine/rituximab for previously treated patients.

—Asher Chanan-Khan, MD
The addition of ibrutinib (Imbruvica) to standard therapy with bendamustine (Treanda)/rituximab (Rituxan) significantly reduced the risk of disease progression or death and overall response rates compared with bendamustine/rituximab alone in previously treated chronic lymphocytic leukemia (CLL)/small lymphocytic lymphoma (SLL), according to results of the phase III HELIOS trial reported at the 2015 ASCO Annual Meeting.1
"There are countless patients with CLL for whom this drug has been a blessing from God. Ibrutinib reduced the risk of progression or death by 80%. This is remarkable. It brings joy that such an impactful therapy changes the course of disease early on," said lead author Asher Chanan-Khan, MD, of Mayo Clinic, Jacksonville, Florida.
"HELIOS is one the largest studies of relapsed CLL/SLL, and the findings carry a lot of weight," he added. Ibrutinib is now one of the preferred drugs for CLL in the National Comprehensive Cancer Network Guidelines.2
B-cell signaling plays a role in the development of CLL, and this signaling is tamed by the Bruton's kinase inhibitor ibrutinib, so that the survival signal no longer reaches the cell, thereby preventing proliferation.
Study Details
HELIOS is a randomized, double-blind, placebo-controlled, international, phase III trial conducted in 21 countries. A total of 578 patients with previously treated CLL/SLL requiring treatment were randomized in a 1:1 ratio to receive ibrutinib plus standard bendamustine/rituximab followed by ibrutinib maintenance or placebo plus bendamustine/rituximab followed by placebo maintenance.
Patients were treated with a maximum of six cycles, and maintenance therapy continued until progressive disease or unacceptable toxicity. Crossover to ibrutinib maintenance was allowed for patients with progressive disease in the placebo maintenance arm.
Patients were eligible if they had active CLL/SLL requiring treatment, had relapsed/refractory disease following at least one prior line of systemic therapy, and measurable lymph node disease by computed tomography scan. Patients with deletions in 17p were excluded.
At baseline, 26% were purine analog-refractory. About 49% received one prior line of therapy, about 25% received two prior lines of therapy, and about 26% received three or more prior lines of therapy.
The primary endpoint was progression-free survival as assessed by an Independent Review Committee. Median progression-free survival was not yet reached in the ibrutinib-containing arm vs 13.3 months with standard bendamustine/rituximab (P < .0001). The combination arm significantly reduced the risk of disease progression or death by 80% compared with placebo plus bendamustine/rituximab.
Subgroup analysis favored ibrutinib across the board, including age, sex, diagnosis, Rai stage at screening, prior lines of therapy, bulky disease, baseline Eastern Cooperative Oncology Group (ECOG) status, and presence or absence of del11q and IgVH.
Overall survival has not been reached in either arm at a median follow-up of 17 months. These results are confounded by 90 patients in the placebo arm (31%) crossing over to receive single-agent ibrutinib. "Overall, ibrutinib reduced the risk of death by 37%," he said. The overall response rate was significantly higher in the ibrutinib/bendamustine/rituximab arm vs placebo/bendamustine/rituximab: 82.7% vs 67.8%.
No new safety signals emerged with the combination. Adverse events were consistent with the established safety profiles of all three drugs. The most frequent side effects were low blood cell counts, nausea, and diarrhea.
This is the second phase III trial (joining the RESONATE trial) to demonstrate that ibrutinib significantly delays relapse for previously treated patients with CLL/SLL. HELIOS is the first placebo-controlled study of ibrutinib in CLL/SLL and the first large phase III trial to evaluate a novel targeted drug with chemoimmunotherapy.
"These results represent a changing point in the treatment of CLL. The standard of care should now be ibrutinib plus bendamustine/rituximab for previously treated patients," Dr. Chanan-Khan stated.
"This is a very promising time for CLL. All patients will eventually relapse/recur. These results are so exciting because they show that ibrutinib is an important drug to use with an established chemotherapy regimen in this patient population. This will help our patients with CLL live longer," said Merry-Jennifer Markham, MD, ASCO expert and Assistant Professor of Medicine, Division of Hematology-Oncology, University of Florida, Gainesville. ■
Disclosure: Drs. Chanan-Khan and Markham reported no potential conflicts of interest.
References
1. Chanan-Khan AAA, Cramer P, Demirkan F, et al: Ibrutinib combined with bendamustine and rituximab in previously treated chronic lymphocytic leukemia/small lymphocytic lymphoma: First results from a randomized, double-blind, placebo-controlled, phase III study. 2015 ASCO Annual Meeting. Abstract LBA7005. Presented May 30, 2015.
2. National Comprehensive Cancer Network (NCCN). NCCN Clinical Practice Guidelines in Oncology (NCCN Guidelines®) Non-Hodgkin's Lymphomas, v4.2014. Available at http://www.nccn.org/professionals/physician_gls/f_guidelines.asp. Accessed June 8, 2015.
---
Related Articles
Jeremy Abramson, MD, Clinical Director of the Center for Lymphoma at Massachusetts General Hospital, Boston, is not convinced that ibrutinib (Ibruvica) combined with bendamustine (Treanda) and rituximab (Rituxan) should be the new standard of care for previously treated chronic lymphocytic...