Early Study Explores New Approach to Treating Advanced Cervical Cancer


Christian S. Hinrichs, MD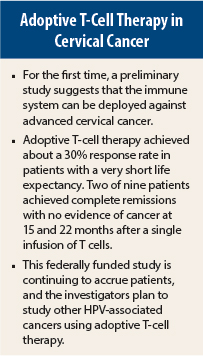 Adoptive T-Cell Therapy in Cervical Cancer
What better type of cancer could there be for this therapy than one caused by a virus? The immune system can recognize viral antigens as foreign and attack them.

—Christian S. Hinrichs, MD
A small, federally funded study of nine patients treated with human papillomavirus (HPV)-targeted adoptive T-cell therapy gives reason to hope that this type of therapy may be a new effective approach for patients with metastatic cervical cancer and possibly other solid tumors.1 In the study, two of the nine patients achieved dramatic and durable complete resolution of their cancer. Although this is very preliminary research, the study provides proof of principle and was greeted with ­excitement.
"We are in the early days of this proof-of-principle study that shows it is possible to achieve a complete tumor response in metastatic cervical cancer following a single infusion of HPV-targeted tumor-infiltrating lymphocytes. This study demonstrates that adoptive T-cell therapy can mediate regression of an epithelial cancer," stated lead author Christian S. Hinrichs, MD, Assistant Clinical Investigator at the National Cancer Institute (NCI) in Bethesda, ­Maryland.
Metastatic cervical cancer kills about 6,000 women in the United States each year. These patients are typically treated with chemotherapy, but that option is not curative and rarely provides durable palliation. Cervical cancers harbor attractive targets for immunotherapy: HPV oncoproteins (or antigens) E6 and E7.
Therapeutic Mechanism
"Up to now responses to immunotherapy have been disappointing in cervical cancer. Adoptive T-cell therapy is an emerging treatment that has shown promise in melanoma and certain B-cell malignancies," Dr. ­Hinrichs said. "What better type of cancer could there be for this therapy than one caused by a virus? The immune system can recognize viral antigens as foreign and will attack them," he continued.
The therapy is called HPV-targeted tumor-infiltrating lymphocyte therapy. T cells are harvested from tumor tissue and cultured. The cultures are then tested for HPV E6 and E7 reactivity. The most reactive cultures are selected for infusion and then expanded. Billions of these expanded T cells are put in an infusion bag, and the patient is given a single injection. Response is assessed by imaging 6 weeks later, then at monthly and bimonthly intervals.
The first cohort of patients in the NCI study included nine young women with metastatic cervical cancer, all with squamous or glandular carcinomas. Of these, three responded to therapy (one partial response and two complete responses). Dr. Hinrichs showed images of the two patients with dramatic complete responses. Both were 36 years old.
The first patient had a complete response that was ongoing 22 months after treatment. The second patient had a complete response that was ongoing 15 months after treatment. Dr. Hinrichs said that the second patient had very aggressive cancer that had spread to the pelvis and distant sites and she needed a ureteral stent; after treatment, she had a complete tumor response, and the stent was removed. She is now disease-free at 15 months.
Study Expansion
Dr. Hinrichs and co-investigators expect to expand the advanced cervical cancer cohort to 35 patients. They also have open on the same study a cohort for treatment of patients with other HPV-positive cancers including oropharyngeal, anal, vulvar, vaginal, and penile cancers. He encourages oncologists to refer such patients to the study.
Dr. Hinrichs expects that the next extension of this work will be to T-cell-receptor gene therapy targeting the HPV oncoproteins, an approach analogous to the CD19 chimeric antigen receptor (CAR) gene therapies, which have demonstrated promising results in early clinical trials for B-cell malignancies. ■
Disclosure: The study authors reported no potential conflicts of interest.
Reference
1. Hinrichs CS, Stevanovic S, Draper L, et al: HPV-targeted tumor-infiltrating lymphocytes for cervical cancer. ASCO Annual Meeting. Abstract LBA3008. Presented June 2, 2014.
---
Related Articles
Steven J. O'Day, MD, Director, Clinical Research, Beverly Hills Cancer Center and Director, Los Angeles Skin Cancer Institute, Beverly Hills, California, commented on cervical cancer study by Hinrichs et al from the National Cancer Institute (NCI) during a press briefing at the ASCO Annual Meeting.
...