How to Recognize and Manage Hand-Foot Syndrome Due to Capecitabine or Doxorubicin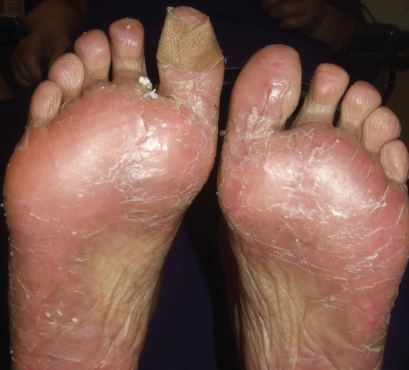 Fig. 1: Palmar-plantar erythrodysesthesia is a common adverse event often caused by capecitabine and liposomal doxorubicin in addition to other cytotoxic agents.
Dermatologic Events in Oncology is guest edited by Mario E. Lacouture, MD, an Associate Member in the Division of Dermatology, Department of Medicine, at Memorial Sloan-Kettering Cancer Center, New York. He is a board-certified dermatologist with a special interest in dermatologic conditions that result from cancer treatments and the author of many publications, including the recently published Skin Care Guide for People Living With Cancer. The series is intended to offer oncologists guidance in recognizing and treating the skin toxicities associated with anticancer agents.
Also known as palmar-plantar erythrodysesthesia, hand-foot syndrome is a common adverse event caused by many cytotoxic agents. Two of the most common causative medications are capecitabine (Xeloda, adverse events of all grades occur in 56%–63% and grade 3 events occur in 11%–24%) and liposomal doxorubicin (all grades occur in 40% and grade 3 events occur in 1%–20%).
The symptoms begin an average of 2 to 12 days after drug administration, beginning with redness and swelling of the palms and soles, which may progress to dryness, scaling, pain, itching, and sometimes blisters and ulceration (Fig. 1). Hand-foot syndrome affects the palms more frequently than the soles.
Although several hypotheses exist, the precise mechanism underlying the development of the syndrome is unknown. The presence of liposomal doxorubicin has been demonstrated in the skin surrounding eccrine glands, so it is possible that this toxicity comes from excretion of the chemotherapy in the sweat.
Development of the condition may be a surrogate marker of capecitabine efficacy, as there is a significant correlation between capecitabine-induced hand-foot syndrome and efficacy biomarkers in patients with metastatic breast cancer.
Treatment Recommendations
Patients with hand-foot syndrome should avoid excessive friction or trauma on the hands and feet, and they should use protective gloves and socks when performing activities, especially during the first 2 months of chemotherapy. Pain is the predominant symptom of hand-foot syndrome. Consequently, analgesia with opioids or nonsteroidal anti-inflammatory drugs should be instituted if necessary.
Treatment with twice daily applications of high-potency topical steroid creams (clobetasol, betamethasone) for erythematous or painful areas is recommended, as well as keratolytic moisturizers such as ammonium lactate (lactic acid) 12% or salicylic acid 6% for hyperkeratotic areas.
Systemic premedication with dexamethasone (8 mg twice daily on days 1–4; 4 mg twice daily on day 5; 4 mg on day 6) has demonstrated benefit in uncontrolled studies of patients treated with liposomal doxorubicin. Celecoxib (Celebrex), 200 mg twice daily, has been shown to delay the onset and decrease the incidence of grade 1/2 hand-foot syndrome from capecitabine.
Regional cooling of the hands and feet during liposomal doxorubicin infusion decreases the frequency and severity of hand-foot syndrome, but presents logistical challenges in busy chemotherapy suites.
In cases where these interventions are not effective, decreasing or interrupting doses may lead to improvement in symptoms. Early recognition and treatment of hand-foot syndrome may help prevent the need for changes in drug regimen. ■
Dr. McLellan is Assistant Professor in the Ronald O. Perelman Department of Dermatology at New York University School of Medicine and NYU Langone Medical Center, New York.
Disclosure: Dr. McLellan reported no potential conflicts of interest.
---