Breast Cancer Symposium to Offer Uniquely Interdisciplinary Approach for Attendees
All aspects of the field represented in research presentations and interactive education sessions

Many breast cancer–focused meetings and conferences are held each year, but the Breast Cancer Symposium, which takes place this year in San Francisco, September 8–11, is one of the few that takes an interdisciplinary approach to delivering practical, how-to clinical information for attendees from all disciplines involved in researching, diagnosing, and treating breast cancer.

"Instead of involving one or two modalities that are part of the diagnosis and treatment of breast cancer, we try to involve them all—from imaging to pathology to surgery to radiation oncology to medical oncology to geneticists: the entire gamut of people who are involved with patients," commented radiation oncologist Robert R. Kuske, MD, one of the founders of Phoenix-based Arizona Breast Cancer Specialists. A pioneer of breast brachytherapy, Dr. Kuske is the symposium's Program Committee Cochair. "To be a true breast specialist and to bring a well-rounded approach to patients, you need to know the other specialties and what they bring to bear."
Interdisciplinary Sponsorship, Too
The truly interdisciplinary approach of the symposium is reflected in its varied array of sponsors. Along with ASCO, they are the American Society of Breast Disease, American Society of Breast Surgeons, American Society for Radiation Oncology, National Consortium of Breast Centers, and Society of Surgical Oncology.
"Each society has its own meeting, but to have this multidisciplinary convergence in one meeting, with each of these organizations working together to create an educational program that speaks to each of those disciplines, is unique," said Shawna C. Willey, MD, FACS, Associate Professor of Surgery and Director of the Betty Lou Ourisman Breast Health Center, which is part of the Lombardi Comprehensive Cancer Center at Georgetown University Hospital in Washington, DC. Dr. Willey is the symposium's Steering Committee Chair. 
Important Networking
In addition to the multidisciplinary sessions, there will be ample opportunity to connect with colleagues, which can be just as valuable.
"I personally have benefitted from ties that I have made at this meeting and the cross-fertilization of ideas there," Dr. Kuske said. Offering a specific example, he said that speaking with colleagues at last year's symposium led him to look closely at estrogen receptor (ER)-negative patients for both local and systemic relapse after partial-breast radiation, an area he pioneered. "After the symposium, I went back and looked at my research and found an increased local recurrence rate, which may also be true for conventional radiation in ER-negative tumors," he said. As a result, he added that important information into his data analysis, and the randomized clinical trial NSABP B‑39/RTOG 0413, of which he's co–principal investigator, will offer a head-to-head comparison.
'Science to Survivorship'
The symposium's theme this year is "The Continuum of Breast Care: Science to Survivorship." The aim is to foster dialogue between investigators and clinicians to bring the results of research directly into practice. Attendees will be able to be part of discussion-based sessions with faculty from the top cancer institutions.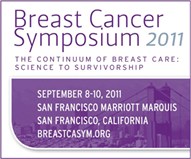 Topics for sessions will include new approaches in diagnostic pathology, new imaging modalities, current controversies and future prospects in detection, and survivorship aspects such as diet, nutrition, and ethnic/racial issues. Other topics will include new systemic agents, novel surgical approaches in local/regional management, and radiation and radiobiology.
In addition, this year's Gianni Bonadonna Breast Cancer Award recipient will be announced at the symposium. The Gianni Bonadonna Breast Cancer Research Fellowship funds an early-career investigator committed to conducting breast cancer research at the awardee's institution and under the mentorship and supervision of the awardee. It consists of a 1-year grant in the amount of $50,000.
This year's symposium will take place at the San Francisco Marriott Marquis. To register, go to www.breastcasym.org and select "Register for the Symposium." ■
---