A Conversation with Brad Zebrack, PhD, MSW, MPH
How to help young adults cope with cancer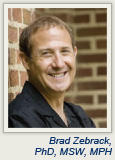 Each year in the United States, approximately 70,000 people between the ages of 15 and 40 are diagnosed with cancer. And while getting a cancer diagnosis at any age can be devastating, for adolescents and young adults (AYAs) grappling with sexuality, body image, peer pressure, dating, marriage, family planning, education, and career goals, making the adjustment of having a life-threatening disease can be especially difficult. Although all cancer survivors share some common concerns, studies show that young adults suffer more cancer pain and distress than older patients and experience more sleeping difficulties, sadness, worry, irritability, and sexual issues.
Diagnosed with Hodgkin lymphoma at 26, Brad Zebrack, PhD, MSW, MPH, Associate Professor, University of Michigan School of Social Work, and Adjunct Associate Professor, University of Michigan School of Public Health in Ann Arbor, has devoted his career to researching the impact of cancer on adolescent and young adult cancer survivors. Recently, The ASCO Post talked with Dr. Zebrack about how oncologists and other medical providers can help young adults cope with cancer.
Watching for Psychosocial Issues
What can oncologists do to spot psychosocial issues their young adult patients with cancer may be experiencing?
You have to specifically ask them how they are coping with cancer. Are they having pain, sexual problems, emotional problems, or treatment-related side effects? Knowing that young adults experience more psychological distress compared with older adults with cancer, doctors need to ask them specifically what they're struggling with and then determine how the health-care team can help them and what psychosocial support interventions might be necessary.
Population-specific Needs
How unique is this population compared to children and older cancer survivors in the types of psychosocial support services they may need?
The tricky thing that makes AYAs unique is that they need to know that the support services are available to them when they want them. Adolescents and young adults don't want to be told what to do. They want to get there on their own, but they're still kids, so the approach has to be different. Chances are an oncologist may be seeing a young person with a drug or alcohol problem, and those issues need to be addressed in the context of care. But if the doctor asks, 'How much alcohol do you drink?' or 'Do you take drugs?' that young person will likely say, 'No, I don't.' The oncologist can then make the point about the importance of not taking drugs or drinking when on active treatment and say, 'If these are issues you need help with, there are people I can refer you to.'
Oncologists are becoming more aware of the fertility issues and do raise those concerns with patients. However, when a young adult gets a cancer diagnosis, often the only thing she hears is that she has cancer, so these issues have to be revisited throughout the continuum of care. It's not enough to say, 'This might impact your fertility.' The next week, when the patient comes back for staging, say, the doctor needs to raise the issue again. The research I'm doing seems to show that those first few months following a diagnosis is when psychosocial information is critical for young adults.
Role of Social Media
Since this is a population that grew up in the digital age, would using social media like Twitter help keep patients treatment compliant?
The research hasn't been done yet to show to what extent all the social media applications can be used to promote adherence to therapy, but it's a great question. For young adults, it's all about maintaining a lifestyle they can be okay with while they're going through cancer treatment. Young people have little experience in dealing with life-threatening issues, so they're at risk for choosing quality of life over cancer treatment, because they want to deny or ignore the fact that they have cancer.
Cognitively, these young patients haven't yet developed fully functioning reasoning capabilities. So when they do something stupid like go to a party on a Friday afternoon instead of coming in for their chemotherapy treatment, it's best to avoid the punitive approach and instead reinforce the positive message of how important it is to stick to the therapy, which is going to improve their chances for survival. ■
Financial Disclosure: Dr. Zebrack reported no potential conflicts of interest.
---
Related Articles
While overall cancer survival rates continue to rise-there are nearly 12 million cancer survivors today, according to the latest figures from NCI-most of that improvement is among pediatric and older adult patients. For adolescent and young adult patients with cancer, defined by the NCI as those in ...