Annual Meeting of the Moroccan Cancer Society: An Opportunity for Young Cancer Researchers to Evolve

The Moroccan Cancer Society (MCS; Société Marocaine de Cancérologie/https://smc.ma) was created in 1992 by a group of Moroccan medical and radiation oncologists, surgeons, and pathologists who had led the field in the 1980s. To date, this scientific society has more than 350 members practicing in both public and private oncology clinics.
The MCS develops updated national recommendations to improve cancer care in Morocco based on the available therapeutics in our setting using international guidelines and recent findings of clinical trials. In addition to its principal role in organizing oncology events, it has built various collaborations with international cancer societies to deliver updates in oncology practice by actively involving young Moroccan oncologists in workshops and advanced courses. This year, the MCS organized its 29th National Congress in March in Marrakech, with a particular focus on the latest advances in precision medicine in a hybrid fashion with the participation of more than 700 oncologists.
Khalid El Bairi, MD
Congress Highlights: Research Advances
The morning of the Congress was scheduled for a school of oncology dedicated to nonmetastatic non–small cell lung cancer, with a focus on pathology and molecular biology, imaging, surgery, radiotherapy, and systemic treatments. This was an opportunity for young Moroccan and African medical specialists in oncology to update their basic knowledge on the treatment of this cancer.
The first day was also a noticeable occasion for young oncologists to present their research advances through 10 accepted abstracts as oral communications in the fields of breast, ovarian, prostate, and head/neck cancers. The discussed topics encompassed an economic evaluation of Oncotype DX in the management of localized breast cancer, the impact of luteinizing hormone-releasing hormone agonists on the quality of life of patients with cancer, the assessment of pathologic complete response according to breast cancer molecular subtypes, and the practice of breast radiation oncology in the countries of the Maghreb. In addition, other topics focused on the impact of smoking on the occurrence of acute and late toxicities of radiotherapy for ear, nose, and throat malignancies.
Of note, the session of young oncologists also included real-life studies with two accepted abstracts that discussed the multimodal treatment of prostate cancer and the use of volumetric-modulated arc therapy for breast cancer. This session was an occasion to recognize the interest of young Moroccan oncologists in geriatric oncology. In fact, an interesting prospective case-control study has investigated therapeutic compliance and adverse events associated with radiotherapy in patients aged 65 and older. Remarkably, despite the underresourced settings of these investigators, cancer biomarkers were also a focus of their research.
Furthermore, two other abstracts provided hope to predict prognosis in ovarian cancer, a neglected cancer in Morocco,1,2 and nasopharyngeal carcinoma. The preliminary results of the OVANORDEST-1 study, which aimed to explore ovarian cancer outcomes for the first time in Morocco and investigate cost-effective biomarkers based on systemic immunity, were discussed to predict overall survival. The data shared during this meeting were promising and are being updated before publication. Moreover, another abstract showed that the viral load of Epstein-Barr virus circulating tumor DNA may have predictive value for prognosis in Moroccan patients with nasopharyngeal carcinoma based on the monitoring of its kinetics.3 Indeed, the findings of this study highlighted a remarkable association of this biomarker at baseline with overall survival in this setting, which may be promising to develop a prognostic nomogram.

Precision Oncology and Clinical Cases
Following the "young oncologists" session, the opening ceremony was dedicated to a plenary session on the impact of precision medicine in modern oncology. It was presented by Professor Jean-Yves Blay, MD, PhD, a leading principal investigator in the field of sarcoma and oncoimmunology. Other sessions on the latest advances in precision oncology were a good opportunity to update clinical practice in genitourinary oncology, breast cancer, and lung cancer with the participation of expert oncologists from Morocco, France, Belgium, United Arab Emirates, United Kingdom, and Germany.
This event was also valuable for continuing training of residents with three planned workshops in medical oncology, radiation oncology, and surgical oncology. This included the discussion of clinical cases in breast, lung, and prostate cancers as well as the impact of lymph node dissection in gynecologic cancers. Furthermore, there were advanced courses in radiotherapy for prostate cancer, encompassing the radioanatomy of the prostate, techniques and indications of radiotherapy, novel irradiation techniques, advantages of radiotherapy in oligometastatic disease, and finally a discussion of clinical cases.
Support for Younger Oncologists
In addition to the impact of this annual event in updating oncology knowledge and networking, the meeting was a milestone for supporting the young oncology workforce. This event was free of charge to all young oncologists who were also supported by free accommodation funded by the MCS. This has remarkably increased the number of younger researchers participating in this annual event. Therefore, similar initiatives by other cancer societies in Morocco and the African continent are awaited to provide this needed assistance.
The best oral and poster presentations of early-career investigators were awarded to develop the next generation of researchers in oncology and encourage them to promote quality research. In fact, the scientific committee of this event was pleasantly surprised by the high quality of clinical research presented by young oncologists as oral communications. This is an important step toward the recognition of their endeavors in cancer care and research. This appreciable support to young oncologists shows how scientific societies in low- to middle-income countries may help underresourced settings turn the brain drain of the oncology workforce into a brain gain.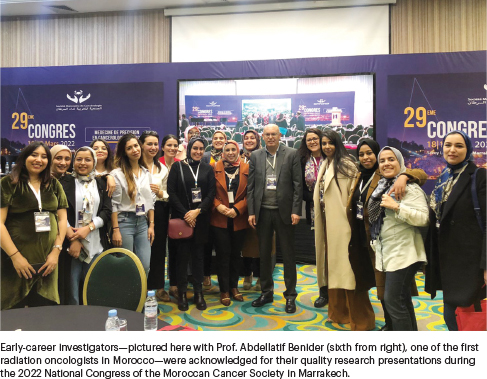 DISCLOSURE: The authors reported no conflicts of interest.
REFERENCES
1. El Bairi K, Al Jarroudi O, Afqir S: Ovarian cancer in Morocco: Time to act is now. Gynecol Oncol Rep 37:100857, 2021.
2. El Bairi K, Al Jarroudi O, Afqir S: Tracing ovarian cancer research in Morocco: A bibliometric analysis. Gynecol Oncol Rep 37:100777, 2021.
3. Gihbid A, Benzeid R, Faouzi A, et al: Circulating cell-free Epstein-Barr virus DNA levels and clinical features in Moroccan patients with nasopharyngeal carcinoma. Infect Agent Cancer 16:15, 2021.
Dr. El Bairi is a research associate in the Department of Medical Oncology at Mohammed VI University Hospital, in Oujda, Morocco, and he is preparing for a career in medical oncology. He joined the ASCO Trainee & Early Career Advisory Group as a member for the 2022–2023 term. The contents of this paper reflect the author's perspective and not that of his institution of affiliation. Dr. Filali is President of the Moroccan Cancer Society and works in the private oncology center of Rabat, Morocco. Dr. Ismaili works in the Department of Medical Oncology of the Khalifa International University Hospital and Mohammed VI University of Health Sciences (UM6SS), Morocco. Dr. Bourhaleb works in the Mohammed VI Center for Cancer Treatment of the Ibn Rochd University Hospital, Casablanca, Morocco. Dr. Sbai works in a private radiation oncology center in Oujda, Morocco. Dr. Marjani works in the Department of Radiation Oncology of the Mohammed V military hospital, Rabat, Morocco. Dr. Benbrahim works in the department of medical oncology of Hassan II University Hospital of Fes and the faculty of medicine and pharmacy at Sidi Mohammed Ben Abdellah, Fes, Morocco. Dr. Iraqi Houssaini works in a department of radiation oncology of the private sector in Rabat, Morocco. Dr. Mesmoudi works in the Department of Medical Oncology of the Ahmed Bin Zayed Alnhayan Cancer Treatment Center, Tangier, Morocco. 
---