TROPHIMMUN Trial Finds Avelumab Effective in Rare Gynecologic Tumor Resistant to Chemotherapy

The first trial of immunotherapy for gestational trophoblastic tumors proved effective in almost 50% of patients resistant to single-agent chemotherapy, French investigators reported in an abstract presented during the ASCO20 Virtual Scientific Program.1 The results of the phase II TROPHIMMUN trial were initially reported during a press briefing in advance of the meeting by Benoit You, MD, PhD, of Lyon University Hospital, Lyon Investigational Center for Treatments in Oncology and Hematology, and the French Gestational Trophoblastic Center.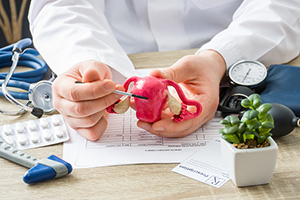 Photo credit: Getty
"We may have actually cured some of these women with chemoresistant disease. Avelumab may be a new therapeutic option," said Dr. You, who further reported the first occurrence of a healthy pregnancy after immunotherapy for gestational trophoblastic tumor. "We had a happy event in the TROPHIMMUN trial, where about 2 years after discontinuation of avelumab, she delivered a healthy baby. This provides reassuring data about the impact of immunotherapy on subsequent fertility."
Gestational trophoblastic tumor is a rare malignancy that develops in placental tissue. Standard treatments rely on chemotherapy: single agents for low-risk disease and polychemotherapy for high-risk disease or disease resistant to single agents.
"Chemotherapy has a high cure rate but is associated with significant toxicity. There is a need for innovative treatments in patients with gestational trophoblastic tumors," Dr. You said.
Programmed cell death ligand 1 (PD-L1) is constitutively expressed in all subtypes of gestational trophoblastic tumors, suggesting this malignancy may be well suited for treatment with an anti–PD-L1 monoclonal antibody such as avelumab. In additon to the common programmed cell death protein 1 (PD-1)/PD-L1 inhibition effect, avelumab triggers cytotoxicity through natural killer cells, which are involved in gestational trophoblastic tumor immune surveillance, Dr. You explained.
The objective of the phase II TROPHIMMUN trial was to assess the efficacy of avelumab in the cohort of patients who are resistant to single-agent chemotherapy. A second cohort resistant to polychemotherapy will be assessed later. The median number of avelu­mab cycles was eight, and the median follow-up was 25 months.
Study Details
In the academic multicenter phase II trial, led in collaboration with the national network of the French Gestational Trophoblastic Center, avelumab was given at 10 mg/kg every 2 weeks. Avelumab was prescribed until normalization was observed in human chorionic gonadotropin (hCG), which is elevated in gestational trophoblastic tumors and is the common criterion for assessing treatment efficacy in these tumors. The drug was continued for another three cycles for consolidation. The primary endpoint was the rate of patients with hCG normalization.
Over 2 years, 15 patients were available for both treatment and assessment. Within this group, 53% had stage I disease, and 47% had stage III. The FIGO (International ­Federation of Gynecology and Obstetrics) score was 0 to 4 in 33% of ­patients, 5 to 6 in 47%, and higher than 6 in 20%. All patients experienced disease progression on methotrexate, and one patient also had been treated with dactinomycin.
Some Patients Potentially Cured
Successful normalization of hCG was observed in eight patients (52%), enabling avelumab to be discontinued. "With a 29-month median follow-up, no subsequent relapses were seen, despite the discontinuation of avelumab. These patients are potentially cured," Dr. You said. "One patient among the eight who experienced successful normalization of blood hCG subsequently developed a normal pregnancy 1 year later and delivered a healthy baby."
Among the eight patients who were successfully treated with avelumab were five with high hCG or resistance to both single agents who would have otherwise been treated with a toxic polychemotherapy, such as an EMA-CO regimen (etoposide, methotrexate, dactinomycin, cyclophosphamide, vincristine). "Participation in the ­TROPHIMMUN trial was beneficial to these patients, as they escaped the adverse events of polychemotherapy," Dr. You said.
The remaining seven patients (47%) developed resistance to avelumab and were managed with chemotherapy with or without surgery. Normalization of hCG was accomplished in 42% with dactinomycin and in 57% with surgery and/or polychemotherapy. To date, none of the patients in the study has died.
The likelihood of success with avelumab was not related to the FIGO score or the disease stage. The tolerability of avelumab was "very satisfactory," according to Dr. You, and dose reductions or delays were not necessary due to toxicity. Adverse events included fatigue, nausea/vomiting, diarrhea, infusion-related reaction, and dry eye. Three patients experienced immunologic toxicity.
Dr. You indicated a phase I/II study is being done to assess the safety and efficacy of combining atezolizumab and methotrexate (the standard treatment in Europe) upfront. "The idea is to avoid the resistance to chemotherapy, and the objective is to cure 95% of patients. With methotrexate alone, we estimate we cure about 70%," he added. 
DISCLOSURE: Dr. You disclosed financial relationships with Amgen, AstraZeneca, Bayer, Clovis Oncology, ECS Progastrin, GlaxoSmithKline, Novartis, Roche/Genentech, and GSK-Tesaro.
REFERENCE
1. You B, Bolze PA, Lotz JP, et al: Avelumab in patients with gestational trophoblastic tumors resistant to monochemotherapy. ASCO20 Virtual Scientific Program. Abstract LBA6008. Presented during press briefing before meeting on May 26, 2020.
---
Related Articles
Two gynecologic oncologists and ASCO's Chief Medical Officer and Executive Vice President Richard L. Schilsky, MD, FACP, FSCT, FASCO, commented on the findings of the TROPHIMMUN trial for The ASCO Post.

Richard L. Schilsky, MD, FACP, FSCT, FASCO

Karen McLean, MD, PhD
"The authors...