Spotlight on Women Who Conquer Cancer

Women Who Conquer Cancer (WWCC) is a groundbreaking program that is committed to supporting early-career women researchers by funding research grants through Conquer Cancer, the ASCO Foundation®. Since its inception 7 years ago, the program has raised nearly $5 million, funded 27 Young Investigator Award recipients, and given 3 WWCC Career Development Awards.
Sandra M. Swain, MD, FACP, FASCO, Founder and Chair of WWCC, is committed to ensuring the program has an even greater impact in the future.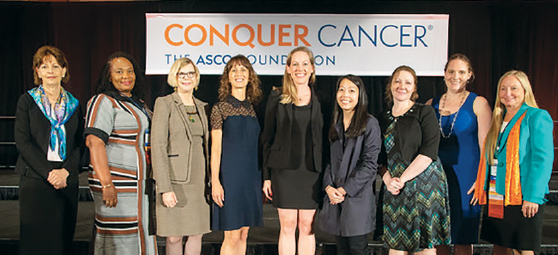 2019 WWCC award recipients join WWCC Chair Dr. Swain (third from the left), and WWCC Advisory Group member Linda Bosserman, MD, FACP, FASCO (far right), at the 2019 ASCO Annual Meeting.
"I started this program to provide targeted support to an underrepresented group of oncology researchers, and the early success has been truly inspirational," Dr. Swain said. "I am devoted to expanding the reach so that more early-career female investigators can achieve their professional goals."
WWCC also honors outstanding mentoring through the annual Hologic, Inc Endowed Women Who Conquer Cancer Mentorship Award (U.S.-based) and the International Women Who Conquer Cancer Mentorship Award. To date, nine recipients have been honored.
Your generosity will ensure that the brightest women researchers can explore innovative cancer treatments and launch clinical trials. Make your gift to support women researchers online at CONQUER.ORG/WWCC. 
© 2020. American Society of Clinical Oncology. All rights reserved.
---