New Infographic, Commentaries Highlight Role of Opioids in Managing Cancer-Related Pain

As part of ASCO's State of Cancer Care in America initiative, the Journal of Oncology Practice recently published an infographic about opioids and cancer pain, which highlights the specific needs of patients with cancer and some of the hurdles they face in trying to access prescribed opioids to manage cancer-related pain.
In the wake of policies intended to address the opioid crisis, it has become harder for patients with cancer to access the pain treatment they need. According to the infographic:
Eight out of 10 patients with advanced cancer have moderate to severe pain.
Forty percent of U.S. oncology practices say their patients had trouble filling their opioid prescriptions.
Ninety-two percent of U.S oncology practices are concerned that restrictions on opioid prescribing will result in undertreating cancer pain.
The infographic is accompanied by three different commentaries that elaborate on the patient, physician, and regulatory concerns about opioids and cancer pain.
In "Opioids and Cancer Pain: Patients' Needs and Access Challenges," Ray Page, DO, PhD, FACOI, and Elizabeth Blanchard, MD, write about the policy changes occurring at the federal and state levels aimed at addressing the opioid crisis. According to Drs. Page and Blanchard, these policy changes risk inadvertently affecting patients with cancer. The commentary outlines some of ASCO's work to address these enacted and proposed laws and regulations, such as ASCO's 2016 policy statement on the need to balance public health concerns about opioid abuse with ensuring access to opioids as a component of appropriate cancer pain management. The authors also discuss how some of these new policies affect patients and the physicians and other care team members who treat cancer.
The infographic and commentaries are available at ascopubs.org/jop.
Learn more about ASCO's State of Cancer Care in America initiative. ■
© 2019. American Society of Clinical Oncology. All rights reserved.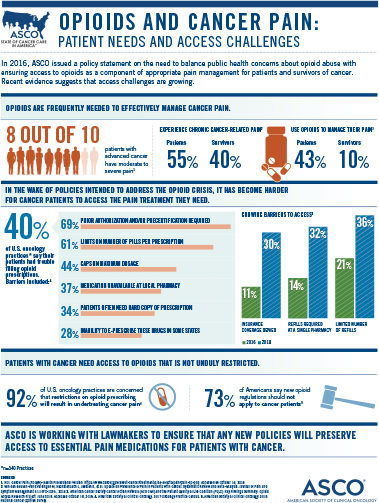 ---