NCI Approves John Theurer Cancer Center as Member of Research Consortium

John Theurer Cancer Center, part of Hackensack Meridian Health Hackensack University Medical Center and a leading cancer institution in the New York/New Jersey metropolitan area, announced recently that it received approval from the National Cancer Institute (NCI) as a research consortium member of the NCI--approved Georgetown Lombardi Comprehensive Cancer Center Consortium. The consortium plans to advance research and innovate treatment in four key areas: breast cancer, cancer prevention and control, experimental therapeutics, and molecular oncology.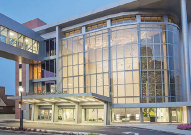 John Theurer Cancer Center
According to Andrew L. Pecora, MD, FACP, CPE, President of Physician Enterprise; Chief Innovations Officer at Hackensack Meridian Health; and Professor of Medicine and Oncology at Georgetown University, John Theurer Cancer Center has been working with Georgetown Lombardi since 2013.
Georgetown Lombardi Comprehensive Cancer Center Consortium members advance cancer research and innovate treatment for individuals in the New York, New Jersey, and Washington, DC. metro areas. The Consortium's strategic objectives are to advance transformative cancer research; reduce the impact of cancer and diminish disparities; lead high-impact clinical research; ensure long-term growth, vibrancy, and stability of the research enterprise; and develop the next generation of cancer scientists, clinicians, and educators.
Products of Collaboration
In 2014, John Theurer Cancer Center established a bone marrow transplant program at MedStar Georgetown University Hospital/Georgetown Lombardi, expanding access to this treatment in the Washington, DC, area. Together, the two cancer centers have also expanded research in chimeric antigen receptor (CAR) T-cell therapy and invested in studies to assess other potential uses of immunotherapy.
Through their respective research bases, Georgetown Lombardi and John Theurer Cancer Center are working together to solve some of the biggest challenges in cancer today, including cancer disparities. ■
---