Spotlight on Women Who Conquer Cancer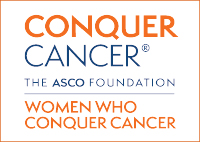 WOMEN WHO CONQUER CANCER is a group dedicated to advancing cancer research by supporting young women researchers early in their careers through Conquer Cancer Foundation of ASCO Young Investigator Awards (YIAs). These 1-year grants give promising researchers the boost they need to get started on the path of a successful research career—the kind of careers that lead to decades of advances for patients with cancer. The YIA has a 30-year track record of identifying and shepherding the best and brightest young minds in oncology, with 98% of recipients still performing groundbreaking oncology research today. 
The money raised through Women Who Conquer Cancer will be invested in the next generation of cancer clinicians and researchers by funding researchers with innovative ideas. In a time where funding for cancer research is in a dramatic decline, programs like the YIA assist early-career physicians during their final years of training to support their transition to a faculty appointment. 
Please join us today by making a tax-deductible donation to the Conquer Cancer Women Who Conquer Cancer program. This is a unique opportunity to join others passionate about advancing cancer research and to have an impact on cancer care for decades to come. 
You can make your gift to support research online at CONQUER.org/wwcc. ■
© 2018. American Society of Clinical Oncology. All rights reserved. 
---