Fred & Pamela Buffett Cancer Center Dedicated at UNMC

The University of Nebraska Medical Center (UNMC) and its clinical partner, Nebraska Medicine, has officially dedicated the new Fred & Pamela Buffett Cancer Center in Omaha. Joe Biden, the former two-term Vice President who headed a national Cancer Moonshot Task Force, served as keynote speaker at the May 23 ribbon cutting and dedication.
The $323 million facility, which is the largest project ever on the medical center's Omaha campus, opened its door to its first patients on June 5. The facility was named in recognition of a gift from Pamela Buffett, through her foundation, the Rebecca Susan Buffett Foundation. Pamela's husband, Fred "Fritz" Buffett, died in 1997 after fighting kidney cancer.
Mr. Biden called the Fred & Pamela Buffett Cancer Center a "remarkable facility" before an audience of health-care professionals, elected officials, community leaders, and members of the UNMC/Nebraska Medicine community.
"I'll bet almost every one of you in this audience has been touched by cancer," said Mr. Biden. "Either you personally, a family member, a husband, wife, or child—someone you love, somebody close to you. Cancer is in a sense a communal disease—no one family member contracts the disease that the entire family doesn't feel the consequences. So that's why I think what you're doing here is so, so important."
Services of the Center
As the only National Cancer Institute–designated cancer center in Nebraska, the Fred & Pamela Buffett Cancer Center offers treatment options and clinical trials not found elsewhere. The cancer center includes:
The Suzanne and Walter Scott Cancer Research Tower, a 10-story, 98-laboratory research tower
The C.L. Werner Cancer Hospital, an 8-story, 108-bed inpatient treatment center 
A multidisciplinary outpatient center, with clinics, radiation oncology, surgery, radiology, a 24/7 treatment center, lab, and collaborative treatment/diagnostics. ■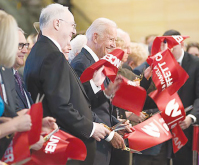 Joe Biden (center) participates in the ribbon-cutting ceremony for the Fred & Pamela Buffett Cancer Center.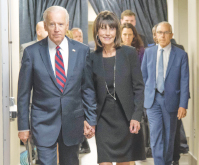 Joe Biden escorts Pamela Buffett, lead donor to the Fred & Pamela Buffett Cancer Center, into the ribbon-cutting ceremony.
---