Cancer Has Made Me a Better Person
Breast cancer has liberated me from thinking about the future. Now I concentrate on today.

Eight years ago, I was on top of the world. I had moved to Los Angeles, California, in 2007, from my home in Poços de Caldas, Brazil, to pursue my dream of launching a singing career in the United States, and was finally making progress. I had just completed composing songs for my debut album and had signed a contract to perform in Japan, when I felt a lump in my right breast while taking a shower. Because I was traveling to Brazil the following week for a family visit, I decided to see a gynecologist there for an exam. 
He suggested a mammogram, and although the test did show a cyst about the size of a pea in that breast, the doctor said I was too young to have cancer and suggested I have another mammogram in 6 months to see if there was a change.
Although I was still feeling excited and positive about the turn of events in my life and career and couldn't imagine having a serious disease like cancer, I instinctively knew I did not want to wait 6 months to find out what was growing in my breast. I wanted whatever it was to be removed now. After agreeing to remove the cyst, the doctor sent the tissue to a pathologist for analysis. The pathology report showed that I had stage 2A estrogen receptor–negative, progesterone receptor–positive invasive ductal carcinoma. My career would have to be put on hold.
Deciding on a Treatment Plan
Because I wasn't a legal resident in the United States and could not afford medical care here, I decided to be treated for my breast cancer in Brazil. But after talking the plan over with my then boyfriend, now husband, Randy, we decided the best course of action was to sell our homes in California to raise enough money to pay for treatment in the United States. It was a good decision.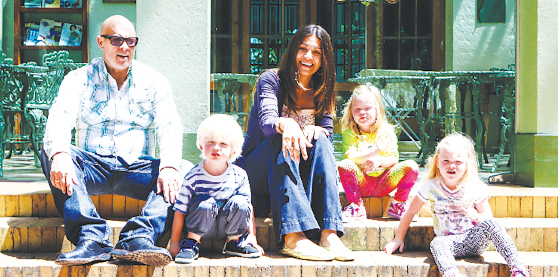 Fabiana Passoni with her husband, Randy, and children (Left to Right) Levi, Lylah, and Leilah.
Although my left breast was healthy and showed no signs of cancer, because of my age and the aggressiveness of my cancer, my oncologist suggested a contralateral prophylactic mastectomy, followed by a difficult chemotherapy regimen of doxorubicin, cyclophosphamide, and paclitaxel—the dreaded Red Devil. The treatment did its job, however, and by the time it was over, I was cancer-free—and a different person.


Making Life-Altering Changes
Although I was never interested in having children before my diagnosis, when my oncologist described the side effects of treatment, including infertility, and asked if I ever wanted to have children, the thought of that option being closed off forever suddenly felt devastating and made me want to pursue another life-altering goal, motherhood. Before my treatment began, Randy and I banked more than a dozen frozen embryos, and 2 years after completing treatment, I had two of the embryos implanted, hoping one would result in a healthy pregnancy and baby. Instead we were shocked and thrilled to learn that not only did both embryos survive, one of the embryos split in two, and I became pregnant with triplets. Although terrifying at first, I later embraced the idea of being the mother of three children. I now have two beautiful, healthy identical twin girls and a beautiful, healthy boy. But the pregnancy was not uneventful.
I don't regret having cancer. How could I? It gave me a loving marriage, three beautiful children, and a greater appreciation of the ordinariness of life.

— Fabiana Passoni




Tweet this quote



At the 24-week mark, I learned that my cancer had recurred in the chest wall of the original tumor site. This time the cancer was stage 1A estrogen receptor–positive, progesterone receptor–negative invasive ductal carcinoma. Not wanting to do anything to jeopardize the health of my babies, we made the decision to withhold treatment until the babies could safely be born at 32 weeks. Two weeks after their birth, I had surgery to remove the new malignancy and a staggering 75 sessions of radiation. I later learned I am BRCA-positive and so had a full hysterectomy to prevent the possibility of ovarian cancer.
Living a Fulfilling Life
Although today I'm once again cancer-free, my oncologist keeps a close eye on me and insists on seeing me every 3 months to check for signs of another recurrence and for long-term consequences of my treatment. But I don't look too far ahead. Breast cancer has liberated me from thinking about the future. Now I concentrate on today.
Before my cancer diagnosis, I thought I had all the ingredients for a happy life: youth, beauty, a promising musical career, and money. Now I realize none of those things matter if you don't have good health.
But I don't regret having cancer. How could I? It gave me a loving marriage, three beautiful children, and a greater appreciation of the ordinariness of life. It has also made me a better person. ■
Ms. Passoni lives in Fair Oaks, California. She is the recipient of a Brazilian Press Award for Best Brazilian Singer. 
---