FDA Approves New Diagnostic Imaging Agent to Detect Rare Neuroendocrine Tumors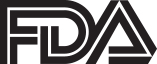 The U.S. Food and Drug Administration (FDA) has approved Netspot, the first kit for the preparation of Ga-68 dotatate injection, a radioactive diagnostic agent for positron-emission tomography (PET) imaging. This radioactive probe will help locate tumors in adult and pediatric patients with somatostatin receptor–positive neuroendocrine tumors.
How It Works
Neuroendocrine tumors have receptors for somatostatin, a hormone that regulates the endocrine system. Ga-68 dotatate, a positron-emitting analog of somatostatin, works by binding to such receptors.
"Use of advanced imaging techniques to detect rare neuroendocrine tumors at an early stage in patients is critical," said Libero Marzella, MD, PhD, Director of the Division of Medical Imaging Products in the FDA's Center for Drug Evaluation and Research. "Netspot provides another diagnostic tool whose results will help clinicians determine the location and extent of the tumor. This information is important for planning the appropriate course of therapy."
Netspot is supplied as a sterile, single-dose kit for preparation of Ga-68 dotatate injection for intravenous use. The uptake of Ga-68 dotatate reflects the level of somatostatin receptor density in neuroendocrine ­tumors.
This uptake can also be seen in a variety of other tumor types or other pathologic conditions or might occur as a normal variant. The uptake of Ga-68 dotatate may need to be confirmed by histopathology or other ­assessments.
Three Trials
Three studies established the safety and effectiveness of Netspot. The first compared Ga-68 dotatate images of neuroendocrine tumors to images obtained with an approved drug and then confirmed with computed tomography (CT) and/or magnetic resonance imaging (MRI); the second evaluated Ga-68 dotatate images using histopathology or clinical follow-up as reference standards; and the third evaluated patients with neuroendocrine tumor recurrence using Ga-68 dotatate images. The results of all three studies confirmed the usefulness of Ga-68 dotatate images in finding the location of the neuroendocrine tumors.
Netspot contributes to overall long-term cumulative radiation exposure, and patients should drink and urinate as often as possible during the first hours following administration to help reduce this risk. No serious adverse reactions have been identified. ■
---