An Unusual Memoir of Cancer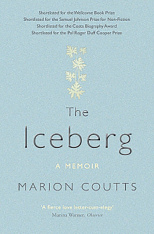 Bookmark
Title: The Iceberg
Author: Marion Coutts
Publisher: Grove Atlantic
Publication date: February 2016
Price: $16.00; paperback, 288 pages
"A book about the future must be written in advance. Later I won't have the energy. So I will do it now." So begins The Iceberg, a memoir set in Britain of a woman, Marion Coutts, whose husband was diagnosed with a brain tumor, which eventually killed him. Unfortunately, cancer memoirs flood the marketplace—a somber recognition of the toll this disease still exacts on people diagnosed with it and the loved ones who struggle along with them.
Most cancer memoirs are stories of survivorship; breast cancer survivors lead in that category. Then there is the much smaller collection of the memoirs of the not-so-lucky patients who succumbed to cancer. Most of them, such as The Iceberg, are written by someone whose loved one died of cancer, and they are survivorship stories in themselves. Rarely do you find a memoir written by a person dying of cancer, such as the notable When Breath Becomes Air, by Paul Kalanithi, MD, a young neurosurgeon faced with terminal cancer who attempts to answer the question: What makes life worth living? Naturally, there is more dramatic tension in a memoir by one who is racing the clock of mortality.
Experimental Style and Tone
Ms. Coutts is a very good writer, which is evident on page one of her concise and elegant memoir. However, her writing is somewhat experimental in style and tone, which could be a turn-off to less-adventurous readers. In cancer memoirs, the moment of diagnosis is the inflection point, a mind-numbing experience that is universal among patients. No one's emotional base is immune from the shock of the three words everyone dreads: You have cancer. In The Iceberg, Ms. Coutts uses a rather lengthy buildup to the diagnosis. On page one, she tells the reader that, "We have a diagnosis that has the status of an event. The news makes a rupture with what went before."
After this spoiler, the reader learns that her husband's health issues first surfaced when he had a "fit" at a social gathering, which landed him in the hospital to undergo a battery of tests. A few days later, he received the diagnosis by phone and left work to meet up with his wife. Ms. Coutts writes, "Tom stops me. He says he has had a phone call. He has a brain tumor. It is very likely malignant…did I understand it before I heard it, or did he finish the sentence before I understood?"
One of the strongest parts of this book is how the author describes dealing with friends and relatives, from breaking the bad news to moving through uncomfortable social scenes.

—




Tweet this quote



After that, the author fails to flesh out the psychological trauma of this grim diagnosis. Instead she winds her way through a series of allegorical emotional states, mostly self-centered, which at times feel like she's trying to show off her writing. Her husband, Tom, is an art critic of some renown and bears his clinical uncertainty with an Englishman's traditional "stiff upper lip."
For some odd reason, the author doesn't bring the reader into the intimate patient-doctor relationship as her husband prepares for surgery. "It is before dawn on the morning of Tom's operation. We have met the surgeon, Mr. K, and he is confident, so we are confident. We trust, but we do not know." It remains unclear why a Mr. instead of a Dr. is performing her husband's brain surgery. (In the United Kingdom, surgeons are usually referred to as Mr. rather than Dr.)
Strongest Parts of the Book
The midsection of the book nicely illustrates the day-to-day issues that patients with cancer and their loved ones deal with. It is here the reader develops a relationship with the couple, and it becomes clear, in sparse poetic prose, that loved ones of those with cancer, especially late stage, are survivors with needs, too. One of the strongest parts of this book is how the author describes dealing with friends and relatives, from breaking the bad news to moving through uncomfortable social scenes.
Tom's brain tumor eventually recurs, and his subsequent treatments extend his life for a couple of years until the inevitable move to hospice occurs, and he dies shortly after, peacefully with his wife at his side. Ms. Coutts suffered a terrible loss to cancer and writes about it with spare beauty. But her stark poetic prose fail to capture the intimate doctor-patient drama that begins with the three words: You have cancer. This book is not recommended for readers of The ASCO Post. ■
---