AACR CEO Margaret Foti, PhD, MD (hc), Honored With Ovarcome Excellence Award

Margaret Foti, PhD, MD (hc), Chief Executive Officer (CEO) of the American Association for Cancer Research (AACR), has received the Ovarcome Excellence 2016 Award in recognition of her accomplishments in the field of cancer research, and her commitment to increasing public awareness about cancer and improving the lives of ovarian cancer survivors.
Ovarcome Non-Profit Inc, a Houston-based foundation founded in 2012, bestows the Ovarcome Excellence Award annually. The award recognizes an individual who has had a significant impact on research and treatment of ovarian cancer.
"I am deeply honored to be recognized with the Ovarcome Excellence Award," said Dr. Foti. "There has been great progress in cancer research and treatment; however, unfortunately, ovarian cancer remains difficult to treat, since it is often not detected until it has reached an advanced stage. My sister is an ovarian cancer survivor of 19 years, and her experience with the disease has inspired my strong desire to find cures for ovarian cancer as soon as possible."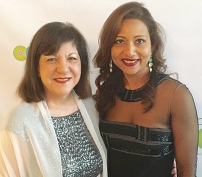 Dr. Margaret Foti, AACR CEO, left, and Runsi Sen, Ovarcome founder, President, and CEO.
Ovarcome's mission is to raise global awareness, to fund research in search of a cure, and to provide financial support to underprivileged women in the United States and in developing nations in their fight against ovarian cancer. Ovarcome awards grants for breakthrough ovarian cancer research to impact early detection, novel treatments, and patient survival.
"It is our absolute privilege and honor to bestow the Ovarcome Excellence Award 2016 to Dr. Margaret Foti," said Runsi Sen, Founder, President, and CEO of Ovarcome. "Her personal connection and commitment to ovarian cancer and her extraordinary leadership in advancing the mission of global cancer research make us immensely proud to have the opportunity to recognize her."
The AACR has numerous programs and initiatives to promote ovarian cancer research and awareness, including meetings and special conferences that bring together leading experts in the field. In September 2016, the AACR and the Rivkin Center for Ovarian Cancer will sponsor the 11th Biennial Ovarian Research Symposium in Seattle. The AACR is also the Scientific Partner of Stand Up to Cancer (SU2C), which funds cancer research through Dream Teams. cure ovarian cancer. ■
---