Phase I Study of Novel Third-Generation EGFR Inhibitor Holds Promise Against Resistance Mutation in Patients With Non–Small Cell Lung Cancer


Pasi A. Jänne, MD, PhD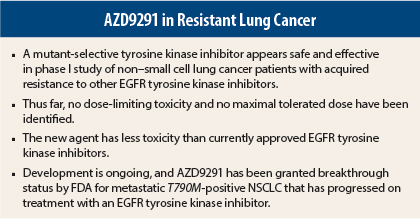 AZD9291 in Resistant Lung Cancer
This is a promising treatment with no dose-limiting toxicities identified and no maximal tolerated dose identified in phase I. [AZD9291] warrants further study, which is now ongoing.

—Pasi A. Jänne, MD, PhD
Preliminary evidence suggests that AZD9291, a novel mutant-selective epidermal growth factor receptor (EGFR) tyrosine kinase inhibitor, may become a treatment option for patients with advanced, EGFR-mutant, non–small cell lung cancer (NSCLC) that has progressed on standard EGFR inhibitors. Promising results of a phase I study, presented at the 2014 ASCO Annual Meeting,1 pave the way for further investigation of this new agent.
Targeted Therapies
EGFR mutations were the first biomarkers for lung cancer, leading to the development of targeted therapies. Currently, three different tyrosine kinase inhibitors are approved for treatment of patients with EGFR-mutant NSCLC (erlotinib [Tarceva], gefitinib [Iressa], and afatinib [Gilotrif]). Although patients will respond to these drugs, most will acquire resistance to EGFR tyrosine kinase inhibitors within 10 to 14 months. About 60% of patients who become resistant have a secondary EGFR mutation known as T790M.
There is currently no approved therapy for treatment of T790M-positive NSCLC. The combination of two EGFR inhibitors—afatinib and cetuximab (Erbitux)—is somewhat effective in patients with the T790M mutation, but it is very toxic. AZD9291 appears able to overcome the T790M mutation, and it is a "kinder, gentler" drug than the approved tyrosine kinase inhibitors, explained lead author Pasi A. Jänne, MD, PhD, Professor of Medicine at Dana-Farber Cancer Institute and Harvard Medical School in Boston.
"This is a promising effective treatment with no dose-limiting toxicities identified and no maximal tolerated dose identified in phase I. This drug warrants further study, which is now ongoing," Dr. Jänne said. AZD9291 has been granted breakthrough status by the U.S. Food and Drug Administration for metastatic T790M-positive NSCLC that has progressed on treatment with an EGFR tyrosine kinase inhibitor.
Study Details
In the open-label, multicenter, phase I AURA study, patients were assigned to one of five dosing cohorts at doses ranging from 20 mg/d to 240 mg/d. These cohorts were not preselected according to T790M status. Five expansion cohorts were preselected according to T790M status (T790M-positive or -negative). As of January 2014, 199 patients were enrolled. No dose-limiting toxicity was identified at 20 to 240 mg/d, and maximal tolerated dose was not defined.
Adverse events were mainly grade 1 diarrhea (30%), rash (24%), and nausea (17%). Grade 3 or 4 adverse events occurred in 16%; six patients (3%) required dose reductions and seven discontinued treatment due to adverse events. There were five reports of interstitial lung disease that responded to treatment, and investigators are exploring this side effect further.
The overall response rate in all evaluable patients was 51%. The overall response rate was higher in cancers with the T790M mutation: 64% in mutation-positive patients, and 23% in mutation-negative patients. The overall disease control rate (response plus stable disease) was 96% in mutation-positive patients (85 of 89). The longest duration of response was 8 months, and responses were seen across all dose levels. ■
Disclosure: For full disclosures of the study authors, visit abstracts.asco.org.
Reference
1. Janne PA, Ramalingam SS, Yang JC, et al: Clinical activity of the mutant selective EGFR inhibitor AZD9291 in patients with EGFR inhibitor–resistant non-small cell lung cancer (NSCLC). ASCO Annual Meeting. Abstract 8009. Presented May 31, 2014.
---
Related Articles
Commenting on the study by Jänne et al, ASCO President Peter P. Yu, MD, said that the issue of drug resistance is important to understand for all cancers, but it is difficult to overcome resistance.
"This clinical trial has important implications not only for NSCLC patients but for all patients...