Experts Share Keys to a Successful Lung Screening Program


Reginald Munden, MD, DMD, MBA

Ralph Drosten, MD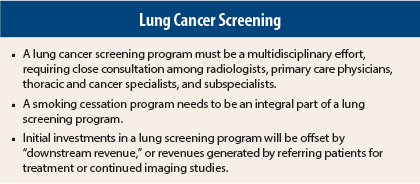 Lung Cancer Screening
A lung cancer screening program must be a multidisciplinary effort, with close consultation between radiologists, primary care physicians, thoracic and cancer specialists, and subspecialists.

—Reginald Munden, MD, DMD, MBA, and Ralph Drosten, MD
There are currently 172 computed tomography (CT)-based lung screening centers up and running in the United States, according to the Lung Cancer Alliance.1 In a presentation at the American Roentgen Ray Society (ARRS) 2014 Annual Meeting in San Diego, Reginald Munden, MD, DMD, MBA, and Ralph Drosten, MD, discussed their experiences with launching lung screening programs in an academic and community setting, respectively.2
Both physicians agreed that creating guidelines, setting rules for implementation and reporting, and considering the financial implications are keys to a successful program. Dr. Munden is currently Chair and Professor at Houston Methodist Hospital and Research Institute. Dr. Drosten is Associate Professor of Radiology at the University of Arizona, Tucson, and Creighton University, Omaha.
Role of Collaboration
The speakers emphasized that a lung cancer screening program must be a multidisciplinary effort, with close consultation between radiologists, primary care physicians, thoracic and cancer specialists, and subspecialists. Dr. Munden pointed out that this may be easier to achieve in an academic setting because everyone is "under the same roof."
But Dr. Drosten noted that collaboration is still possible even when the interested parties are scattered. The lung screening program at his hospital is done through a partnership with SimonMed, an outpatient imaging corporation with 35 locations in the Phoenix area. Through weekly meetings and semiregular, in-house symposia, the physicians in the lung screening program have overcome geography to "break down barriers. With the weekly interaction with my colleagues, I know more about what what affects their practice and they know more about what affects mine," he said.
Setting program guidelines includes deciding who to screen. National organizations have developed elgibility criteria for screening including:
U.S. Preventive Services Task Force (USPSTF): Low-dose CT screening for high-risk individuals, ages 55 through 80, who have a 30 pack-year history of smoking or who have quit in the past 15 years.
National Comprehensive Cancer Network: Screening at 50 or with a smoking history of 20 pack-years for those who have one or more additional risk factors, such as occupational exposure to carcinogens.
Positive results from the National Lung Screening Trial (NLST) were achieved in current and former smoker, ages 55 to 74, with a smoking history of at least 30-pack years and without signs, symptoms, or history of lung cancer. Dr. Munden and Dr. Drosten were part of the NLST trial.3
Self-Referral Issues
Eligible or not, patients will self-refer, usually after seeing advertising or a marketing campaign for lung screening. The group at MD Anderson Cancer Center began by accepting self-referred patients, but found it caused some problems.
"If you accept self-referral, you have to be willing to become the physician of record, which means you assume all responsibility for their care. We required that the person have a physician of record … so that when we did the screening study, that results were sent to [that physician]. That can cause a problem because sometimes the physician of record doesn't know this exam is transpiring. Now we require the patient to have an order [for lung screening] from a physician," Dr. Munden explained.
Dr. Drosten noted that patients who self-select tend to be healthier and have better outcomes, which introduces screening bias. Also, overdiagnosis and unnecessary treatment are of concern as screening may detect disease that will never be clinically important. He also emphasized that lung screening is likely to find other diseases—coronary pulmonary disease, hiatal hernias, or other (esophageal, breast) cancers.
Key Elements
Two elements are needed to ensure that the right patients are being screened: an algorithm deployed by every program employee who comes into contact with the patient, and a program manager to coordinate care.
At both MD Anderson and St. Joseph's Hospital, the algorithm kicks in with the call center staff, who are trained to ask a series of questions that will set eligible patients in the right direction. Once the appointment is scheduled, CT technologists need to be trained in how to answer questions the patients have about the screening process or the results.
In addition, "you really need a coordinator for the program; someone who is … the face of the program; patients will identify with and communicate with that person," Dr. Munden said, adding that at MD Anderson, the lung screening coordinator is a full-time position. At St. Joseph's, the coordinator is full-time, and the position is currently held by a nurse navigator.
One role of that coordinator is to help patients enter a smoking cessation program, and this needs to be an integral part of a screening system, the radiologists agreed. In the early days of the Phoenix program, 48% of the patients screened were active smokers, but at 6 months' follow-up, 46% said they had decreased their smoking and 33% had stopped smoking altogether, Dr. Drosten noted.
Achieving those kinds of results means taking the time and resources to lead patients to a stop-smoking program. It's "not enough to hand out a [smoking cessation] brochure; you need to talk to patients and possibly sign them up for a cessation program," Dr. Munden advised.
Who Gets the Results?
For image interpretation, both programs follow the Lung CT Screening Reporting and Data System (Lung-RADS) set out by the American College of Radiology.4 In terms of who gets a report, results are mailed to the patients and the primary care physician to ensure that nothing "falls through the cracks," Dr. Munden stressed.
Given their multiple-site setup, the Phoenix program uses a teleradiology program in which images acquired off-site are sent to a central location and interpreted by one of three trained readers. This ensures a homogeneous reporting process, Dr. Drosten said. However, one issue that program managers will have to decide on is how long to keep the images, because they will accumulate as a screening program grows, he warned.
Program Costs
Finally, there are money matters. The radiologists agreed that the initial investment in a lung screen program will be rewarded down the line. 
Dr. Drosten noted that as part of his program's marketing effort, the initial cost of the screening study was reduced over the course of a year, from a high of $199 to a low of $29. Each price cut spiked patient interest enough that there was a dramatic increase in volume. "We scanned more people in December than we had from January to November," he said.
Dr. Munden pointed out that some patients who self-pay will gain private insurance coverage under the Affordable Care Act (as a result of a grade B rating from the USPSTF) for screening. However, while the ARRS meeting was being held, an advisory committee for the Centers for Medicare & Medicaid Services (CMS) gave a "no" vote to covering the test.5 A proposed decision from CMS is expected in November, with a final ruling 90 days later (see page 1).6
What that decision will mean to lung screening programs is unclear, Dr. Munden said. "The government paid us $230 million to prove [that lung screening worked in the NLST], and we did. ■
Disclosure: Drs. Munden and Drosten reported no potential conflicts of interest.
References
1. Phend C: Community centers take up lung screening torch. MedPage Today. April 29, 2014. Available at www.medpagetoday.com.
2. Muden R, Drosten R: Lung cancer screening: A practical approach. 2014 ARRS Annual Meeting. Presented May 4, 2014.
3. Aberle DR, DeMello S: Results of the two incidence screenings in the National Lung Screening Trial. N Engl J Med 369:920-931, 2013.
4. Lung CT Screening Reporting and Data System (Lung-RADS), version 1.0 assessment categories. American College of Radiology, April 28, 2014. Available at www.acr.org.
5. Centers for Medicare & Medicaid Services: MEDCAC Meeting 4/30/2014—Lung Cancer Screening With Low Dose Computed Tomography. Available at www.cms.gov.
6. Phend C: Medicare advisers say no to lung cancer screening. MedPage Today. April 30, 2014. Available at www.medpagetoday.com.
---