ASCO Takes Aim at the Link Between Obesity and Cancer


Clifford A. Hudis, MD, FACP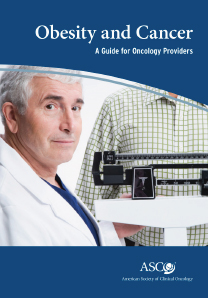 Obesity and Cancer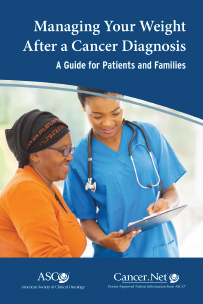 Managing Your Weight After a Cancer Diagnosis
As oncologists, we have an obligation to take this challenge head on and identify ways to both reduce obesity-related cancers and to ensure that obese and overweight individuals with cancer receive the very best possible care.

—Clifford A. Hudis, MD, FACP
ASCO is stepping up its efforts to address the link between obesity and cancer—both as a leading cause of cancer and as a complicating factor for treatment.
In recent years, research has demonstrated that a growing number of cancers are linked to obesity, and public health researchers predict that obesity will soon replace tobacco as the leading preventable cause of cancer. Yet public awareness about the connection remains low: one recent survey suggested that less than one in 10 Americans even realizes that obesity is a risk factor for cancer.
"As oncologists, we have an obligation to take this challenge head on and identify ways to both reduce obesity-related cancers and to ensure that obese and overweight individuals with cancer receive the very best possible care," said Clifford A. Hudis, MD, FACP, ASCO Immediate Past President.
"We recognize that cancer cannot be addressed in isolation from obesity's other harmful effects, but we also need to aggressively build awareness—just as we did years ago with tobacco—that energy imbalance is a major contributor to the nation's cancer burden," added Dr. Hudis.
Understanding the Obesity–Cancer Link
Excess weight has been linked with an increased risk for many of the most common cancers, including breast, colon, and high-grade prostate cancers. In 2007 alone, more than 50,000 new cases of cancer in women and 34,000 new cases in men were tied to obesity. By 2030, this combined figure will more than quadruple—with 400,000 obesity-related cancers projected annually.
Researchers are also beginning to understand the biologic link between obesity and cancer. Potential causal mechanisms currently under study include the role of chronic inflammation in excess fat tissue, the influence of insulin and insulin-like growth factors, adipose tissue and estrogen production, and tumor regulators and adipokines.
Obesity was a key focus of this year's ASCO Annual Meeting. One study featured at the meeting explored the connection between obesity and breast cancer outcomes, finding that obesity raises breast cancer mortality risk by more than 30% in premenopausal and perimenopausal women with estrogen receptor–positive disease. Also at the meeting, ASCO and the American Association of Cancer Research (AACR) hosted a joint Special Session, titled "Inflammatory Cells and Cancer," in which obesity was a key focus of discussion.
ASCO Issues New Resources
ASCO is committed to helping oncologists manage the challenges associated with obesity. Given that nearly two-thirds of the U.S. adult population is now considered overweight or obese, obesity is already a critical factor in the care of many thousands of individuals diagnosed with cancer every year.
ASCO also recognizes that patients with cancer need support in order to lose weight, or to maintain a healthy weight during cancer treatment and survivorship.
To address these critical needs, in May, ASCO released "Obesity and Cancer: A Guide for Oncology Providers," along with a complementary guide for patients. These resources include guidance on:
The impact of obesity on cancer treatment, including its effect on outcomes and treatment complications
Strategies to promote weight loss and/or prevent weight gain in cancer survivors
Ways for physicians and patients to communicate effectively about challenges that patients face when trying to lose or maintain their weight
Guidance on insurance coverage and reimbursement for obesity-related care
The obesity and cancer provider guide is available at asco.org/obesity along with additional resources. For patients, "Managing Your Weight After a Diagnosis With Cancer: A Guide for Patients and Families" and other resources on weight management during and after cancer treatment are available on ASCO's patient website, Cancer.Net, at cancer.net/obesity. Printed versions of both the provider guide and patient booklet may also be ordered in bulk for physicians' practices via the ASCO University Bookstore, at asco.org/store.
The obesity and cancer provider guide is funded through the Conquer Cancer Foundation with the generous support of Roche and Ethicon Endo-Surgery.
ASCO's Priorities on Obesity
The new educational resources are just one part of ASCO's stepped-up efforts to address the obesity-cancer connection.
"Looking ahead, our focus will expand. For example, we'll be advocating for policymakers and researchers to develop and create access to effective treatments and interventions that help reduce obesity-related cancers and improve cancer care for obese patients," said Dr. Hudis. "At the same time, we'll continue looking for ways to ensure that the oncology community is well-equipped to meet the evolving needs of patients at a time when obesity is a defining health challenge for the nation."
The Society is already working to integrate weight management into the oncology fellowship training curriculum. And later this year, ASCO will issue a policy statement that lays out a range of concrete recommendations for addressing obesity and cancer, along with ASCO's plans to achieve these goals. Also this year, ASCO plans to convene a research summit that brings together investigators from a range of obesity-related disciplines to identify the most urgent questions and focus research resources. ■
---