Emil 'Tom' Frei III, MD 1924–2013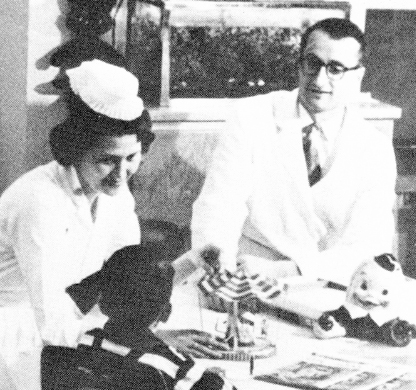 Emil Frei III, MD, with nurse and child. Source: NCI; Dana-Farber Cancer Institute
In a career as lush with accomplishments, awards, positions, and publications as Dr. Frei's, it was his patients that mattered most.


The pages of medical history are dog-eared with breakthroughs that have transformed medicine and saved lives. One of those dog-eared pages belongs to Emil Frei III, MD, known to his colleagues and friends as Tom. In the dawn of oncology, Dr. Frei, along with his associate, Emil Freireich, MD, did something new in the treatment of cancer—they combined chemotherapies, a transcendent therapeutic approach that accelerated the field and, in turn, saved millions of lives. Dr. Frei died on April 30 at the age of 89.
Emil Frei III was born in St. Louis in 1924 into a free-spirited artistic family. He seemed destined for a life in the arts, but in his early teens, his interests turned toward science, which later seeded his passion to find a cure for cancer. In 1942, he entered St. Louis University as a premed student. A year later, at the onset of World War II, he was drafted into the Navy V-12 college training program. He would attend Colgate University and later, in 1948, graduate from Yale with an MD. After that, he began his internship at the St. Louis University Hospital.
Having been in the V-12 program, Dr. Frei was obligated for active duty, if it became necessary at a later date. "So when Truman sent the troops into Korea, I got a telegram fairly shortly after that. I was in the service for 2 years, 15 months of which were in the Far East and the Korean theater," said Dr. Frei, during a National Cancer Institute (NCI) Oral History Interview.
After the Korean War, Dr. Frei returned to St. Louis to finish his residency. One of the professors he conducted research under, Gordon Zubrod, MD, would have a career-changing influence on him. "Dr. Zubrod took a position as the Clinical Director of the NCI and he asked me to join him, which I did in April 1955," said Dr. Frei.
It was Dr. Zubrod who introduced Dr. Frei to Dr. Jim Holland, who became a close friend and collaborator throughout his career.
Soon after arriving at NCI, Dr. Frei also met Emil Freireich, MD. Although polar opposites in countenance—Dr. Frei was reserved, cool, contemplative, to Freireich's intellectual flamboyance—the "two Emils" would become the closest of associates.
Adventurous Researchers
Backed by a robust Federal government, the NCI was the right place to be for adventurous researchers. Drs. Frei and Freireich had everything they needed: a new clinic, lots of empty beds, a vast laboratory, and the enthusiastic support of the Institute's Director, Dr. Zubrod.
The two researchers decided to focus their clinical activities on acute lymphocytic leukemia (ALL) in children. Asked why they chose leukemia, Dr. Frei said, "There were several reasons. One is that Dr. Jim Holland, who had been there before us, started the program in leukemia, so we inherited his patients, if you will."
Working on limited scientific "leads" in ALL, Drs. Frei and Freireich attempted to sort out the "chaos in the field" at the time, which was largely a compilation of anecdotes; prospective experimental designs were lacking. At the time, there were two agents—6-mercaptopurine and methotrexate—that showed activity in ALL. At the insistence of Dr. Zubrod, the two young researchers wrote protocols and defined what complete response was in advance, thus defining how to proceed tactically.
It was a watershed event in experimental trial design; however, not without controversy. Dr. Frei explained, "It was controversial because it was felt that we were making patients fit a protocol, whereas you should instead fit the protocol to the patient. It sounds like a compelling argument, but if you don't really know what you're doing, you need to have a prospective protocol that asks a question and gets an answer."
Paradigm Shift in Therapeutics
Within a year, Dr. Frei was named Chief of NCI's Leukemia Section and later, Chief of Medicine. Frustrated by the short-term remissions achieved in ALL that they were seeing with single-drug therapies, Drs. Frei, Freireich, and Holland began testing combinations of two or more agents to attack the various aspects of leukemia cells' growth. Testing ideas through controlled experimentation requires a thirst for innovation and change, often in the face of a stubborn status quo. Dr. Frei and his colleagues persevered, marshaling in a paradigm shift in oncology therapeutics: combination chemotherapy.
In 1965, Dr. Frei moved to The University of Texas MD Anderson Cancer Center in Houston, where he served as Associate Director of Clinical Research and Chair of the Department of Experimental Therapeutics. He joined Dana-Farber Cancer Institute in 1972, serving as Physician-in-Chief, succeeding the Institute's founder, Sidney Farber, MD, who died later that same year. Just 1 year later, Dr. Frei was named Dana-Farber's Director and Professor of Medicine at Harvard Medical School.
Other Pioneering Work
With Dana-Farber colleagues, Arthur Skarin, MD, and George Canellos, MD, Dr. Frei developed a treatment for adults with non-Hodgkin lymphoma, which was one of the first regimens to produce substantial cure rates in the disease. In the 1970s, Dr. Frei's work helped develop combination therapies that increased survival in breast cancer. During that time, he also participated in pioneering work in the use of bone marrow transplants for a variety of cancers. It is worth noting that under his confident and meticulous stewardship, Dana-Farber became one of the world's top-rated cancer centers.
In tribute, Dana-Farber President Edward J. Benz, Jr, MD, said, "This approach has led to cures in many patients with cancer. The majority of patients with certain forms of childhood leukemia, Hodgkin disease, testicular cancer, and some other cancers can now expect to live long, high-quality lives because of his contributions."
Dr. Frei published more than 500 papers in scientific and professional journals and was the recipient of numerous awards and honors. In 1972, he was awarded the Albert Lasker Medical Research Award in recognition of his scientific contributions.
Impact on Education
Dr. Frei's impact on medical education can not be overstated. He trained oncologists at NCI, MD Anderson Cancer Center, and at Dana Farber Cancer Institute who "constitute a blue ribbon roster of today's oncology leadership," recalled Dr. Jim Holland. Further, Dr. Holland and Dr. Frei collaborated on the renowned Holland-Frei Cancer Medicine textbook now in its eighth edition.
Patients Mattered Most
Even still, in a career as lush with accomplishments, awards, positions, and publications as Dr. Frei's, it was his patients that mattered most. His work helped bring about the first complete cures for pediatric leukemia patients and led to more effective treatments for adult malignancies ranging from breast cancer to bone cancer. In his early days working in childhood leukemia, when the outcomes were still grim, he remarked, "Children are a challenge, and also a joy to work with."
That he found joy in caring for desperately ill children is what his colleagues, friends, and patients will best remember him for.
On Monday, February 12, 2007, Senator Dean Heller from Nevada stood on the floor of the U.S. Senate and said, "Madam Speaker, I rise today to pay tribute to Dr. Emil Frei III, a pioneer in cancer treatment, one of the world's foremost oncologists, and a leader in medical education … His exceptional career deserves the highest commendation and praise."
The oncology community also rises in tribute. Hear, hear, Dr. Frei. ■
---