ASCO Remembers Former Board of Directors Member and Radiation Oncologist A. William Blackstock, Jr, MD, FASCO

ASCO is deeply saddened by the death of A. William Blackstock, Jr, MD, FASCO, who served on the Society's Board of Directors from 2018 to 2022. Dr. Blackstock passed away on June 18, 2023, from complications of prostate cancer. He was 60 years old.
"We mourn the passing of a friend and colleague who combined wisdom and humor to advance science and cancer care for all. Always, with a knowing twinkle in his eye, he would share the one story or ask the key question that clarified the issue at hand and helped everyone see the solution with absolute clarity," said ASCO Chief Executive Officer Clifford A. Hudis, MD, FACP, FASCO.
At the time of his passing, Dr. Blackstock was Chair of and Professor in the Department of Radiation Oncology at Atrium Health Wake Forest Baptist. Colleagues and loved ones noted that he was one of the first Black chairs in the field. He was active in clinical research, both within the cooperative group system and at his institution.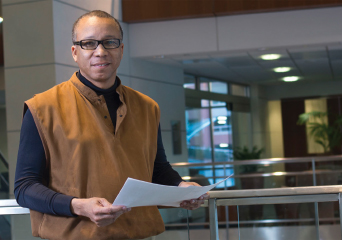 In addition to his service on the ASCO Board of Directors, Dr. Blackstock was a dedicated volunteer from the time he joined the Society in 1999. He served on the Grants Selection Committee, the Cancer Communications Committee, the Health Disparities Advisory Group, the editorial board of the Journal of Clinical Oncology, as track leader for the ASCO Annual Meeting Program Committee, and as Chair of the Membership Committee, among numerous roles. A committed mentor, he participated in mock interviews to support trainee and early-career oncologists. During his tenure on the Board of Directors, Dr. Blackstock was the Board liaison to the Health Equity Committee. At the time of his passing, he served on the Joint Special Awards Selection Committee. He was honored for his volunteer contributions with the Fellow of ASCO (FASCO) designation in 2018.
Dr. Blackstock was also highly engaged as a volunteer for other organizations, holding many roles within the U.S. National Cancer Institute and National Institutes of Health, the American Society for Radiation Oncology, Cancer and Leukemia Group B, American Association for Cancer Research, and Association of Community Cancer Centers, among many others.
Professional Training
Born in North Carolina in 1963, Dr. Blackstock spent his career dedicated to improving the lives of people with cancer in his home state. He completed his undergraduate studies at Wake Forest University and earned his medical degree at East Carolina University Brody School of Medicine. He completed his internship at Pitt Memorial Hospital in Greenville, North Carolina, and his residency (including serving as chief resident) and research fellowship at the University of North Carolina (UNC) School of Medicine in Chapel Hill.
Dr. Blackstock began his career as Instructor at the UNC School of Medicine and a member of the Lineberger Comprehensive Cancer Center in 1995 before joining the faculty at the Wake Forest University School of Medicine in 1996. He became Chair of the Department of Radiation Oncology in 2008, served as Director of the institution's clinical research program from 2008 to 2020, and served as Interim Director of the Atrium Health Wake Forest Baptist Comprehensive Cancer Center from 2022 to 2023.
"We deeply mourn William's loss. He was devoted to his field, his department, his center, mentorship, and health equity," said Ruben A. Mesa, MD, FACP, President of Levine Cancer Institute and Executive Director of the Atrium Health Wake Forest Baptist Comprehensive Cancer Center. "We will follow his inspirational leadership in the quest against the disease that took him from us." 
Originally published in ASCO Connection. © American Society of Clinical Oncology. ASCO Connection, June 20, 2023. All rights reserved.
---