Bringing Palliative Care to Native American Patients With Cancer

Native Americans are among the most underserved minority populations in the United States and are disproportionately affected by cancer. They have the lowest survival rates for nearly all types of cancer of any minority population and much higher rates of certain types of cancer, including lung, colorectal, liver, stomach, and kidney cancers, compared with non-Hispanic White individuals.1 There are even cancer type disparities within this population. 
For example, Native American men are 23% more likely to develop lung cancer and 129% more likely to develop liver cancer than Native American women.1 Native Americans also tend to be less likely to undergo diagnostic cancer screenings than White individuals due to multiple factors, such as a lack of information about the need for screening and the age for the various screening tests, access to health care, and trust in the medical system.
Despite these statistics, cancer is not the only leading cause of death among this patient population. Heart disease, unintentional injuries, diabetes, chronic liver disease and cirrhosis, assault/homicide, intentional self-harm and suicide, as well as chronic lower respiratory diseases all contribute to the lowest life expectancy in Native American and Alaska Native people compared with all other races in the United States: 73 vs 78.5 years, respectively.2 Life expectancy is even lower among specific Native American populations where poverty is extreme.
"The Pine Ridge Indian Reservation in South Dakota, which is the largest reservation we serve, is occupied by the Oglala Lakota tribe, and is among the poorest communities in the United States; it has the lowest life expectancy, just 47 years for men and 55 years for women,"3 said Daniel G. Petereit, MD, FASTRO, a radiation oncologist at Monument Health Cancer Care Institute in Rapid City, South Dakota, and Director of Disparity Research at the Avera Cancer Care Institute in Sioux Falls, South Dakota. "The population is young, with a median age of 25, and more than half live below the poverty level. As a result, we have some of the worst health disparities in the nation. Although we have seen steady declines in cancer mortality over the past 2 decades, for American Indians, the rate keeps increasing."
Although we have seen steady declines in cancer mortality over the past 2 decades, for American Indians, the rate keeps increasing.

— Daniel G. Petereit, MD, FASTRO




Tweet this quote



Reducing Cancer Mortality Rates
In the Northern Plains of South Dakota, annual cancer death rates are 338 per 100,000 for Native Americans, compared with 223 for non-Hispanic White individuals.4 To reduce the cancer burden among this population, in 2002, Dr. Petereit received a grant from the National Cancer Institute (NCI) to launch Walking Forward—Cancer Research for American Indians. The program provides the Oglala Sioux, Rosebud Sioux, and Cheyenne River Sioux tribes with access to a variety of cancer-related services; they include cancer education surrounding diagnosis, treatment, and survivorship; community navigation; earlier screening; earlier diagnosis; and enrollment into clinical trials.
In 2019, Dr. Petereit and a team of Walking Forward partners, including the Great Plains Tribal Leaders Health Board, South Dakota State University School of Nursing, Indian Health Service Great Plains Region, and Rural Health and Palliative Care programs at Massachusetts General Hospital (MGH), received a 5-year $3 million grant from the NCI to launch a two-phase study to advance palliative care for Northern Plains American Indians. Among the key collaborators on the study are Katrina A. Armstrong, MD, Chair of the Department of Medicine and Physician-in-Chief of MGH (a co-principal investigator of the study), and JR LaPlante, JD, a member of the Cheyenne River Sioux Tribe.
According to Dr. Petereit, palliative care is among the greatest cancer care needs of this patient population and is nearly nonexistent in their community. As a result, the majority of patients die at home with inadequate palliation. The ASCO Post talked with Dr. Petereit about the goals he hopes to accomplish with the Walking Forward program and the challenges of bringing palliative care services to tribal communities.
Tackling Cancer Health Disparities
Please talk about the impetus for Walking Forward. What were your goals for launching the program?
We started the program nearly 2 decades ago to tackle cancer disparities and reduce cancer mortality among the Northern Plains American Indians on multiple fronts. The program focused on conducting behavioral research, assessing barriers to early cancer detection, developing culturally appropriate community education and comprehensive patient navigation programs, and improving recruitment into clinical trials. We have made great progress.
GUEST EDITOR

Addressing the evolving needs of cancer survivors at various stages of their illness and care,
Palliative Care in Oncology
is guest edited by Jamie H. Von Roenn, MD, FASCO. Dr. Von Roenn is ASCO's Vice President of Education, Science, and Professional Development.
We have established trust within the tribal communities, achieving clinical trial enrollment of more than 4,500 American Indians—the highest in the nation. Recent data analysis suggests that patients with screen-detectable cancers are now presenting with earlier stages of disease and are experiencing higher cure rates.
In 2018, we initiated a large-scale lung cancer screening program with the goal of increasing low-dose computed tomography rates for high-risk individuals. We also completed a smoking cessation project using nicotine replacement, counseling, and text messaging to mitigate the high rates of tobacco use and lung cancer. We reduced smoking rates by 21%.
Advancing Research in Palliative Care
Please describe the two-phase Walking Forward program you have launched to advance palliative care among Northern Plains Native Americans.
Palliative care is among the greatest cancer care needs for the three reservations we serve—Pine Ridge, Rosebud, and Cheyenne River—where palliative care is nearly nonexistent. Some of the root causes include a lack of community-based care and the additional costs associated with having to travel long distances for treatment, including the cost of gas, food, and lodging. Also, there is a belief among Native Americans that cancer is a death sentence, and if you aren't cured, there is no hope for you. Although there are circumstances in which I'm able to deliver some degree of home palliation, there are no home hospice services, and the majority of patients die at home, suffering from inadequate palliation.
In phase I of our program, the goal is to increase our understanding of the palliative care needs of this patient population and create a culturally appropriate intervention. This intervention focuses on two key components: multidisciplinary provider education and in-home support and care coordination through a palliative care–focused community health worker program.
In phase II, we plan to evaluate these components using an innovative quasi-experimental, factorial design to examine the combined and independent impact of the interventions on patient and caregiver outcomes, as well as provider knowledge and comfort. Both phases of this program will include input from a community advisory board comprising tribal health leaders and representatives from the three tribes.
We are a year-and-a-half into this project and are now in the middle of conducting interviews in talking circles with key stakeholders, including cancer survivors, caregivers, health-care providers, tribal leaders, and traditional healers, to develop palliative care and hospice services. Part of the challenge is that there is no word for "hospice" in the Lakota language. Instead of referring to hospice or palliative care, we call these services "living well with serious illness," which sounds less threatening than hospice or palliative care, which, to many, is interpreted as "you're going to die."
We are now in the process of developing a culturally tailored effective palliative care program for this patient population.
Addressing Patients' Palliative Care Needs
What types of palliative care services are you hoping to develop for this patient population?
Our goal is to deliver the same effective palliative care services that major academic centers provide for their patients but to tailor them to this specific patient population. For example, we will incorporate community health representatives, some of whom may be nurses, to help patients get to their clinic appointments, coordinate their health care, and facilitate delivering palliative care in conjunction with their health-care provider.
We want to address all patient needs from physical and psychological to spiritual.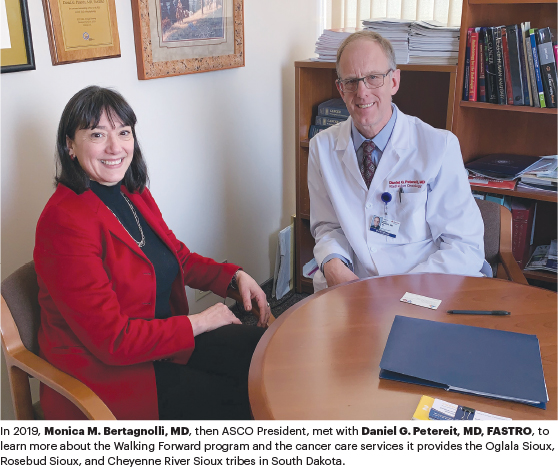 Improving Life for Native Americans With Cancer
Is the Native American community amenable to receiving the services provided by palliative care?
We don't have the final results from our talking circle recruitment. However, so far, the community has been very receptive to talking about what it is like to live with cancer on tribal land and what their physical, emotional, social, cultural, and spiritual needs are in dealing with this disease, as well as providing feedback on what end-of-life care could look like.
A total of 15% to 20% of our patient population at the cancer center in Rapid City are American Indians. Every day, I see the toll of advanced cancer on these patients, especially when they have to leave the hospital and go home to their communities. It is gut-wrenching to see these patients go back to their communities and not have the palliative care support they need to ease their symptoms of pain and anxiety. This is the real-life situation on the reservations.
What we can do with the funding from the NCI is improve the quality of life for American Indians with advanced stages of cancer by providing palliative and hospice care services closer to their home, so they do not suffer needlessly from their cancer. This is my greatest wish. 
DISCLOSURE: Dr. Petereit has received research funding from Polo Ralph Lauren Foundation and has received institutional research funding from Bristol Myers Squibb Foundation.
REFERENCES
1. Centers for Disease Control and Prevention: Cancer in American Indians and Alaska Natives in the United States. Available at www.cdc.gov/cancer/dcpc/research/articles/cancer-AIAN-US.htm. Accessed June 16, 2021.
2. U.S. Department of Health and Human Services, Indian Health Service: Disparities. Available at www.ihs.gov/newsroom/factsheets/disparities/. Accessed June 16, 2021.
3. Re-Member: Pine Ridge Indian Reservation. Available at www.re-member.org/pine-ridge-reservation.aspx. Accessed June 16, 2021.
4. Harvard Catalyst: Advancing palliative care in Northern Plains American Indians. Available at https://connects.catalyst.harvard.edu/Profiles/display/130202486. Accessed June 16, 2021.
---