Blood Cancer Discoveries Program Names Grant Recipients

The Leukemia & Lymphoma Society, the Mark Foundation for Cancer Research, and the Paul G. Allen Frontiers Group recently announced the awarding of more than $6.75 million to nine scientists. Each project will be supported by an award of $750,000 over a 3-year period.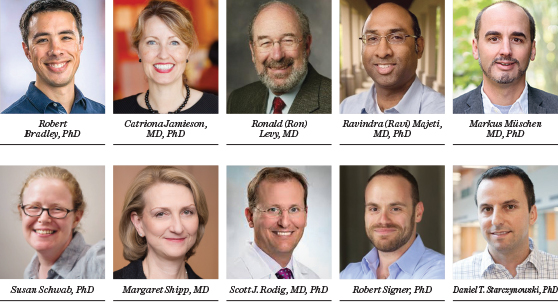 Grant Recipients
The Blood Cancer Discoveries Grant Program recipients follow:
Robert Bradley, PhD, of Fred Hutchinson Cancer Research Center, Seattle, is investigating the mutations in the SF3B1 protein.
Catriona Jamieson, MD, PhD, of the University of California, San Diego, is examining the role of APOBEC3 and ADAR1 in acute myeloid leukemia (AML).
Ronald (Ron) Levy, MD, of Stanford University School of Medicine, California, is investigating a novel approach to chimeric antigen receptor T-cell immunotherapy.
Ravindra (Ravi) Majeti, MD, PhD, of Stanford University School of Medicine, is studying the progression of preleukemic cells into AML.
Markus Müschen MD, PhD, of City of Hope, Duarte, California, is studying mechanisms of tumor initiation in B-cell malignancies, including acute lymphoblastic leukemia (ALL), mantle cell lymphoma, and diffuse large B-cell lymphoma. (See page 95 in this issue to learn more about Dr. Müschen.)
Susan Schwab, PhD, of New York University, is examining the mechanism of T-cell ALL cells that allow them to accumulate in the central nervous system.
Margaret Shipp, MD, of Dana-Farber Cancer Institute/Harvard Medical School, Boston, and her colleague, Scott J. Rodig, MD, PhD, are mapping the immune microenvironment in classical Hodgkin lymphoma.
Robert Signer, PhD, of the University of California, San Diego, is investigating how defective proteins play a role in the development of AML.
Daniel T. Starczynowski, PhD, of Cincinnati Children's Research Foundation, is investigating the role and potential therapeutic benefit of targeting the protein UBE2N in AML.
---