AACR Holds COVID-19 and Cancer Virtual Meeting

The American Association for Cancer Research (AACR) hosted a virtual meeting on COVID-19 and cancer earlier this month (July 20–22, 2020).
The virtual event, "COVID-19 and Cancer," featured presentations from leaders in the fight against the pandemic, including three keynote lectures. In an opening keynote lecture, Anthony Fauci, MD, Director of the National Institute of Allergy and Infectious Diseases in Rockville, Maryland, discussed "Coronavirus Infections: More Than Just the Common Cold"; Solange Peters, MD, of the CHU Vaudois, Lausanne, Switzerland, presented her lecture on "Flexibility to Sustain Solidity: Addressing New Vulnerabilities in Cancer at the Time of COVID-19." Trevor Bedford, PhD, of the Fred Hutchinson Cancer Research Center in Seattle, delivered the closing keynote lecture on "Genomic Tracking of SARS-CoV-2 Evolution and Spread."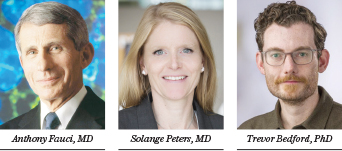 Faculty addressed the latest basic, clinical, and epidemiologic research related to COVID-19 and cancer. This was accompanied by discussion of how this unprecedented situation has impacted biomedical research, cancer care, and drug development.
Among many others, the 3-day program included sessions on:
The effects of cancer immunotherapies on patients with COVID-19
COVID-19 vaccine development
Ensuring continuity of cancer care during the pandemic
Health inequities and disparities.
The full program is available at AACR.org. Reports from the virtual event will be published in an upcoming issue of The ASCO Post. For interviews with presenters from the meeting, visit ASCOPost.com/videos. 
Dr. Solange's photo is courtesy of G02Foundation for Lung Cancer.
---