No Man Is an Island: Reflections From an ASCO IDEA Recipient

IT WAS a chilly Chicago morning, and I was sitting at the lobby of my hotel when I saw a smiling gentleman cheerfully waving at me from his car. It was Lawrence H. Einhorn, MD, picking me up for our drive to Indiana. I was one of the recipients of the ASCO International Development and Education Award (ASCO-IDEA) Program. The IDEA provides support for early-career oncologists in low- and middle-income countries to be able to attend the ASCO Annual Meeting and provides them with a mentor to help them with their career and in establishing goals for themselves as well as for their country of origin.

Frederic Ivan Leong Ting, MD
As a medical oncology fellow-in-training from the University of the Philippines–Philippine General Hospital, where financial toxicity is a limiting factor in cancer treatment, I was eager to learn the latest in cancer care from the annual meeting and also to experience how cancer is being managed in high-income countries during my preceptorship. Having a mentor from the United States is not a new thing for me; one of our division's consultants is Edgardo Faylona, MD, a United States–based hematologist/oncologist (and interestingly, also was a fellow at the Indiana University with Dr. Einhorn) who visits us quarterly in the Philippines and maintains an online mentoring system with us trainees. However, experiencing firsthand how actual cancer care is performed in the United States and having a constant personal mentor would not only broaden my perspective, but, as I have come to realize today, would be life-changing.
First ASCO Annual Meeting: Excitement and Nerves
"I can still remember the unique feeling of being surrounded by the brain power of people who are the world leaders in oncology care while listening to the lectures."

— Frederic Ivan Leong Ting, MD




Tweet this quote



DURING THE ANNUAL MEETING, I felt a bit intimidated and overwhelmed when I first set foot at the McCormick Place. The venue was composed of a lot of meeting places, filled up by more than 40,000 oncologists from around the world. I can still remember the unique feeling of being surrounded by the brain power of people who are the world leaders in oncology care while listening to the lectures. Fortunately, a lot of people I met helped me maneuver my way through the meeting. Also, the Cancer Takeaway Lectures at the Trainee and Early Career Oncologist member lounge were helpful in summarizing important studies presented during the meeting. After the meeting proper, I was ready to spend a few days learning with my mentors, Dr. Einhorn and Nabil Adra, MD, one of the genitourinary cancer experts at the Indiana University Simon Cancer Center.1
Dr. Einhorn is one of the pillars in oncology, not to mention the fact that he led the team that discovered a cure for testicular cancer—a disease that was short of a death sentence before the 1970s.2 Needless to say, I was nervous and anxious about the 3-hour drive with him.
"You know what 45 years of clinical practice taught me, Fred? It's the fact that you can never do it alone. You need to have a good team." This was Dr. Einhorn's first lesson to me, and something I will never forget. My experience at Indiana University pretty much revolved around this concept.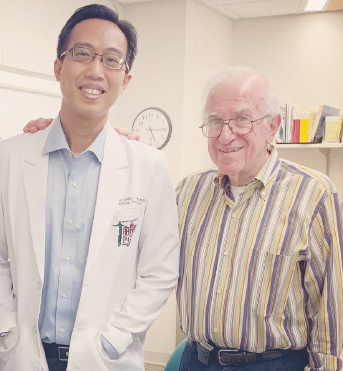 Dr. Ting with Dr. Einhorn at the Indiana University Simon Cancer Center.
Simple Complexity of Managing Germ Cell Tumors
ON DAY 1 of my preceptorship, Dr. Einhorn and I saw a lot of patients with germ cell tumors. It was interesting for me to note that although the simple and "textbook" cases were managed according to the standard of care, some patients with complicated presentations were managed uniquely depending on the demands of the clinical situation.
"Germ cell tumors are relatively easy to treat, and our studies have found that most of the patients who have them are curable. At times, when the disease is seemingly complicated, you'd need to have a good surgeon, and management should be decided by a multidisciplinary approach," Dr. Einhorn told me as he called a surgeon and discussed the patient's computed tomography scan. They then decided on the best course of treatment and other options, which were discussed with the patient.
This encounter exemplifies the fact that a multidisciplinary approach to cancer care is invaluable, since it has the potential not only to increase patients' survival, but also improve their quality of life.3 Because of this experience, I am definitely a champion of the importance of a multidisciplinary approach to managing patients living with cancer in my country.
Research Improves Patients' Lives
ON THE SECOND DAY of my rotation, I had the privilege of being mentored by Nasser Hanna, MD—a leading expert on thoracic oncology, specifically lung cancers. I was fortunate to see a lot of patients with lung cancer who were receiving immunotherapy.
Dr. Hanna explained to me that the platform of lung cancer management was changed by the discovery of tyrosine kinase inhibitors for patients with actionable mutations and by the introduction of immunotherapy. Before these novel treatments, the 5-year overall survival rate of a patient with advanced non–small cell lung cancer was around 5% to 6%. Today, the updated results of KEYNOTE-001 showed that patients with this type of cancer treated with pembrolizumab resulted into an unprecedented 5-year overall survival rate as high as 25%4—and this is all because of people who dedicate their lives to research.
Being a distinguished researcher himself, Dr. Hanna taught me that clinical trials should be encouraged and are essential not only for current patients themselves, but also for future patients who will present with a similar disease. Dr. Hanna also discussed a lot of trials done in other institutions across the United States and abroad that have changed the landscape of lung cancer treatment and led to the current standards of care.
In my country, we have ongoing clinical trials, and this experience taught me always to give these options to eligible patients. Also, witnessing these patient encounters inspired me to think of possible clinical trials to initiate in the near future.
Quality Over Quantity of Life
ON MY LAST DAY at Indiana University, we saw a 73-year-old female patient with metastatic renal cell carcinoma. She had partially responded to treatment with nivolumab plus ipilimumab, but this combination treatment was stopped due to grade 3 to 4 adverse effects. A previous long discussion of treatment options between Dr. Adra and the patient led to an informed decision not to continue treatment for now and to go with surveillance. The patient is currently 6 months without treatment, and her scans show stable disease. The patient feels well and has a good performance status.
"As oncologists, we are trained to treat patients by considering progression-free survival and overall survival as our objectives. But let us never forget always to think about our patients' quality of life—it is as equally important as the former," Dr. Adra told me.
After examining the patient, Dr. Adra explained the findings on the scans and assured the patient that he would relay and coordinate the findings to her other doctors (nephrologist and palliative care physicians), again exemplifying the importance of multidisciplinary management. Furthermore, in these days where advancements in cancer treatment are successfully improving our patients' progression-free and overall survival, let us always remember that their quality of life is of paramount importance.
This experience made me realize three main points. First, we can only provide our patients with the highest quality of cancer care if we all work together as a team through a multidisciplinary approach. Second, research has already led to a lot of improvements in the treatment of our patients living with cancer, but we still have a long way to go, and a lot of work still needs to be done to better understand the dynamics of cancer and how to cure it. Thus, let us always support research efforts by either initiating clinical trials ourselves or by simply being aware of the available ongoing clinical trials in our area and offering them as options to our patients. Third, the importance of having a lifetime mentor who guides you not only in the clinic, but in life in general is indispensable.
Inspired by Global Colleagues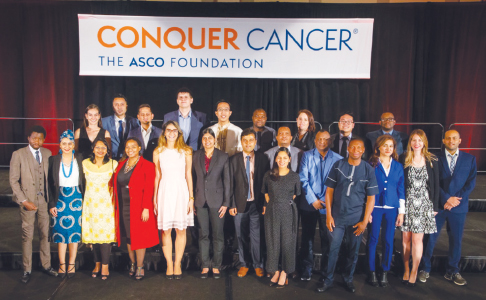 Dr. Ting (second row center in white) with fellow 2019 IDEA recipients. Photo by © ASCO/Zach Boyden- Holmes 2019.
AS I RETURN to my own country, I bring with me so much inspiration from colleagues all over the world to improve cancer care. One of the major hurdles in treating patients with cancer in the Philippines is the associated financial burden. But with the recent government approval of the National Integrated Cancer Control Act, which aims to offer universal health-care coverage specifically for patients with cancer, our main responsibility now is to make sure these resources are channeled and used efficiently. With the help of my mentors and the networks established during this ASCO Annual Meeting and the IDEA program, I would hopefully be able to take part in this process.
After fellowship training, I will be going back to Bacolod City, Negros Occidental, where I am excited to establish regular multidisciplinary conferences and palliative services in our newly opened Cancer Center.
To say that the ASCO-IDEA Program is helpful would be an understatement. This experience has not only changed my perspective but my life. I will forever be grateful to ASCO and the IDEA Program for this privilege. The lessons learned will always be kept in my heart and continually shared with the people I will encounter. ■
Dr. Ting is a medical oncology fellow-in-training at the University of the Philippines–Philippine General Hospital, Manila.
Disclaimer: This commentary represents the views of the author and may not necessarily reflect the views of ASCO or The ASCO Post.
DISCLOSURE: Dr. Ting reported no conflicts of interest.
REFERENCES
1. Conquer Cancer Foundation: Conquer cancer honors early-career medical professionals from around the globe with awards to support oncology learning. Available at https://www.conquer.org/newsletters/articles/ conquer-cancer-honors-early-career-medical-professionals-around-globe-awards. Accessed June 27, 2019.
2. Indiana University: Marking a milestone: Dr. Einhorn discovered testicular cancer cure 40 years ago. Available at https://cancer.iu.edu/news-publications/Einhorn.shtml. Accessed June 27, 2019.
3. Abdulrahman GO Jr: The effect of multidisciplinary team care on cancer management. Pan Afr Med J. June 17, 2011 (early release online).
4. Garon EB, Hellmann MD, Costa EC, et al: Five-year long-term overall survival for patients with advanced NSCLC treated with pembrolizumab: Results from KEYNOTE-001. 2019 ASCO Annual Meeting. Abstract LBA9015. Presented June 2, 2019.
---