Becoming Acquainted With Cancer
I was diagnosed with stage IV colorectal cancer at age 29. Now, I'm raising awareness that young adults are not immune to cancer.

Just weeks after my wedding in late summer of 2017, I had a sudden bout of abdominal pain so severe that it sent me to the emergency room. I was just 29 years old and in great physical shape. In the emergency room, a physician examined me and was about to release me with a prescription for a laxative to relieve my constipation when the pain became unbearable, and I began vomiting.
A computed tomography (CT) scan of my abdomen showed a blockage in my sigmoid colon that appeared to be a tumor. I underwent surgery to remove the mass and 25 surrounding lymph nodes. At first, the diagnosis seemed to be good, or at least not so bad. Although the mass was positive for colorectal cancer, the lymph nodes were all clear of any malignancy. My surgeon said I likely had stage I or II disease, which was curable, I was assured, with treatment. But just days later, I received news I never expected to hear.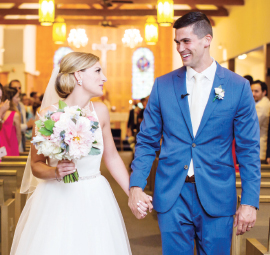 Amanda and Patrick Beauregard celebrating their wedding on August 18, 2017.
A CT image of my chest picked up nine small nodules in my lungs and a tissue biopsy of one of the nodules was positive for colorectal cancer. Now I had stage IV cancer and I went into denial. It seemed impossible to think that I could have a life-threatening disease. I was young, healthy, and a newlywed. Until just days before, I was excited about my future and the prospects of progressing in my career and eventually starting a family. Now, that promising future was in doubt.
Hoping for a Cure
I agreed to an aggressive treatment protocol that included 33 rounds of combination fluorouracil, leucovorin, oxaliplatin, and bevacizumab. Although I responded well to the therapy, it wasn't successful at eliminating all of the lung tumors. Plus, the cumulative side effects of the treatment, including loss of appetite, peripheral neuropathy, and diarrhea, were becoming troublesome. I decided to stop that therapy and enroll in an early-phase clinical study investigating a combination regimen of cabozantinib and atezolizu-mab for the treatment of late-stage colorectal cancer. Unfortunately, I recently had to leave the trial because my cancer is progressing. I'm currently taking the multikinase inhibitor regorafenib until we can figure out my next best treatment option.
I'm well aware of the dismal 5-year survival rates for stage IV colorectal cancer, but my wife, Amanda, and I remain optimistic that I'll be around for many years to come. However, the thought of cancer is always in the back of my mind, and I can't help thinking that I might not be here in 2 or 3 years.
Rising Trend of Young-Onset Colorectal Cancer
Before my diagnosis, I had never heard of colorectal cancer. I knew about breast and lung cancers, but colorectal cancer was new to me. I've since learned that colorectal cancer is the third most common cancer in the United States, affecting more than 145,000 people each year.1 And, it is not a disease that just affects older people but is a rising trend in young adults.
Since my diagnosis, I've become an advocate to raise awareness of young-onset colorectal cancer and the need for young people to be proactive in their health care and to pursue the cause of troubling symptoms.

— Patrick Beauregard




Tweet this quote



When I was diagnosed with this cancer, I couldn't believe it. "There is no way I could have cancer," I remember thinking. I'm sure this is the same attitude many primary care physicians have when they examine young adult patients complaining about pain or blood in their stool. These symptoms could easily be explained away by a more benign cause, such as hemorrhoids. We just automatically assume that young people do not get colorectal cancer.
The sad fact is that the incidence of colon cancer has been rising by 1% to 2% each year since 2013 in adults between the ages of 20 and 39; and the incidence of rectal cancer is increasing even faster, about 3% a year from 1974 to 2013, in people in their 20s.2 Since my diagnosis, I've become an advocate to raise awareness of young-onset colorectal cancer and the need for young people to be proactive in their health care and to pursue the cause of troubling symptoms, even if they are initially dismissed by medical professionals.
Staying Positive
I'm fortunate. I have a wonderful oncology team that listens to my concerns, is encouraging, and makes me a partner in all medical decisions. I'm getting state-of-the-art oncology care and I have a loving support system of family and friends to get me through the occasional dark days. When I was first diagnosed, I met with several oncologists to get multiple opinions for recommendations on my best medical course. It was discouraging—and frightening—to hear the grim survival statistics and to see the grim looks on their faces.
My current oncologist is both realistic and optimistic about my long-term prognosis. She tells me how advances in more effective targeted drugs and immunotherapies are helping patients with advanced-stage cancer live longer, higher-quality lives. And I'm grateful to be among the beneficiaries of those medical advancements.
Living My Best Life
Before my cancer diagnosis, I focused too much on the future and not enough on the present. I know it sounds counterintuitive, but, in many ways, cancer has changed my life for the better. I don't know what's ahead for me. I just know that for today, I'm living my best life. ■
REFERENCES
1. American Cancer Society: Key Statistics for Colorectal Cancer. Available at www.cancer.org/cancer/colon-rectal-cancer/about/key-statistics.html. Accessed July 8, 2019.
2. American Cancer Society Study Finds Sharp Rise in Colon Cancer and Rectal Cancer Rates Among Young Adults. May 30, 2018. Available at http://www.cancer.org/latest-news/study-finds-sharp-rise-in-colon-cancer-and-rectal-cancer-rates-among-young-adults.html. Accessed July 8, 2019.
Mr. Beauregard is Assistant Vice President of a security firm and lives in South Boston.
Editor's Note: Columns in The Patient's Corner are based solely on information The ASCO Post received from patients and should be considered anecdotal.
---