Compassionate ASCO Print Resource for Families Facing Serious Illness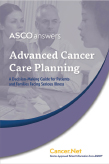 The ASCO Answers Advanced Cancer Care Planning booklet contains comprehensive information about how patients can communicate directly and honestly about advanced cancer and end-of-life care with their friends, family, and children, as well as the health-care team. With this expert resource, patients and their families can learn more about their diagnosis and available treatment options at their own pace and have a list of useful resources at their fingertips. Featured content includes:
Thorough descriptions of the care options for advanced cancer
A guide to making decisions about care
Steps for coping with the diagnosis
Tips for effective communication
Real patient stories that illuminate the journey through advanced cancer
Resources for patients and caregivers.
Download a free printable PDF at cancer.net/advancedcancer or visit cancer.net/estore to order a pack of 50 booklets for just $20 (that's only $0.40 each!). Free domestic shipping, and ASCO members save 20%. ■
© 2018. American Society of Clinical Oncology. All rights reserved.
---