Music Therapy: Relevance in Oncology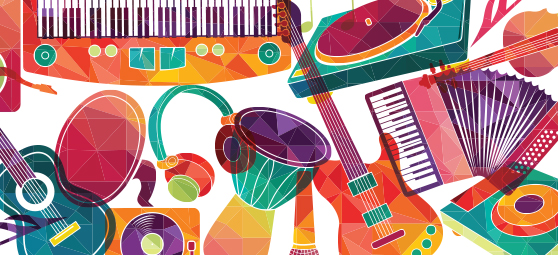 The ASCO Post's Integrative Oncology series is intended to facilitate the availability of evidence-based information on integrative and complementary therapies commonly used by patients with cancer. In this installment, authors Karen Popkin, LCAT, MT-BC, and Jyothirmai Gubili, MS, present the case of a 72-year-old woman with recurrent lymphoma who experiences multiple benefits from the coadministration of music therapy, physical therapy, and occupational therapy.

Karen Popkin, LCAT, MT-BC

Jyothirmai Gubili, MS
Case Study
"Two hearts, two hearts that beat as one…," the patient sings at the end of the phrase, joining the music therapist in recreating the love song she has requested. Her nurse enters the room and smiles, waiting to hear more, and remarks, "this is the most she has said in days." 
The patient is a 72-year-old woman with medically complex issues including recurrent lymphoma and intraparenchymal hemorrhage with expressive aphasia. Her physical and occupational therapists enter and ask to administer co-treatment, adding, "she's more alert with the music." 
The patient is offered a more upbeat song, and as the music therapist strums a samba pattern on the guitar, she follows instructions to reach with her arms and shift her weight. The rehabilitation therapists help her to sit up straight. The patient comments, "Oh this feels good!" and sings along with the therapist. 
Music therapy can be multifaceted, providing benefits such as sensory stimulation, mood enhancement, and a facilitated ease of movement, to name a few. 
Overview
Used since ancient times to affect human spirit and to heal, music therapy as a formal discipline emerged in the United States in the late 1940s. It involves the use of music to effect clinical change and is now available in a variety of health-care settings including psychiatry, drug and alcohol rehabilitation, developmental disability, geriatric treatment, palliative care, general surgery, and oncology programs. 
Patients are guided by a trained therapist as they listen to music; verbally process it; or actively participate through songwriting, improvisation, remake of a song, or musical performance—all of which involve engaging the creative process. The goal of music therapy is to improve both the physical and mental well-being of patients who have serious illnesses and are receiving associated treatments. 
Music Therapy for Patients With Cancer
Several studies have evaluated and documented the value of music therapy in reducing the challenging symptoms—both physiologic and psychological—experienced by cancer patients. According to a recent systematic review of 52 clinical trials involving 3,731 patients, music produced beneficial effects on anxiety, pain, fatigue, and quality of life, with small effects on heart rate, respiratory rate, and blood pressure.1 Music has also been reported to reduce mood disturbance2 and to improve coping and social integration3 in cancer patients undergoing hematopoietic stem cell transplantation, a procedure known to cause significant psychological distress. 
In a 2015 trial of women undergoing ambulatory surgery for breast cancer diagnosis and treatment, both live and recorded patient-selected music was more effective in lowering preoperative anxiety than usual care.4 Significant reductions in anxiety and distress were also reported with live or prerecorded music in patients with newly diagnosed head and neck cancer or breast cancer undergoing simulation for radiation therapy.5 Furthermore, data from a retrospective analysis suggest a positive association between music therapy and reduced breathing problems in cancer patients receiving hospice care.6 
OF NOTE
Music therapy is a pleasant, cost-effective, noninvasive modality that is free of side effects, and current evidence advocates its use in cancer patients.
Music can be especially useful in pediatric patients, who are considerably impacted by cancer and its treatments. It was shown to increase comfort in hospitalized children,7 and in a trial involving children undergoing a lumbar puncture procedure, those randomized to music therapy reported less pain and anxiety and feeling more calm and relaxed, compared to children in a control group.8 In children undergoing radiation therapy, which is also associated with significant anxiety, live music therapy sessions conducted during the procedure through closed-circuit television resulted in a higher success rate without general anesthesia.9
Also noteworthy are findings that suggest music can help improve coping skills. In a study of 83 children (aged 4–7 years) undergoing cancer treatment, music therapy was shown to have positive effects on coping-related behaviors including positive facial affect, active engagement, and initiation. Interestingly, active music engagement was significantly more beneficial than simply listening to music and to audio storybooks.10
While the mechanisms underlying the salutary effects of music are yet to be elucidated, functional imaging data indicate that music modulates the activity of several limbic and paralimbic brain structures. Of them, the ventral striatum, the dorsomedial midbrain, the amygdala, and the hippocampus are especially interesting because of their involvement in the pathophysiology of pain, anxiety, and depression. These structures also house a large number of ligand receptors, including those associated with endogenous opioids, GABA, and dopamine,11 suggesting music may affect the same neuronal pathways that are involved in the functional changes underlying pain, anxiety, and depression.
Concluding Thoughts
With rising cancer rates and prolonged survivorship, it is important to determine effective interventions to alleviate symptom burden. Music therapy is a pleasant, cost-effective, and noninvasive modality that is free of side effects, and current evidence supports its use in patients with cancer. Although it does not actually affect cancer itself, music therapy has a significant impact on mood and strengthens the ability to cope. 
In fact, music therapy has gained a special role as a complementary adjunct in many oncology programs, both nationally and internationally. In the United States, 30 National Cancer Institute–designated Comprehensive Cancer Centers offer music therapy. Further, the Society for Integrative Oncology recommends music therapy for the reduction of stress, anxiety, depression, and fatigue and for improving quality of life.12,13 
Due to a lack of robust study designs, however, available evidence supporting the use of music therapy is at risk of bias. Additional, well-designed trials with strong methodologies to control variations in study populations and outcome assessments, as well as to ensure blinding (which remains an important barrier to overcome because of the special connection between the therapist and patient)—along with mechanistic studies to provide insights into how music impacts positive outcomes—are needed to advance oncologic music therapy. 
For more information on music therapy, visit https://www.mskcc.org/cancer-care/integrative-medicine/herbs/music-therapy. ■
DISCLOSURE: Ms. Popkin and Ms. Gubili reported no conflicts of interest.
Ms. Popkin is Program Coordinator, Creative Arts and Movement Therapies, Integrative Medicine Service, Memorial Sloan Kettering Cancer Center, New York. Ms. Gubili is Editor, Integrative Medicine, Memorial Sloan Kettering Cancer Center.
References
1. Bradt J, Dileo C, Magill L, et al: Music interventions for improving psychological and physical outcomes in cancer patients. Cochrane Database Syst Rev 15:CD006911, 2016.
2. Cassileth BR, Vickers AJ, Magill LA: Music therapy for mood disturbance during hospitalization for autologous stem cell transplantation: A randomized controlled trial. Cancer 98:2723-2729, 2003.
3. Robb SL, Burns DS, Stegenga KA, et al: Randomized clinical trial of therapeutic music video intervention for resilience outcomes in adolescents/young adults undergoing hematopoietic stem cell transplant: A report from the Children's Oncology Group. Cancer 120:909-917, 2014.
4. Palmer JB, Lane D, Mayo D, et al: Effects of music therapy on anesthesia requirements and anxiety in women undergoing ambulatory breast surgery for cancer diagnosis and treatment: A randomized controlled trial. J Clin Oncol 33:3162-3168, 2015.
5. Rossetti A, Chadha M, Torres BN, et al: The impact of music therapy on anxiety in cancer patients undergoing simulation for radiation therapy. Int J Radiat Oncol Biol Phys. May 8, 2017 (early release online).
6. Burns DS, Perkins SM, Tong Y, et al: Music therapy is associated with family perception of more spiritual support and decreased breathing problems in cancer patients receiving hospice care. J Pain Symptom Manage 50:225-231, 2015.
7. Barrera ME, Rykov MH, Doyle SL: The effects of interactive music therapy on hospitalized children with cancer: A pilot study. Psychooncology 11:379-388, 2002.
8. Nguyen TN, Nilsson S, Hellström AL, et al: Music therapy to reduce pain and anxiety in children with cancer undergoing lumbar puncture: A randomized clinical trial. J Pediatr Oncol Nurs 27:146-155, 2010.
9. Willis D, Barry P: Audiovisual interventions to reduce the use of general anaesthesia with pediatric patients during radiation therapy. J Med Imaging Radiat Oncol 54:249-255, 2010.
10. Robb SL, Clair AA, Watanabe M, et al: Randomized controlled trial of the active music engagement (AME) intervention on children with cancer. Psychooncology 17:699-708, 2008.
11. Archie P, Bruera E, Cohen L: Music-based interventions in palliative cancer care: A review of quantitative studies and neurobiological literature. Support Care Cancer 21:2609-2624, 2013.
12. Greenlee H, Balneaves LG, Carlson LE, et al; Society for Integrative Oncology: Clinical practice guidelines on the use of integrative therapies as supportive care in patients treated for breast cancer. J Natl Cancer Inst Monogr 2014:346-358, 2014.
13. Greenlee H, DuPont-Reyes MJ, Balneaves LG, et al: Clinical practice guidelines on the evidence-based use of integrative therapies during and after breast cancer treatment. CA Cancer J Clin 67:194-232, 2017.
---